Vietnam builds 'fortress' to fight pandemic, not the economy
The economy reflects the operation of all 13 southern cities and provinces, and different behaviors of each is hindering economic development.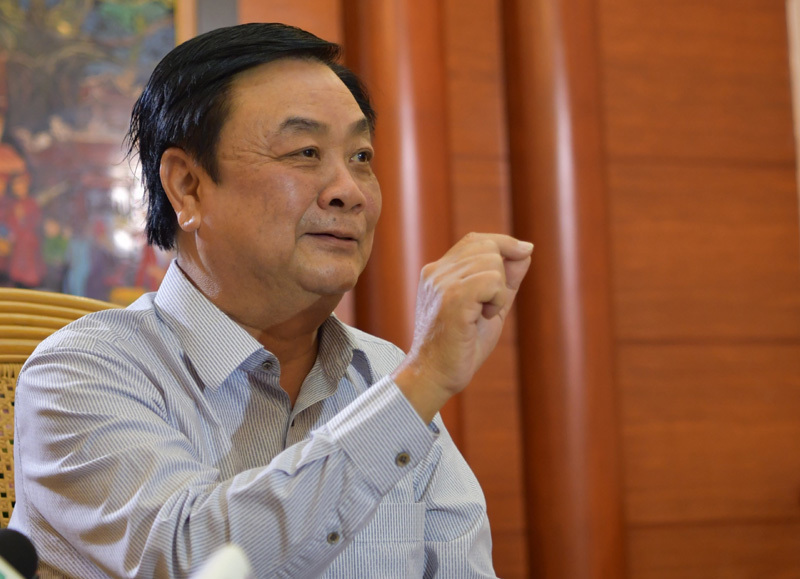 Minister of Agriculture and Rural Development Le Minh Hoan
At a webinar on farm and seafood produce supply/demand between HCMC and Mekong Delta held recently, Nguyen Phuoc Thien, Director of the Dong Thap Department of Agriculture and Rural Development, called on local authorities to apply unified anti-pandemic regulations to create favorable conditions for enterprises to collect and distribute farm produce in the localities.
At present, enterprises have to obtain different certificates and licenses to travel because of different regulations applied by cities and provinces.
When an enterprise wants to go to Dong Thap to collect farm produce, Dong Thap provincial authorities will have to ask other provinces if they will allow the enterprises to go through their provinces before giving an answer to the enterprise. It costs enterprises 3-5 days just to ask for permission to travel.
He asked Mekong Delta provinces' leaders to sit together and design regulations to be commonly applied in provinces to simplify procedures.
Dinh Thi Phuong Khanh, Deputy Director of Long An Department of Agriculture and Rural Development, said in the first week of applying social distancing under PM Directive 16, the department received 300 calls a day via the hotline, asking to remove difficulties in goods circulation.
According to Khanh, since the views are not clear enough, the circulation is still stuck though ministries and provincial authorities have released many legal documents.
"On the first days of the social distancing campaign, the documents with the signature of Director of Long An agriculture department were not accepted at checkpoints. Goods carrying trucks could only go through checkpoints if drivers could show the documents with the signature of the head of the district's committees for Covid-19 prevention and control," Khanh said.
She said that the closure of Binh Dien, Hoc Mon and other large traditional markets in HCMC had a big impact on farmers.
Long An has 42 slaughterhouses, which provided 4,500 pigs, 6,000 chickens and over 300 buffaloes and cows to HCMC before the pandemic. When social distancing was imposed, 90 percent of the slaughterhouses closed their doors or reduced capacity. As a result, food supply for HCMC was affected, while farmers could not sell their products.
According to Do Quoc Huy from Saigon Co-op, seafood supply is very high in localities. However, processing factories have closed the doors, thus leading to congestion in consumption
Businesses, local authorities in the same boat
Vietnam Chamber of Commerce and Investment's Can Tho Director Nguyen Phuong Lam warned that materials will be short in the last three months of the year.
Lam proposed that local authorities allow merchants to travel to collect farm produce in localities. In Mekong Delta, a factory is situated in one locality, but its workers, input materials and markets are in others.
Ministry of Agriculture and Rural Development Minister Le Minh Hoan also said because of the pandemic, some people have caused a disruption in goods circulation by intervening in the chain. It's necessary to bring the supply chain to a normal status.
According to Hoan, the problem lies in the disconnection among 13 Mekong Delta provinces. The economic entity doesn't have any administrative boundary, but it is being managed by administrative border principles. The treatment would be different if Mekong Delta was seen as a united entity, and the 13 provinces as 13 separate entities.
Hoan stressed that the National Steering Committee for Covid-19 Prevention and Control has set a reasonable policy. Social distancing means isolating people from people, communes from communes, districts from districts and provinces with provinces. Every commune and every ward is a 'fortress' to prevent and fight the pandemic.
However, this is just a 'fortress to fight the pandemic', and must not be an 'economic fortress'. The operation must be seamless and uninterrupted among the 13 provinces. Different behaviors in different regulations will create difficulties for economic activities.
"Administrative boundaries are just for state management, not economic management, even under normal conditions, let alone the pandemic," Hoan sai, adding that localities' leaders should act as business owners who feel worried when workers leave, distribution gets interrupted, and enterprises lose contracts.
He said that local authorities and businesses are now in the same boat and need to keep a balance to help the boat overcome the storm. 
Tran Chung 

"We have to figure out a new 'farm produce path' that allows us to connect fields and markets," said Minister of Agriculture and Rural Development Le Minh Hoan.  

Prime Minister Pham Minh Chinh on September 11 demanded that hastiness be avoided in resuming production and business activities when the battle against the COVID-19 has produced initial positive signs.