Vietnam advised to rebalance its sci-tech development policy
The recommendation was made by domestic and foreign experts in the recently published "Vietnam Science, Technology and Innovation" report.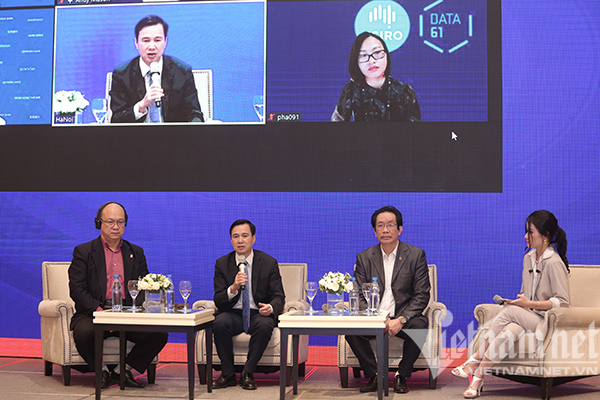 Domestic and foreign experts talk about promoting the application of science and technology and innovation in Vietnam.
The report is a product of the World Bank's Vietnam Enhancing Innovation Analytical and Advisory Services (ASA) program. It was developed at the order of the Ministry of Science and Technology of Vietnam, sponsored by the Australia - World Bank Group Strategic Partnership in Vietnam - Phase 2 (ABP2).
It researches current development frameworks and policies on science, technology and innovation, analyses bottlenecks hindering businesses in innovation, and proposes a roadmap for comprehensive reform to promote innovation-led growth.
Vietnam has room for technology-based growth
The application and dissemination of new technologies, digital technology and the Industry 4.0 Revolution have offered opportunities to improve the productivity and adaptability of enterprises in the context of crisis.
Rapid changes in technology, especially increasingly sophisticated digitization, automation and artificial intelligence (AI) will reshape Vietnam's labor-intensive-based export strategy.
Technological breakthroughs in the production and distribution process will make an impact on manufacturing industries to varying degrees, and provide new opportunities for service sectors. Vietnam is becoming an attractive destination for venture investors.
Vietnam should rebalance its science and technology development policy
Carolyn Turk, World Bank Country Director in Vietnam.
The outbreak of Covid-19 further underscores the need to accelerate the application and diffusion of technology, new business models and digital solutions to support growth and increase agility of businesses.
Experts who developed the "Vietnam Science, Technology and Innovation" report said that Vietnam still has a lot of room to promote innovation in domestic enterprises, especially small and medium businesses, which account for 98% of the total number of businesses and half of the workforce.
About 20% of the export activities of small and medium-sized enterprises are limited due to a lack of scale, technology and sophistication. Therefore, Vietnam has many opportunities to improve enterprise productivity through the application and diffusion of technology.
Accumulate innovation capacity to move towards 4.0 technology
A recent survey on technology adoption (2020) shows that, of different types of businesses, only 20% of Vietnamese enterprises use a complete digitalization process in implementing general business functions. There is still a lot of room to enhance the digitization of business operations.
Due to low labor costs, the number of businesses in Vietnam that use Industry 4.0 technologies such as 3D printing and robotics is very small. In addition, only 29% of businesses use computer-controlled machinery and Industry 3.0 digital technology, and only 8.7% use this technology actively and effectively.
According to experts, Vietnamese businesses need to accumulate innovation capacity, firstly through converting processes to using digital technology, and then progressing to more complex Industry 4.0 technologies. The benefits from this activity can be enormous.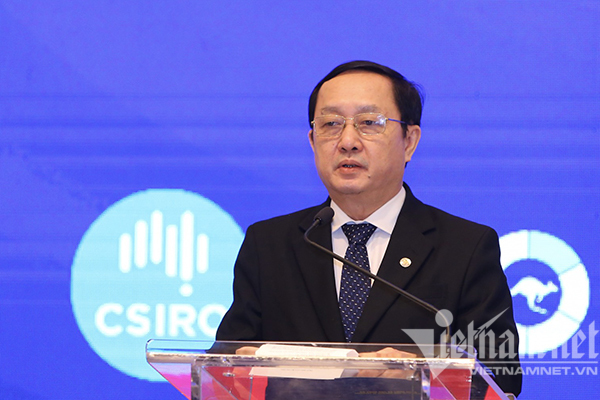 Minister of Science and Technology Huynh Thanh Dat.
Vietnam should promote technology absorption and diffusion
Carolyn Turk, World Bank Country Director in Vietnam, said that Vietnam needs new motivations for its economic growth to become an economy with high income in 2045, and innovation will help build a fundamental foundation for the country to increase income and improve growth quality.
The report recommends that Vietnam should rebalance its policy on science, technology and innovation development, shifting from focusing on investment in creating advanced technology to promoting technology absorption and diffusion among group of businesses.
More than just focusing on research and development, the spillover of technology can have significant effects on labor productivity and economic transformation. Therefore, focusing on capacity building to make the most of the most modern technologies should be a top priority. Closing the skill gap of the workforce is also very important in applying innovation.
The Vietnamese Ministry of Science and Technology highly values the support from Australia and the World Bank in the efforts, he said, expressing hope that more cooperation initiatives will be proposed to apply recommendations to life.
Minister Huynh Thanh Dat said that the report highlights the important contributions of science, technology and innovation to Vietnam's socio-economic development and outlines the way ahead for the country.
Minister of Science and Technology Huynh Thanh Dat said: "The Ministry of Science and Technology highly appreciates the support of the Australian Government and the World Bank in these efforts and looks forward to further cooperation initiatives, and put the recommendations and this useful tool into practice."
The Ministry of Science and Technology will continue to strengthen the national innovation system to further promote the creation, dissemination and application of knowledge and technology to serve the goals of sustainable development from now to 2045.
Trong Dat

The set of indicators will fully reflect every aspect of the digital economy, including digital infrastructure, the popularity of digital means, online services, and human resources.

Vietnam ranked 44th out of 132 countries and economies in the Global Innovation Index 2021 (GII 2021) which was announced by the United Nations' World Intellectual Property Organisation (WIPO) on September 20.