US Ambassador describes his addiction to banh chung and four Tet holidays in VN
"I really love the Tet season," US Ambassador to Vietnam Daniel J. Kritenbrink told VietNamNet in an interview on the occasion of the lunar New Year (Tet).
"I'm delighted to be here again and I wish everyone in Vietnam a joyous and prosperous Tet, and I look forward to celebrating again with my friends here for the 4th time," he said
You have experienced several Tet holidays in Vietnam. How was your experience? 
I love the Tet season, it's my favorite time of the year. I'm really pleased to say that this will be my 4th Tet in Vietnam and I really love the season. It's very festive, people are very happy. I can already see people starting to prepare. It's such a wonderful opportunity to reflect on the past year, think about the year ahead, spend time with friends and family. It's a very lovely, meaningful and enjoyable time of the year. 
I've also tried to do something special every year. Around Tet in my first year I had a chance here, in the backyard of my home, to learn how to make Banh Chung, which was very fun and very lovely. On my second year we went to a farm where we saw they grow the peach trees with peach saplings and I bought one. Last year I went to the Kim Lien pagoda and participated in the fish release ceremony which was wonderful and I also had the chance to sing a new year song with my good friend, the famous singer Tung Duong. 
I really love the Tet season. I'm delighted to be here again and I wish everyone in Vietnam a joyous and prosperous Tet and I look forward to celebrating again with my friends here for the 4th time. 
Tet is my favorite time of the year, this is the 4th time I celebrate Tet in Vietnam. Tet is a special season, when everyone is very happy and happy. We all slow down, think back to the past year and spend time with family and friends, enjoying the New Year together. 
Over the past years, I have been participating in Tet preparations. The first year was learning to pack banh chung, second year visiting a peach garden and learning how to graft peaches, last year I visited Kim Lien pagoda and performed the carp release ceremony. 
I really love the time before and during Tet in Vietnam. 
What is your favorite dish and favorite activities during Tet? 
My favorite dish remains Banh Chung. I absolutely love it. It's very filling, very rich. I really love the flavor, it's my favorite dish. I think my favorite activities are twofold. One, I really enjoy visiting the temples. I always love visiting the temples here in Hanoi at the time of Tet. There are many beautiful ones. I also really enjoy meeting with friends. I know our Vietnamese friends always put a lot of thought into who's the first visitor of the New Year, so it's always special to me to be able to see friends at the time of Tet celebration.          
What is your plan for this Tet? 
I don't know yet is the honest truth. This Tet I will be here by myself, my family's not here. They've already gone back to the United States so to be honest with you I haven't made any plans yet. But what I most look forward to is the time to take a bit of time off, maybe relax, reflect, recharge and to spend time with both the Vietnamese and American and other foreign friends here in Hanoi, although I don't know how much longer I'll be in Vietnam. 
This could be my last Tet in Vietnam since I've already been here for 3 years so I think this one will be particularly special. For the previous Tet holidays my family also traveled in Vietnam, but I think since I'm here by myself I'll probably stay in Hanoi and spend time with friends.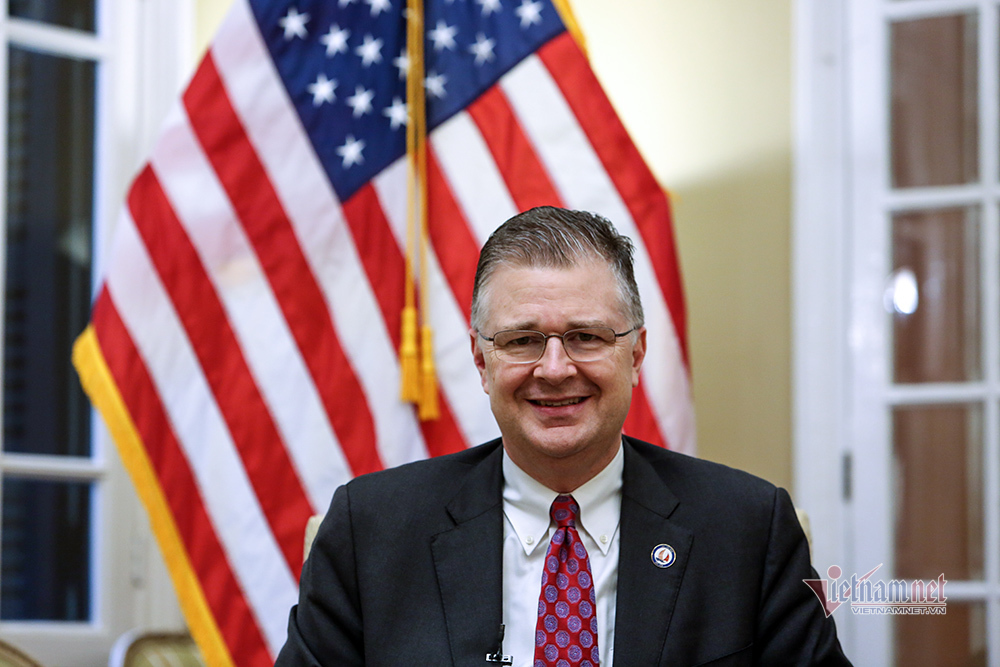 US Ambassador to Vietnam Daniel J. Kritenbrink. Photo: Pham Hai
In 2020, the Covid-19 pandemic changed everything. In this context, what have the US and Vietnam been doing together to achieve the double goal of preventing the pandemic and ensuring social-economic development? 
That's a great question. 2020 has not gone as anyone has planned or envisioned. It's been a very difficult year for the entire globe, a tragedy for everyone and yet I think what I'm most gratified by is that for the US and Vietnam it's also been a tremendous opportunity for us to show the strength of our partnership and friendship. I'm really proud of what we've done together as we fought Covid-19. 
I think Vietnam has done the best job in the world at controlling Covid and fighting it. It's truly extraordinary what Vietnam has achieved and I think you have demonstrated the capability of your public health officials and your medical professionals. 
Vietnam deserves all the credits in the world for what you've achieved and at the same time the US has been really proud to be Vietnam's partner when it comes to health matters like Covid-19. We've been cooperating on health for more than 20 years. The US has invested almost $1 billion dollars in Vietnam just to build the capacity of Vietnam's health sector. Specifically, when it comes to Covid-19 we've provided more than $13 million in assistance to Vietnam and 100 ventilators. 
We've been proud to be your partner in this fight but because we're partner, because we're friends, we have a saying: "A friend in need is a friend indeed" and during our time of need in the US in battling Covid we've been so grateful that Vietnam has proven that it is a good friend and partner of the US. I've been very moved by the outpouring of support and generosity from the Vietnamese people and the Vietnamese government, who have provided millions of masks and other medical protective equipment to Americans and that effort on the part of Vietnam has saved American lives and we will forever be grateful for that. 
2020 has been a really difficult year for our country in terms of meeting this health challenge, in terms of trying to deal with sustaining the global economy and recovering from the shock of the downturn caused by Covid-19. So that has been difficult but it has given us the opportunity work together and I think it's demonstrated that health cooperation is a real bright spot between the US and Vietnam. Even though 2020 has been dominated by Covid, we still got some great work done this year together with Vietnam. 
We celebrated the 25th anniversary of our bilateral relationship, in the last 2 months we were able to support visits by American officials to Vietnam. In all the sectors that are important to the US and Vietnam relationship from security to economics and trade, people's ties, war legacy cooperation, health cooperation and many other areas, we've continued to make tremendous progress. I'm really proud of what we've achieved together even during this challenging year.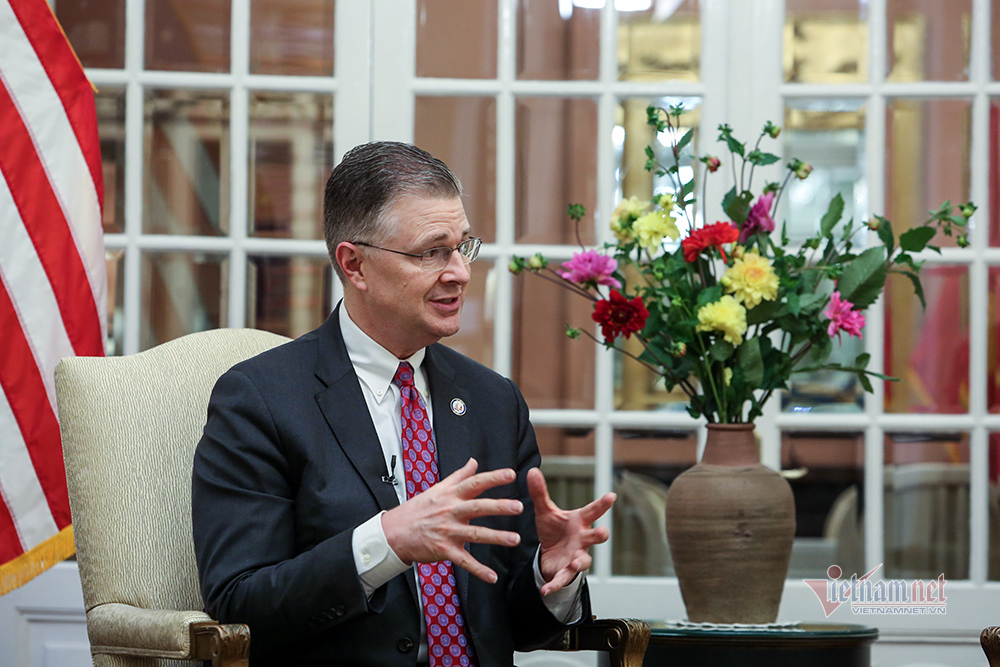 US Ambassador to Vietnam Daniel J. Kritenbrink. Photo: Pham Hai
Over the past 25 years, the relationship between our two countries has swiftly developed. Building on this, in your opinion, what would be the focus of this relationship in the years to come? 
I'm incredibly optimistic about the future of our partnership. I think it's extraordinary what we've achieved in the last 25 years. I think the most extraordinary thing we've achieved is we've truly become partners and friends. When you look back on our tragic history, I think that's an extraordinary accomplishment. And that achievement wasn't easy. 
I've often told the story of my conversation with the first American ambassador Pete Peterson right here in this house, at that table. We had diner almost 3 years ago and he told me that what we achieved together is truly extraordinary, but it's not a miracle, it's not and accident, it wasn't an act of God. The friendship and partnership we enjoy today is the result of very hard work, dedication, courage by many people in both Vietnam and the US so we should be proud of that and reflect on that as we celebrate this 25th anniversary. 
I think our challenge now is to build on that success to make the next 25 years even better and let me just say I'm incredibly optimistic about our relationship, I think the sky is the limit and there's nothing that we cannot do together. Our partnership is based on mutual respect for one another, independence, sovereignty, territorial integrity and our respected political systems and I think we'll continue to work to make that foundation of trust even stronger and then at the same time I expect and hope that we'll continue to do what we're doing today. 
We're expanding our cooperation in practical areas that help both of our countries and both of our people: cooperating on security matters that ensure that Vietnam and this region remain stable and peaceful, expanding our economic and trade relationship so that both countries and economies benefit from our interaction with one another, strengthening our people to people ties and still continuing to work on issues of the past and legacy of war issues which are also really important. If we continue to do that, if we continue to strengthen that foundation of trust and continuously expand these practical things, we do together to help one another, there's nothing we can't do together. I'm so hopeful and optimistic about our future together.     
You mentioned the foundation for building trust between the two countries. I'd like to ask you about the challenges or the differences between the two sides. In your opinion how should we address these existing differences? 
There are differences in every relationship, right? I've been married for 26 years now and I love my wife, we have a great relationship but we have differences as well. So, I think in every relationship there're always challenges and differences and I think the best way to work through those is to continue to do what we've done for the last 25 years: engage with one another proactively, openly and candidly and respectfully. And if we do that, I'm confident that we will manage and resolve any differences that continue to exist between us. 
When I look at the US and Vietnam partnership, the relationship between the two countries, the two governments, the two peoples I don't focus on the differences. I think the differences are relatively few and minor. What is see are these tremendous opportunities before us. I believe that our fundamental national interests are largely aligned and nearly identical. And the kind of region that we want to see and live in are rules-based, peaceful and stable, to engage in a trade relationship from which both countries benefit. Make sure that both of our countries are treating people in a way that they deserve and that will support long-term development and stability. 
I think that Vietnam has become one of America's best partners and friends in the region and I think that our relationship will only get better from here because we have so many things in common. I know based on our experience in the last 25 years that we'll continue to manage our remaining differences very well and very responsibly. 
Thai An/Xuan Quy

US Ambassador to Vietnam Daniel Kritenbrink extended Tet (Lunar New Year) greetings to Vietnamese people in a creative and also trendy way this year, a rap song, 

Representatives of the embassies of Canada, New Zealand, Norway and Switzerland in Vietnam paid a visit to the headquarters of the Vietnamese peacekeeping force before the Lunar New Year (Tet).