Unemployment in the time of Covid-19
The unemployment statistics in Vietnam are always controversial.
Before Hanoi imposed measures to prevent the 4th wave of Covid-19, around a month ago, I sat at a coffee shop and witnessed a group of more than 10 waiters and waitresses saying goodbye. All of them were young people who left their home in rural areas to come to Hanoi to get a job, and lost their jobs after just slightly over 1.5 months. They told me they really didn't know where to go and what to eat when the cafe closed.
Hanoi did not declare social distancing but restaurants, coffee shops, iced tea shops, haircare shops ... had to close, thus pushing many people like these young people to the street. But this has happened not only in Hanoi but in a dozens of provinces such as Ho Chi Minh City, Hai Phong, Hai Duong, Bac Giang or Bac Ninh, threatening people's livelihoods, especially the household and non-official economic sectors. The number of workers in these sectors is the largest compared to others.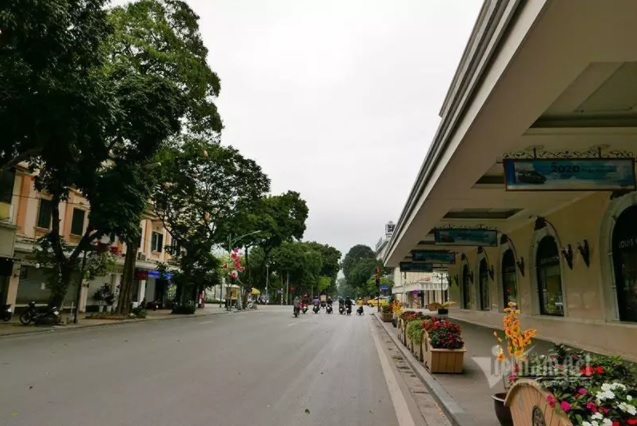 Hanoi in the days of social distancing.
However, the unemployment rate in Vietnam in the first half of this year was strangely low.
According to the General Statistics Office, the rate was estimated at 2.3%, specifically 3.07% in the urban area and 1.86% in the rural area.
Those are the most beautiful numbers in the world. Globally, according to the International Labor Organization (ILO), the global unemployment rate is expected to stand at 6.3% this year, and will fall to 5.7% in 2022, which are both higher than those of Vietnam.
The unemployment statistics in Vietnam are always controversial. The announcement of low unemployment rate will make it difficult to mobilize and arouse concerns and thoughts to find ways to support and share with workers during this alarmingly difficult time.
Valentina Barcucci, Deputy Director of ILO Vietnam, once assessed that the unemployment rate in Vietnam, whether before or after the epidemic, is always "much lower" than that of other countries in the region, but this does not mean that Vietnam is subject to few challenges.
The unemployment rate is only one evaluation criterion. More information is needed on the quality of the labor market, especially information about the groups that do not participate in the labor market.
For many years, as a journalist, I have persistently raised doubts about the very low unemployment rate in Vietnam, which is around 2%. Last year, despite such a terrible impact of the Covid-19 pandemic, this rate was still only 2.48%, 0.31 percentage points higher than that of 2019.
Why do I doubt it? Because Vietnam's calculation is according to… international standards. Accordingly, unemployed people are those aged 15 years or older who currently do not work, are looking for work, and are willing to work.
In developed countries, citizens who lose their jobs and are unemployed benefit from unemployment insurance, or subsidies, so the Government can identify them right away.
But it is very different in Vietnam. If a person is unemployed, uninsured, and even has to beg for money on the street but meets only one of the above factors they are not considered as unemployed. A wife who has no job and stays home to do housework is still considered to be working and not unemployed.
The unemployment statistics in Vietnam are always controversial.
The majority of rural people, even though they work for a few days and spend most of their time in leisure, are not counted as unemployed. If I was pushed to the street to work as a motorbike taxi driver, even if I have taken only one trip a day, I would not be considered unemployed.
That's why Vietnam's unemployment rate is always low. The problem is that the majority of "non-employed" people are working with starving wages, have no savings, only dare to spend for minimum basic needs.
But there are some statistics worth mentioning during the Covid-19 period: As of December 2020, the country had 32.1 million people aged 15 and over negatively affected by the Covid-19 epidemic, including people who lost jobs, had to take time off work/rotational leave, had reduced working hours, reduced income... Of which, more than 69% had their income reduced, nearly 40% had to reduce working hours/retirement/rotational leave and about 14% had to suspend working or suspend production and business activities.
The service sector was hardest hit by the Covid-19 epidemic with nearly 72% of workers affected, followed by the industry and construction sector with nearly 65% of workers affected. The proportion of affected workers in the agriculture, forestry and fishery sectors was more than 26%.
In 2020, the labor force aged 15 and over reached 54.6 million people, a decrease of 1.2 million people compared to 2019. The statistics agency confirmed: "The Covid-19 epidemic may have taken away the opportunity to participate in the labor market of 1.6 million people."
Are these numbers included in the unemployment rate?
Numbers are unemotional, but a lot of suffering has occurred.
Tu Giang

Vietnam's labor market in the first half of 2021 was heavily affected by the 3rd and 4th outbreaks of the Covid-19 pandemic, according to the Vietnam General Statistics Office's report released on July 6.

The Covid-19 pandemic left 1.3 million Vietnamese people unemployed in 2020, said the Department of Population and Labor Statistics under the General Statistics Office (GSO) at a press briefing in Hanoi on January 6.