Traffickers in tigers pays heavy price for illegal activities
Despite ironclad moves taken by appropriate agencies, the trafficking and illegal transport of tigers to make tiger bone glue remains a burning issue in Vietnam.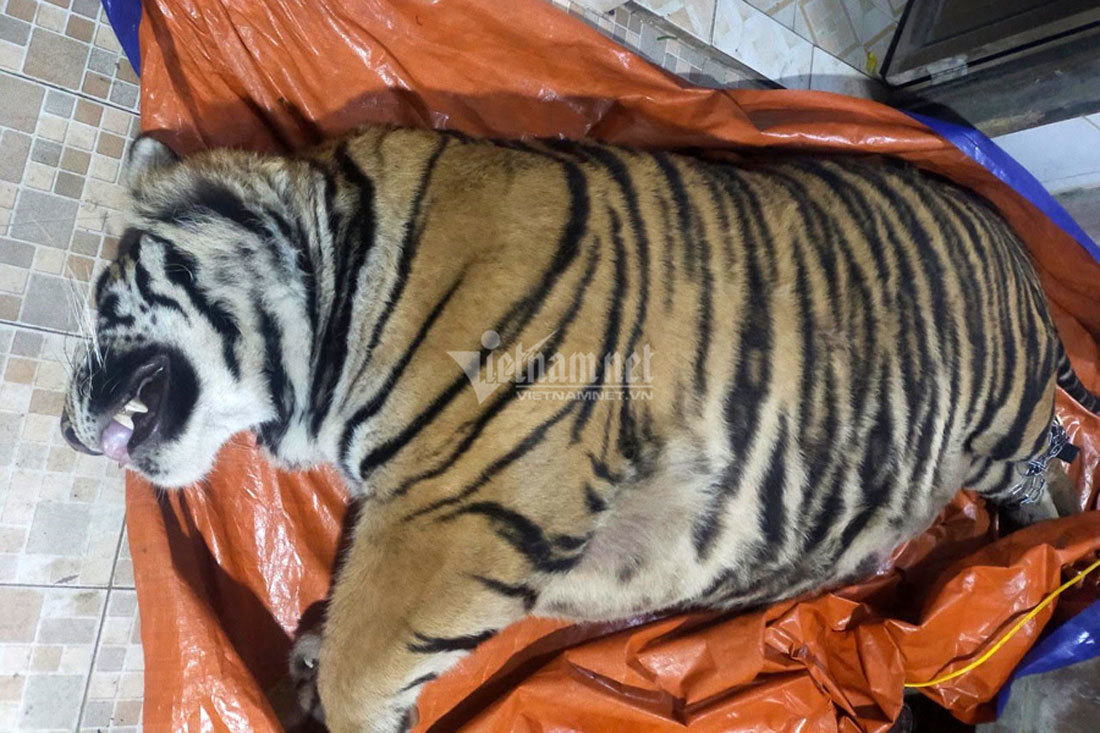 On January 19, the Ha Tinh Police for Economic Crimes and Huong Son district Police for Environmental Crimes raided the house of Dinh Nhat Nghe, born in 1972, in Quang Diem commune and found a dead tiger weighing 250 kilograms.
Nghe and Nguyen Thi Yen, his wife, are being investigated for illegally storing and butchering wild animals. They were allegedly making tiger bone glue for sale.
In July 2019, Nguyen Huu Hue, born in 1967 in Nghe An, was caught red-handed when carrying seven frozen tigers. Hue is well known as the leader of the ring which trafficked and transported tigers and wild animals across countries for many years.
The police many times had tried to break Hue's ring, but the 'godfather' got off the hook. He set up a building material trading company as cover for his tiger and wild animal trafficking.
In early January 2020, the Hanoi People's Court gave him a 6-year jail term.
On September 14, 2019, Nguyen Nhat Hong, 37, and Nguyen Thai Chien, 27, in Huong Son, Ha Tinh were caught carrying one live tiger, weighing 240 kilograms in an iron cage.
The two individuals carried the tiger from Nghe An to deliver to Nguyen Van Minh, 49, in Hong Hai ward of Ha Long City in Quang Ninh.
After being arrested, Minh declared that he bought the tiger from a man named Trinh in Nghe An to cook bone glue, and hired Nhat and Chien to carry to Cam Pha City. At Minh's home, agencies found and seized two skeletons, 12 sets of skulls, 3 sets of skin and materials and tools to make glue.
Prior to that, on November 6, 2017, Bim Son Town Police caught Le Van Trung, born in 1981, residing in Nghi Hai ward of Cua Lo Town, illegally carrying a 300 kilogram live tiger. Trung said the tiger was carried from Nghe An to Hanoi for consumption.
On June 6, 2018, when examining the car driven by Hoang Van Thien, born in 1991, in Quynh Thanh commune of Quynh Luu district, on 7A Highway, appropriate agencies discovered five dead tigers. The driver said the tigers belonged to Bui Van Hieu, born in 1992 in Quynh Thanh commune of Quynh Luu district.

Education of Nature Vietnam (ENV), from January 2019 to June 2020, recognized over 650 cases of tiger-related violations. The violations include the advertisement, storage and trading of tiger bone glue, live and frozen tigers, and tiger organs.
Trading tigers and products from tigers under all forms is prohibited by Vietnamese laws. However, the black market is still bustling.
The tiger bone glue prices vary in the black market. In many cases, buyers get fake bone glue. VTC News quoted T, a well known name in Dien Chau district of Nghe An province, which is called the central region's tiger bone glue metropolis, as saying that the cost is no less than VND20 million for every 0.1 kilogram of bone glue. A 150 kilogram tiger can create 4 kilograms of bone glue.
Traditional medicine in Southeast Asia uses tiger bone glue. People raise tigers in captivity to slaughter and make the glue. They believe the glue can cure all problems related to bone and joints in humans.
However, international scientists affirm that there is no evidence of thede effects of tiger bone glue. The unfounded belief on miraculous medicinal properties of tiger bone glue has put wild species in danger of extinction in Asia.
According to the World Wildlife Fund, Vietnam now has no more than 7 tigers existing in the wild, while the figure was over 100 in 2001.
Dr Van Ngoc Thinh said in Dan Viet that the trafficking of tigers and tiger-made products from bone, skin, to tiger claws is the main reason that tigers in Vietnam are on the verge of extinction.
Since 1997, there has been no evidence about tiger reproduction in the wild in Vietnam.
Education of Nature Vietnam (ENV), from January 2019 to June 2020, recognized over 650 cases of tiger-related violations. The violations include the advertisement, storage and trading of tiger bone glue, live and frozen tigers, and tiger organs.
A survey by UNODC found that tigers used to make bone glue in Vietnam are mostly raised tigers. As of July 2020, there were more than 12,000 tigers at tiger raising establishments all over the world. These included 6,057 tigers in China, while the remaining were in Laos, Thailand and Vietnam.
A report from TRAFFIC released on September 3, 2020 showed that Vietnam is a key country trafficking tiger parts before slipping in China.
Experts said that as tiger trafficking is becoming more sophisticated with many cross-country trafficking rings, Vietnam needs to strengthen international cooperation to trace the crime rings.
The Prime Minister's recent decision to stop importing wild animals has been hailed as a good sign in preventing illegal trade of wildlife and tiger supply from neighboring countries. 
Hanh Nguyen

Representatives from 30 tour operators and travel agencies recently signed a pledge to support responsible tourism, nature conservation and wildlife protection during a training workshop at Cat Tien National Park.

The Ministry of Natural Resources and Environment will honour organisations and individuals that have made great contributions to wildlife conservation between 2010 and 2020.