Trading value at stock market reaches record high
Cash keeps flowing into the stock market, including during trading sessions when the VN Index falls.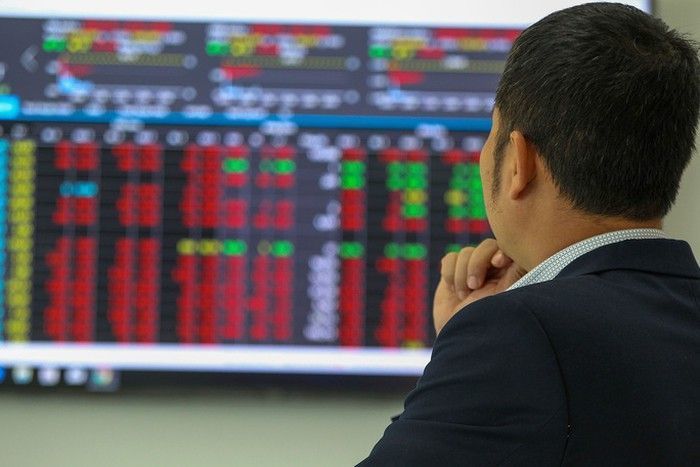 Vietnam's stock market last week witnessed a historic trading session with VND56.3 trillion worth of stocks transferred, much higher than the VND52 trillion worth of trading value within one session earlier this month.
The demand soared in the afternoon session when profit taking pressure soared and the VN Index dropped by 32 points. The market fluctuated heavily with many shares seeing drastic changes in status, from falling to the floor prices to increasing to ceiling levels.
The closing VN Index fell by 17 points.
The same scenario occurred on November 6. The profit-taking selling pressure, plus the selloff wave caused the VN Index to lose 45 points. The high bottom-fishing demand then helped the liquidity for the first time in history reach $2 billion per session.
The cash flow has continued as the VNIndex is expected to continue its upward trend amid information about a huge economic stimulus package worth VND800 trillion.
Idle capital is believed to be plentiful, while other investment channels are less attractive. Bank deposit interest rates are very low, while the real estate market is only busy in some segments and although the gold price is increasing the market is not feverish.
VND23 trillion ($1 billion) is a very high liquidity level compared with the average trading value per session at VND6.2 trillion in 2020 and VND18 trillion in H1 2021.
Securities companies' reports showed that people have poured $3 billion more into stocks so far this year.
For new investors, securities investment are a stable investment channel. The stock market has an increasingly large scale and is no longer a channel for small groups of investors to surf.
It was estimated that more than 1.1 million new securities accounts were opened in the first 10 months of the year alone, equal to that of the last three years combined.
Stock markets are hot all over the globe. The strong cash inflow, together with impressive business performance of large corporations, has pushed the markets up. All three US stock indexes are at historic highs, of which Nasdaq has exceeded 16,000 points.
Risks
Large corporations had good business performance in the first three quarters of the year despite the pandemic, which helped push stock prices up. However, the most important factor was the strong cash flow into the market, which helped shares climb to new highs. A lot of shares have seem prices increase by 5-7 times.

If the cash flow is tightened, this will drag the market down. Many shares are too hot with prices increasing by 5-7 times, or even 10 times within a short time, but the business performance is not good. Sell-off pressure may cause investors to fall into heavy losses.
Dragon Capital, predicting that Vietnam's GDP growth rate wil be satisfactory this year, commented that Vietnam's stocks still have attractive valuation. The P/E index is predicted to be at 11x, a relatively attractive figure for long-term investors.
Margin loans continue to increase, regaining record highs. Meanwhile, securities companies have completed their capital increase plans, thus giving more opportunities to investors to use financial leverage.
Dragon Capital said the Q3 business performance of listed companies was positive, despite the long lockdown. The profits of the DC Top 60 Group increased by 32 percent over the same period last year.
The institution commented that Vietnam is seeing signs of recovery as isolation measures have been listed.
Though stock prices will keep increasing as predicted by securities companies, analysts said there are risks.
If the cash flow is tightened, this will drag the market down. Many shares are too hot with prices increasing by 5-7 times, or even 10 times within a short time, but the business performance is not good. Sell-off pressure may cause investors to fall into heavy losses.
In the session with record high trading value, the market witnessed drastic sales by foreign investors. It was the third consecutive net sale session. Some bluechips such as Hoa Phat, VPBank and Vinamilk had net sales of up to hundreds of billions of dong.
Analysts warn that many businesses are facing the labor shortage in the post-pandemic period as workers have left cities for hometowns.
The world is facing many crises, including an energy crisis. Meanwhile, pandemic developments remain complicated. European countries are seeing a sharp rise in the number of infections and they may have to impose lockdowns nationwide.
Analysts point out that overly high liquidity may lead to a bubble risk. Vietnam's stock market size remains modest compared with leading markets in the region, while its liquidity is higher.
However, the high liquidity shows the high expectations by investors in the stock market and economic growth. Dragon Capital said aid packages and bailouts will act as a push to Vietnam's growth in the next two years.
SSI Research believes that prospects in the last months of 2021 and 2022 are brighter. However, it said it still needs November data to find out if the V-shape recovery model can be maintained. Vaccination coverage will play a decisive factor I the reopening of the service sector.
SSI maintains its forecasted GDP growth rate of 3-4 percent in Q4 and 2.5-3 percent for the year 2021. The growth rate in 2022 will 6.8 percent, it predicts. 
Duy Anh

Vietnam's VN-Index surpassed the 1,480 benchmark for the first time, reaching 1,481.91 points on November 18 morning.

The majority of foreign-invested enterprises listed on Vietnam's stock market either posted lower after-tax profits or losses in 2020 due to the impact of the COVID-19.