Tourism sector suffers another hit from recent Covid outbreak
Businesses have sustained a new blow from the fourth recurrence of Covid-19.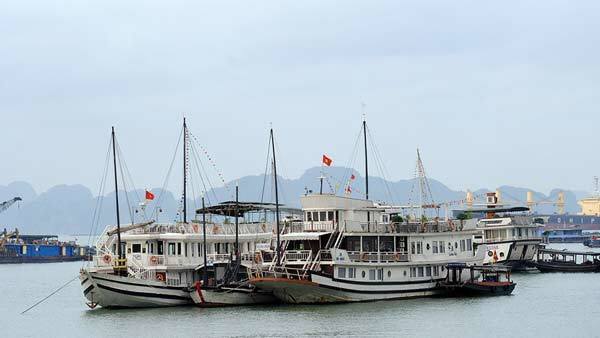 Vu The Binh, Deputy Chair of the Vietnam Tourism Association (VTA), said there were 2.9 million workers in the tourism sector in 2019, but 90 percent of them have quit or temporarily stopped working because of the pandemic since early 2020.
A report from the HCM City Tourism Department showed that as of mid-March 2021, 90 percent of small and medium sized travel firms specializing in inbound tours had suspended their operation.
Nguyen Thi Anh Hoa, Director of the HCM City Tourism Department, said that tourism companies in the city are all in a 'bad situation'.
Travel firms say they are used to the 'war-time' operation, switching on when an outbreak cools and off when it recurs.
A representative of Flamingo Redtours said nearly all travelers in Hanoi canceled tours in May. Officers are busy handling clients' cancelations and postponement information, while the company's leaders are conducting research and considering new investment orientations.
Vietravel said the continued outbreaks have adversely affected their business. Many salespeople, tour operators and tour guides who prepared to go to work this summer have been told to continue waiting.
In Da Nang City, most hotel and resort officers have had to take unpaid leave since January because of poor patronage. They are following unstable working shifts: when hotels receive guests, they are called to work, and when there is no guest, they stay at home.
A worker at a 5-star hotel in Son Tra District in Da Nang told reporters that the April holiday was the busiest time so far this year, and that she sat idle the other days. Since she has had only several working days in Covid-19 season, she has received very low wages.
The passenger transport sector is also suffering from new Covid-19 outbreaks. Sao Viet Trade and Transport Service reported that only five out of its 40 cars are still in operation. Many drivers and officers have been laid off.
With five cars in operation and only 2-4 passengers for each trip, the company will be taking a loss.
Dat Cang Commercial Transport and Service JSC said it has suspended 80 percent of its operations. Meanwhile, the number of passengers for cars being used is no higher than 20 percent.
The fourth outbreak has had a severe impact on businesses. Cases have been found in many cities/provinces and the number of infections in every city/province is high, which is explained by the faster spread of new coronavirus variants.
Some transport firms have had to stop at least 70 percent or more of their operations. The occupancy rate in each trip is 30 percent at maximum.
Meanwhile, enterprises that make products for export, including textile and garment, footwear, and electronics, complained that they are bearing a dual impact due to outbreaks in industrial zones and a lack of containers.

The World Bank (WB) report on Vietnam's macroeconomic updates released on May 17, 2021 showed that the ongoing economic recovery in Vietnam may bear adverse effects because of the fourth outbreak.
A textile and garment company said the container shortage has affected delivery plan and caused production to fall below capacity.
Timely policies needed
The World Bank (WB) report on Vietnam's macroeconomic updates released on May 17, 2021 showed that the ongoing economic recovery in Vietnam may bear adverse effects because of the fourth outbreak.
Most of Vietnam's economic indicators in April 2021 were good. Industrial production was on a strong rise with the index increasing sharply 24.1 percent compared with the same period of 2020. Retail turnover surged again, exports were satisfactory, and credit grew rapidly.
However, WB said the Government of Vietnam needs to act promptly with restriction measures to deal with the fourth outbreak, which came in late April.
The outbreak will affect domestic economic activities, especially in the fields of tourism, transport and retail.
According to General Statistics Office (GSO), in the first quarter of 2021, the country had 9.1 million people aged from 15 adversely affected by Covid-19. They lost jobs, temporarily stopped working, temporarily stopped doing business, took rotation leave or had working hours cut.
The number of newly established enterprises was 29,300, down by 1.4 percent, while the number of businesses withdrawing from the market was 40,323, up by 15.5 percent year on year. On average, 13,400 businesses left the market every month.
Economists believe that the Government needs to stimulate domestic demand by applying a more reasonable fiscal policy. It is also necessary to launch support programs on a larger scale for both businesses and affected people.
They said that lending interest rates should be cut to support businesses in difficulties, especially in the fields of tourism, transport and service. They have suggested not raising taxes and fees in 2021.
As many enterprises are operating at a moderate level, their incomes are decreasing and the corporate income tax reduction doesn't have much significance. Instead, it is advisable to reduce the VAT (value added tax) to stimulate consumption demand. 
Tran Thuy

Conducting an initial public offering (IPO) to list on a foreign stock exchange not only helps Vietnamese companies attract investors but also strengthens their status and the country's profile in the world.

Some 430 businesses left the market, while only 368 new businesses were established on a daily basis from January to April 2021, according to the Ministry of Planning and Investment.