Tourism sector experiences ups and downs amid new outbreak
Quang Ninh once again has had to close the door to fight the pandemic after just half a month of opening to travelers. Localities have had to change their tourism development plans regularly.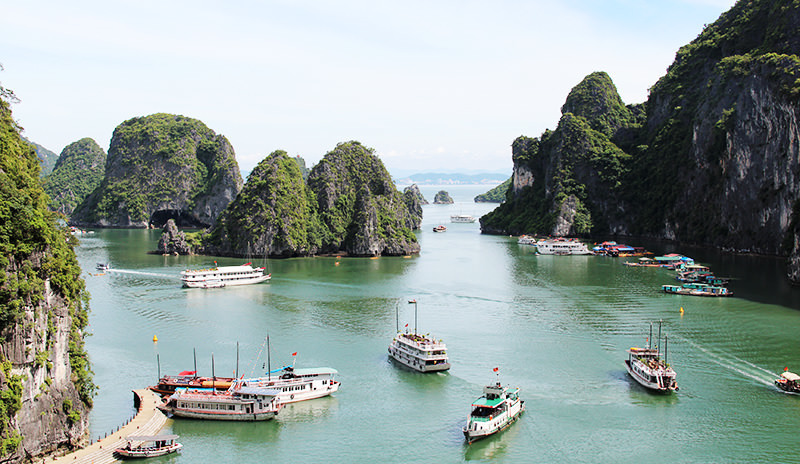 Quang Ninh once again has had to close the door to fight the pandemic
Quang Ninh announced the reopening of tourism facilities to travelers on June 8, when the outbreak was constrained.
At first, the facilities were allowed to receive local guests from inner provinces. One week later, some resorts were allowed to receive guests from other localities, who came to eat, stay and do sightseeing on the spot, if guests could show negative PCR testing results.
However, as people still felt insecure, the number of travelers to Quang Ninh remained modest. The provincial People's Council on June 18 approved a resolution on a 100 percent exemption of tickets for admission to Ha Long Bay, Yen Tu and Quang Ninh Museum, from now till the end of 2021, instead of the 50 percent reduction as previously applied.
However, when travelers were preparing to go to Quang Ninh following the good news, an outbreak once again recurred in the province on June 23 with high community transmission risks, especially in Cam Pha.
In the latest notice, Quang Ninh provincial authorities decided that from June 25, all activities gathering high numbers of people, religious events, festivals and public beaches in Ha Long City, Cam Pha, Van Don District and Co To must be stopped.
The new decision has affected the tourism demand stimulus campaign.
A director of a company specializing in providing boats on Ha Long Bay complained that a group of tourists could not depart on June 26 as initially planned. An inner provincial group of tourists planning to depart on June 30 was canceled.
"Even the cruise ships in Hai Phong have also been told to stop operation. We still don't know what to do," he said.
However, some isolated resorts in Quang Ninh are still receiving local guests. Meanwhile, guests from other provinces/cities, especially from Hanoi, have to show testing results, to be able to go through checkpoints.
According to a tourism sale agent, the bookings with FLC Ha Long and Vinpearl Ha Long have not been affected, except for travelers booking tours to Cam Pha. Their orders will be reserved.
Where to go?

Quang Ninh once again has had to close the door to fight the pandemic after just half a month of opening to travelers. Localities have had to change their tourism development plans regularly.
In the provinces in the south central region, many tourism attractions have also closed.
In Phu Yen province, Tuy Hoa City has been imposed social distancing in certain areas in accordance with the Government's Directive No 15, commencing from 3 pm of June 24 for 15 days.
Binh Thuan also imposed social distancing in Phan Thiet City on June 24, and in Tuy Phong District on June 25 in accordance with Directive No 15.

In addition to suspending or restricting public activities, the locality has also stopped all inter-provincial and intra-provincial fixed passenger transport routes, and contracted passenger carrying vehicles, buses and taxis from Phan Thiet City and Tuy Phong district to other localities inside and outside the province and vice versa.
The trains from Phan Thiet to Phu Quy have also reduced their frequency. There is only one trip in and out every two days, while the number of passengers must not exceed 150 people per trip. Tickets are only sold to people living in Phu Quy and who have negative PCR test results within the last 72 hours. They do not carry passengers from localities with an outbreak.
In the localities which have imposed social distancing such as Nghe An and Ha Tinh, and the localities where the activities of traveling, sea bathing and sightseeing have been stopped such as Da Nang and Quang Nam, people cannot travel, or they will be put under quarantine for 14-21 days.
In Khanh Hoa, some outdoor activities have resumed, but with no more than 20 people gathering at the same time. Sidewalk food shops are allowed to sell take-away food only, and the shops must ensure the minimum distance of one meter.
Civil flights to Con Dao Island were stopped on 5 pm on June 5. The air routes to Phu Quoc Island still operate, but passengers must show negative testing results within the last 24 hours.
If passengers cannot show the testing result, they will have to be tested in the locality and pay for the test cost. As for cruise travelers, they have to make a health declaration, and scan the QR code at harbors before entering Dao Ngoc Island.
In the north, Ha Giang has stopped receiving travelers since June 2 and receiving people from Covid-stricken localities. If it is absolutely necessary, people have to show negative testing results within 5 days to be eligible to enter the province.
There are still some safe destinations that travelers can go, if following the 5K principle.
In the latest news, Vinh Phuc has decided to allow travelers and golfers back from other provinces, if they have been vaccinated or have had a negative testing result within the last 5 days. 
Ngoc Ha

The ancient beautiful city of Hoi An in the central province of Quang Nam has been ranked second among top ten most beautiful car-free cities in the world, which was announced by Australian Traveller magazine.

Locals and foreigners have lulled into peace and mindfulness at the ancient Thuy Trung Tien Temple, which sits on an island at the north end of renowned Truc Bach Lake in Hanoi.