Tourism reopening: Phu Quoc's problem, Vietnam's lesson
Reopening Phu Quoc to receive tourists has proven to be a big challenge.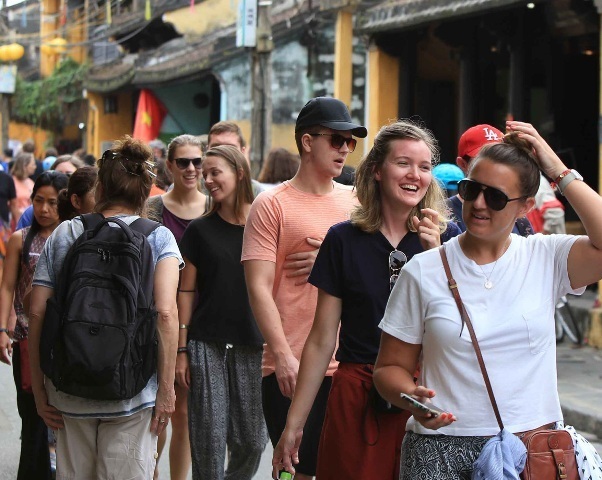 But if Vietnam can solve these issues, it will successfully reopen the tourism industry and be able to live together safely with the coronavirus.
The news that the Government has allowed Phu Quoc Island to go ahead and receive foreign travelers from October has ignited hopes for a revival of the tourism industry which has been paralyzed because of Covid-19.
The industry and travel firms have been operating under the on/off mode with the door opening and closing, depending on pandemic developments.
The firms have learned a lot of lessons.
They have realized that they need to live together with coronavirus instead of waiting when the virus is completely eliminated. But how should they do this?
At an online webinar on vaccine passports and an opportunity to stimulate demand in the aviation, tourism and service sectors, Tran Dac Phu, former Director of the Preventive Medicine Agency, said Vietnam needs to fight the pandemic while developing the economy at the same time, and ensure social welfare.
The reopening of the service sector, including tourism, needs to be implemented in a cautious way to ensure safety. Phu Quoc's pilot reopening will provide useful information for other provinces.
The reopening will be deployed on the basis of vaccine passports or green vaccine passes, to be granted to those who have been fully vaccinated, or have fully recovered from Covid-19.
Under the pilot reopening, Phu Quoc will receive foreign travelers who have vaccine passports for six months. It is expected that there will be 40 flights to the island a month, carrying 25,000-40,000 passengers.
Nguyen Dao Dung from Vietnam National Tourism Administration (VNAT) said there are two issues to ensure safety for travelers when applying vaccine passports.
First, local authorities need to observe measures to ensure safety of destinations and improve medical service capability.
Second, it's necessary to choose travel firms that can meet high requirements to serve travelers.
Challenges for Phu Quoc
Three issues have arisen during reopening of Phu Quoc tourism, including herd immunity; procedures (recognition of vaccine passports and epidemiological control over foreign travelers); and the revival of the domestic market.
To date, 37,000 citizens of Phu Quoc aged 18 and above have had the first shot, accounting for 35 percent, and 8,000 have had the second shot, or 6 percent. It needs 300,000 more vaccine doses to obtain vaccination coverage of 70 percent of population and reach herd immunity.
Regarding vaccine passports for air travelers, the Civil Aviation Authority of Vietnam (CAAV) said Vietnam Airlines and Bamboo Airways use the IATA Travel Pass, which is being used by nearly 200 airlines and 80 countries to cooperate to provide air services.
Regarding epidemiological control, Vietnam now has many apps for medical declarations. Experts believe that it would be better to use a single app for both Vietnamese and foreign travelers as per the direction of Deputy Prime Minister Vu Duc Dam.
The Du Lich Viet Nam An Toan app (Vietnam Safe Travel) of VNAT is connected with the Ministry of Health's Record app, designed for Vietnamese people. There is no English version.
Vietnam needs a single app that integrates all other existing apps, containing all necessary information for people to travel domestically and abroad.
Vietnam now applies stricter requirements than other countries when requesting foreign visitors to have concentrated quarantine, while others countries allow quarantine at home.
In order to attract more foreign travelers, it's necessary to simplify procedures for entry. And to simplify procedures, cities and provinces need to obtain a high percentage of fully vaccinated people. At this moment, only six cities and provinces can satisfy this requirement.
Regarding domestic demand, the largest market now – HCM City – is still making every effort to constrain the fourth Covid wave which broke out in May.
Meanwhile, Hanoi and Da Nang are taking cautious steps, gradually loosening social distancing in a plan to both control the outbreak and develop the economy. If the two cities can vaccinate 70 percent of their population in the next two months, they will be able to draw up a long-term plan to 'live together with the pandemic'.
If there are not enough vaccines for all, it would be better to reopen tourism step by step, in safe zones first. For example, Vietnam can receive travelers to Phu Quoc, while waiting for vaccines in other places. 
Nguyen Duc Chi (Tourism expert)

The success in welcoming the first international visitors to Phu Quoc Island is expected to have a huge media impact.

Phu Quoc  is expected to be first destination to receive foreign tourists after the Government approved the Ministry of Culture, Sports and Tourism' proposal on a pilot plan to welcome tourists back under the vaccine passport program.