Top lenders latch onto fintech future

Banks and investment funds are racing to partner up with fintech businesses in their quest towards digitalisation.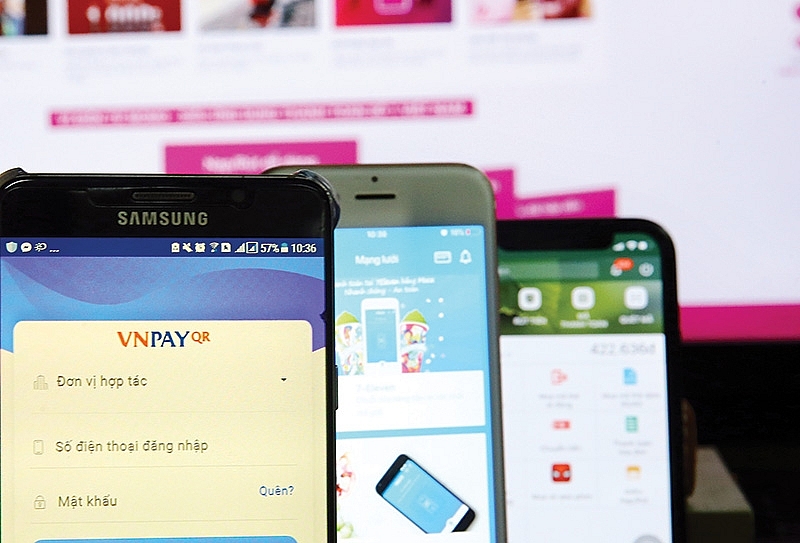 Companies such as VNPay, involved in e-payments since 2007, demonstrate the power of fintech firms
Within the first half of 2019, the market has witnessed a slew of mergers and acquisitions (M&A) between financers and startups in fintech. Unlike previous years, buyers range from venture capitalists to banks, investment funds, and even other startups themselves, which mark a new chapter of M&A activities in the fast-growing sector.
It is also notable that many of the M&A deals involve business-to-business fintech groups, which mean they are most likely to help with the buyer's operations rather than dealing directly with consumers. One such deal is between VCG Partners, the Singapore-based fund manager of VinaCapital, and Smartly, a robo-advisory investment platform.
VinaCapital did not disclose the amount of money it spent purchasing Smartly. Smartly has been a close partner of VinaCapital since 2016, when VCG Partners began discussions to jointly launch an investment advisory platform.
According to its website, Smartly uses algorithms to make investing simple and accessible to more people. Investors complete a simple questionnaire that assesses their risk tolerance, financial situation, and goals. The robo-advisor then recommends a portfolio made up of a basket of exchange-traded funds. The algorithms rebalance portfolios on a periodic basis. The platform aims to offer people with basic financial literacy the opportunity to invest easily with full transparency and low fees.
"We look forward to building on the momentum with Smartly, and expanding to other Southeast Asian markets as their regulatory environments allow," said Jason Ng, CEO of VCG Partners.
In another deal, Vietnam's Indovina Bank announced its strategic partnership with Singaporean fintech firm Finaxar to improve access to financing for small- and medium-sized enterprises (SMEs). The partnership will provide working capital to SMEs that are growing fast in the region with more streamlined access to online credit through Indovina Bank's credit line product powered by Finaxar.
To assist SME clients of Indovina Bank, Finaxar uses data analytics modelling and tools, plus financing solutions backed by tech infrastructure. Thanks to the use of Big Data and other technologies, SME borrowers will not have to provide collaterals of loans up to VND500 million ($21,740).
Two months beforehand, VinID JSC, the cashless payment subsidiary of Vietnamese conglomerate Vingroup, also bought out e-wallet platform MonPay from People Care JSC. Following this M&A, the value of which was not disclosed, VinID customers can deposit money and pay through MonPay.
This is considered Vingroup's first major foray into the booming fintech sector, as the group looks for a payment system that can serve its customers in a wide variety of businesses, from hospitality and supermarkets to education and e-commerce.
At the same time, Trusting Social, which strives to score the credit points of Vietnamese customers, also received $25 million from Sequoia Capital, 500 Startups, and BeeNext. Unlike the traditionally run Credit Information Center, Trusting Social uses Artificial Intelligence (AI) and Big Data to help financiers consider if they should lend to a customer. The company has also built its own online lending platform called Avay.vn.
A few months previously, the market also saw Grab buying out payment firm Moca, in an effort to venture beyond ride-hailing to become a super-app that caters to different needs of customers. According to observers, this deal is valued at $3 million.
This M&A trend is testament to Vietnam's rising appeal as a fintech hub, and businesses' eagerness to capture a slice of this bigger pie as quickly as possible. Instead of growing their own fintech arm, which takes a longer time and more effort, deep-pocketed players soon realise M&A as a faster and safer route.
For financiers like banks and investment funds, fintech startups provide them with the latest Industry 4.0 technology like AI and Big Data, as well as talented staff members who often have experience studying and working abroad. Moreover, fintech startups can offer insight into the young, tech-savvy and increasingly well-to-do customers – the target market that financers are flocking to.
On the other hand, the startups can gain access to Vietnam's established capital system, as well as their customers. A partnership with traditional banks and funds also boost their credibility, something that many fintech startups have been struggling with. As young companies, building a positive brand image is absolutely crucial for the startups.
This view is confirmed by Nguyen Ba Diep, deputy chairman of M_Service, the company behind e-wallet platform MoMo. He welcomed the recent influx of major companies in the fintech sector, which he believed started late last year.
"This is a very welcoming sign for the market, because these big players only invest when they can see real demand and potential in digital payment and other forms of fintech. I believe that the trend will continue and we'll see more companies entering the fintech sector via M&A," said Diep. He also credited efforts by the State Bank of Vietnam to promote cashless payment and the fintech industry.
Possible drawbacks for these partnerships include the underdeveloped policy framework, which still lags behind the lightning speed of Vietnam's fintech sector. This is a common issue in many markets around the world, as policymakers scratch their heads to keep up with new technologies that blossom on a daily basis.
"For example, in Vietnam, current laws do not address robo-advisory services, creating significant risks for investors who elect to invest with some of the startups in the market that claim to offer such services," added Jason Ng from VCG Partners.
Nguyen Kim Anh - Deputy Governor State Bank of Vietnam
In 2017, we established a specialised committee that focuses on developing the fintech legal framework. The sector has provided convenience and new experiences to customers, bringing in fresh changes in the banking sector. We understand the important role that fintech companies will play in the financial industry.
We hope to address different forms of fintech companies, from digital payment to peer-to-peer lending, personal finance, and know-your-customer services.
We strongly support partnerships between banks and fintech companies, because this allegiance creates much added value to customers.
It is very hard for fintech companies to develop without strong collaborations with traditional banking services, because banks have an established system of risk management, customer network, IT structure, and budget for innovation.
Keir Veskivali - Co-founder, Smartly
Today, robo-advisory ­services manage more than $980 billion in assets around the world, with forecasted compounded annual growth of around 27 per cent between 2019 and 2023.
Markets in Southeast Asia, with large digitally native ­populations, high smartphone penetration, and increasing wealth, are ripe for robo-advisory investment platforms.
By partnering with VinaCapital, we at Smartly have taken an approach to launching a robo-advisory ­platform that is different to the rest of the pack. We can allocate valuable capital to places where it was most needed, stay focused on execution, and maintain strong financials and unit metrics.
VinaCapital's acquisition of operations and additional capital injections will enable Smartly to scale-up, expand to new markets, and realise its full potential to become the leading digital wealth management platform in the region.
Vihang Patel - Co-founder, Finaxar
I believe that the M&A trend among startups in ­Vietnam will continue in the coming years as the fintech market grows and matures.
The main reason behind this trend is that some startups have expanded to the level that they have enough money to buy out other startups – which is most evident in the case of Grab and Moca. When they scale up, big startups often want a quicker route and M&A transactions are the logical choice. They are also backed by money from venture capitalists to do so.
Personally speaking, I would rather see Vietnamese fintech startups remain fully Vietnamese and not selling themselves to international investors too quickly.
But my thoughts aside, this is the general market trend that will ultimately benefit ­Vietnamese customers as they enjoy more sophisticated ­services brought to them by the Fourth Industrial Revolution in finance. VIR
Phuong Nguyen

Mr. Marc Djandji, Entrepreneur in Residence at VIISA's Fintech Lab, tells about the mark fintech is making in Vietnam.

With a huge numbers of users, mobile network operators are tapping the financial service market, the major field of fintechs.