Top 10 cybersecurity events in 2020
The National Cyber Security Centre (NCSC) of the Authority of Information Security has announced the 10 most outstanding cybersecurity events in 2020.
1/ Ensured absolute safety and network security for major international events hosted by Vietnam.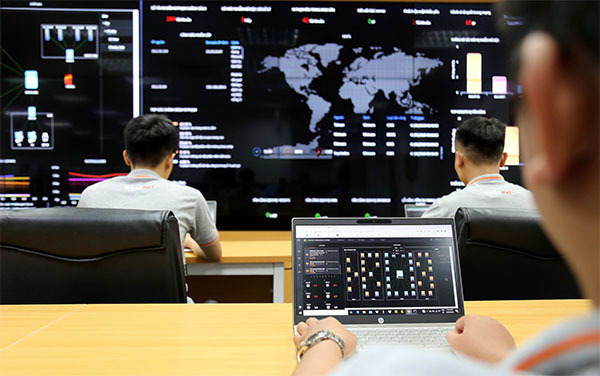 2020 was a special year for Vietnam. Though having to cope with the Covid-19 pandemic, Vietnam still fulfilled the tasks of ASEAN 2020 chairmanship well.
Vietnam successfully organized a series of unprecedented online events at international and regional stature, including tens of events as the ASEAN chair, and the 37th ASEAN Summit, the 41st General Assembly of the ASEAN Inter-Parliamentary Assembly (AIPA-41) and ITU Digital World 2020.
The great success of the events was partially created by cybersecurity experts from the Ministry of Information and Communications (MIC), Ministry of Public Security, Ministry of National Defence and firms providing services.
The safety and security for the events demonstrated Vietnam's high level. of responsibility, role and good image in the international arena.
2/ 100% of ministries, branches, localities deployed SOC with NCSC connections.
The fact that all ministries, branches and localities have implemented the Security Operation Center (SOC) and the technical connection with the National Counterintelligence and Security Center (NCSC) shows progress in information security at agencies and units when deploying the 4-layer model as instructed by the government.
SOC allows ministries, branches and localities to take the initiative in ensuring cybersecurity. To date, more than 10 Vietnam's businesses have provided SOC services and products.
3/ Scanning, handling of malware campaign applied in entire Vietnamese cyberspace
The campaign was deployed by NCSC together with businesses of the Alliance for malware prevention and handling of cyberattacks and international businesses.
Carried out via https://khonggianmang.vn/chiendich2020 from September to December 2020, the campaign was implemented concurrently in all provinces and cities from local to central levels.
The campaign achieved the goal of reducing 50 percent of malware infections and reducing 50 percent of Vietnam's IP addresses in botnet networks.
4/ WhiteHat Grand Prix 06
Many national and international cybersecurity competitions were organized, including WhiteHat Grand Prix 06 and ASEAN student contest on information security 2020.
The competitions have contributed to promoting and developing cybersecurity human resources in Vietnam, while promoting and enhancing Vietnam's image and position in the international arena.
Most of the competitions were sponsored by MIC.
5/ Vietnam announced requirements on technical specifications for terminals, base stations and 5G network service quality.
The popularity of 5G technology will create far-reaching breakthroughs in the scale and speed of information. Vietnam is speeding up the commercialization of 5G mobile network. The Ministry of Information and Communications has determined that cybersecurity is the most essential factor when implementing 5G.
A legal framework for 5G cybersecurity was established, including decisions issued in September 2020.
6/ 'Make in Vietnam' cybersecurity products accounted for 90 percent
In 2015, Vietnam-made cybersecurity products just accounted for 5 percent, while the figure rose to 55 percent in 2019. In 2020, Vietnam masters more than 90 percent of the ecoystem of cybersecurity products serving the Party, State agencies and people.

In 2015, Vietnam-made cybersecurity products just accounted for 5 percent, while the figure rose to 55 percent in 2019. In 2020, Vietnam masters more than 90 percent of the ecoystem of cybersecurity products serving the Party, State agencies and people.
7/ DF Cyber Defense 2020
Banking Tech 2020 was organized by NCSC and IEC Group. The highlight of the event was DF Cyber Defense, the drill for mock cyberattacks, with the participation of 30 businesses and organizations in the fields of finance - banking, insurance and securities.
Techcombank, Vietcombank won big at the competition.
8/ Government took drastic measures to prevent spam
Decree 91 on preventing and fighting against spam SMS, messages and calls was promulgated in August 2020.
Many measures were taken to implement the decree. Mobile network operators ran sytems to prevent and filter spam messages and handled subcribers delivering spam calls, and discovered and blocked fake calls.
9/ Online phishing was on the rise
Online phishing has existed for many years, but it was more serious in 2020 when countries were affected by Covid-19.
As most people's daily activities are carried out in cyber space, scams have increased their activities, especially using telecom networks and social networks.
10/ APT attacks targeted popular software products
Ad the world was busy dealing with SARS-CoV-2 virus, hackers intensified their activities.
A wide range of popular products, software and applications were disclosed of their critical vulnerabilities. Hackers took advantage of these vulnerabilities to launch various cyberattacks. Vietnam discovered and prevented a series of intentional offensive campaigns. 
Minh Thu

By developing Make in Vietnam cybersecurity products on the basis of open platforms, technology firms will be able to create 'digital trust' among consumers.

Despite urging by the Law on Cybersecurity, few international companies handling the data of local customers have set up data centres in Vietnam.