The Prime Minister's commitment to Japanese businesses
"Japanese enterprises can rest assured that they can invest in Vietnam for a long time, and if there is any problem that cannot be resolved, you can directly send letters to the Prime Minister,"
Prime Minister Pham Minh Chinh told Japanese entrepreneurs at a meeting in Japan on November 23.
That was the commitment made by the head of the Vietnamese government to leading Japanese businesses during his official visit to Japan on November 22-25.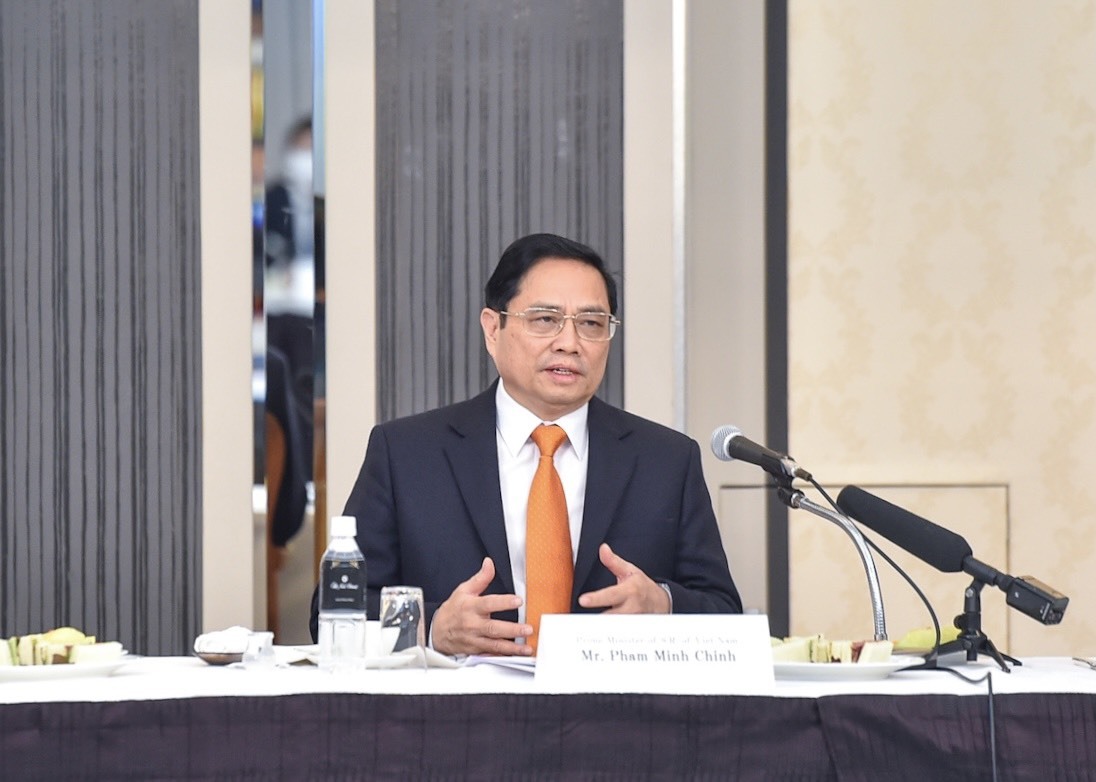 Prime Minister Pham Minh Chinh. Photo: Nhat Bac
At the meeting, Prime Minister Pham Minh Chinh told Japanese businesses that they can make long-term and strategic investments with confidence in Vietnam because it has a stable political background, is actively implementing strategic breakthroughs, gradually perfecting and stabilizing institutions and simplifying administrative procedures to reduce input costs for businesses.
Vietnam's consistent stance is to create a stable macro environment for foreign investors in Vietnam. The Vietnamese government is committed to protecting the legitimate rights and interests of investors and has established a special working group on solving difficulties for businesses, the Vietnamese PM said.
Prime Minister Pham Minh Chinh also told Japanese investors that if they have difficulties or problems, they can directly contact the relevant ministers for consideration and resolution. If their problems are not solved, they can directly send a letter to the Prime Minister. The Prime Minister is always ready to listen, receive and handle the feedback of entrepreneurs.
He also pointed out investment opportunities in Vietnam for foreign businesses.
He affirmed that difficulties and challenges are intertwined but opportunities are always greater, and in fact, Japanese businesses investing in Vietnam are still developing. The Vietnamese Prime Minister invited Japanese businesspeople to Vietnam to witness what he spoke about.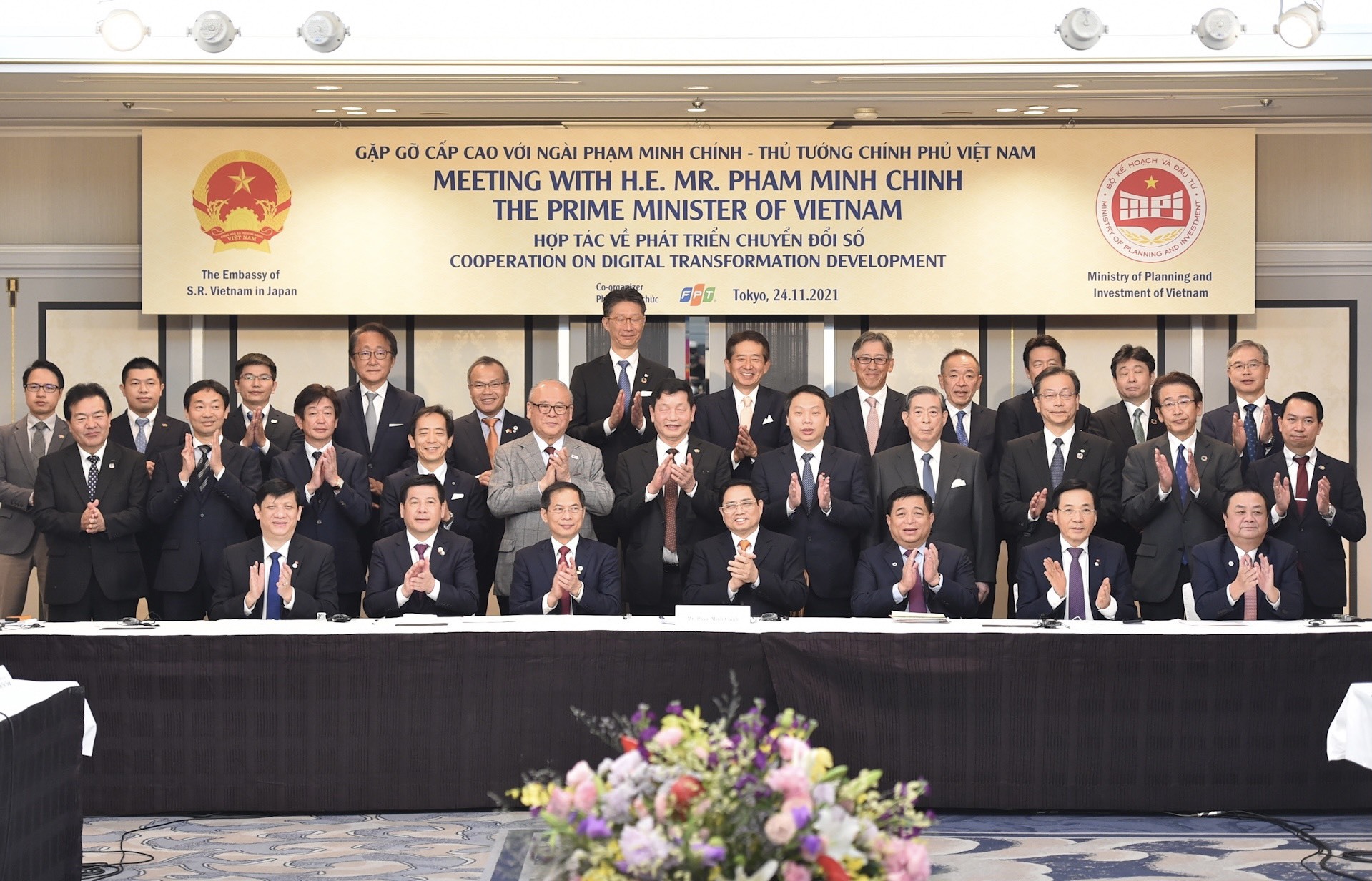 Prime Minister Pham Minh Chinh and Japanese entrepreneurs at the meeting on November 23.
Vietnam is implementing a policy on economic recovery and development during and after the Covid-19 pandemic. Vietnam is creating the most favorable conditions to attract foreign capital and ODA. This is a "golden opportunity" for foreign businesses to invest in Vietnam, especially Japan as Vietnam's largest ODA donor and the second largest foreign investor in Vietnam.
The Vietnamese Prime Minister also emphasized the importance of the cooperative relationship with Japan, in which the most important thing is mutual trust, understanding and respect to overcome difficulties together with the principle of "harmonious benefits, shared risks".
In response to the strong commitment made by the chief of the Vietnamese government, many leading Japanese enterprises did not hesitate to clearly announce their strategy to continue to expand investment in Vietnam in the coming time. Investors affirmed that when listening to the Prime Minister's exchange, they had more confidence and peace of mind to invest in Vietnam.
Specifically, ENEOS Group is interested in Vietnam's energy development and wants to participate in the process of reducing carbon emissions. Sojitz Group is also interested in projects related to carbon reduction solutions in Vietnam.
Meanwhile, AEON Group is implementing a medium and long-term investment plan in Vietnam and sees Vietnam an equally important market as the main market in Japan, and plans to double its trade centers in Vietnam in the near future.
AEON also plans to list on the Vietnamese stock market and promote the export of Vietnamese goods such as seafood, garments, etc to Japan. Digital transformation in Vietnam is also its interest.
A representative of Fast Retailing Group, which owns Uniqlo fashion brand, said that the group would expand its business in the field of retail, e-commerce in the near future.
These are good signs not only for Vietnam's economic recovery and development in the coming time. Prime Minister Pham Minh Chinh said: "After this visit, political trust between the two sides will be raised, opening a new chapter of development and elevating the extensive strategic partnership between Vietnam and Japan."
Thu Hang (From Tokyo, Japan)

Prime Minister Pham Minh Chinh suggested Japan provide Vietnam with new-generation official development assistance with maximum incentives and the simplest procedures.