The once-famous village in Hanoi where people got rich with embroidery products
Nguyen Bi Village in Quat Dong in Hanoi was once a well-known embroidery craft village which produced high-quality embroidery products for sale the export market
The village is 20 kilometers from the center of Hanoi. In the past, it was one of five villages where Le Cong Hanh, a mandarin of Later Le Dynasty, passed down embroidery skills.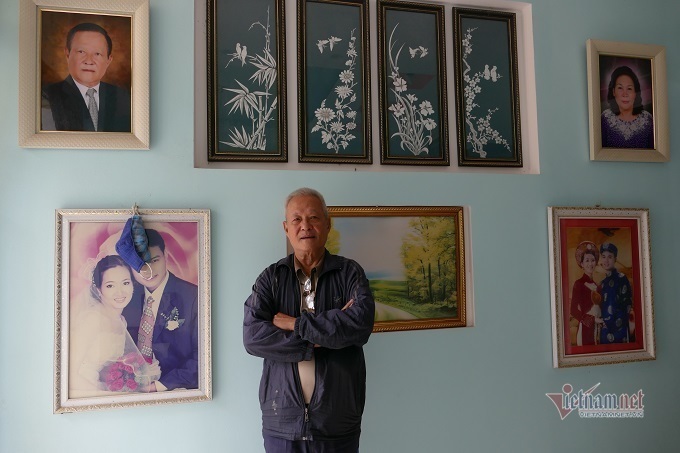 Le Dai Nghiep from Nguyen Bi Village
In the early 20th century, the most prosperous period of the village, many businesspeople traded silk and embroidery for export.
"My family has been making embroidery for many generations. In the 1920s of the last century, my grandfather traded embroidered paintings and silk fabric throughout Southeast Asia," said Le Dai Nghiep, a resident in Nguyen Bi Village.
Nguyen Bi Village had two groups of people. The first traded embroidery, while the second embroidered for traders, who had better lives. They had money to build houses and buy land.
In the 1920-1930s, many traders thrived. They bought houses in the central area of Hanoi, on Hang Ngang, Hang Dao and Hang Khay streets.
Nghiep's grandfather went to Singapore to sell embroidery. He built a business network there while his wife stayed in Vietnam and did field work.
He sent money and gold to Vietnam to his wife to raise the children and accumulate land. His family was among the well-off households in the village.
"My grandmother said that he usually sent big parcels, including utensils, gold and money," Nghiep said.

Nguyen Bi Village in Quat Dong in Hanoi was once a well-known embroidery craft village which produced high-quality embroidery products for sale the export market
In 1936, because of certain events, his grandfather returned to Vietnam and only traded in Vietnam.
In that period, many spacious houses made of ironwood and solid houses arose in the village.
Though Nghiep's grandfather was a trader, he still maintained the embroidery career and passed it down to children and grandchildren.
Nghiep's father was head of the embroidery division of the Hanoi Fine Arts Import-Export Company headquartered on Hang Khay street in Hoan Kiem district.
In 1976-1980, he was sent to HCM City to develop embroidery there.
In 1980, Vietnam exported embroidered products (bedsheets, kimonos, or a kind of night dress) to the former Soviet Union in large quantities. Nghiep's father cooperated with the owners of fabric shops who had relatives in Russia.
Nghiep's father received large fabric rolls from the shop owners, cut the fabric into clothes, and embroidered the clothes.
"My father told me to draw embroidery patterns. The patterns need to be beautiful, but must not be too difficult, so that small embroidery shops could do this," he recalled.
The embroidered products were exported. "The demand was very high and our family members were always busy. I hired a lot of workers," he said.
Nghiep's wife, 64, was also an embroiderer. When she was 19 years old, she taught embroidery in many other provinces.
Their children were prosperous in their business, and have lived in other countries. Because of health conditions, however, they have not continued the career. Nghiep said that he still loves the craft, especially because it brought prosperity to his family.
When the country's doi moi (renovation) period began, embroidery could no longer bring big money as exports to Russia stopped. Nghiep and his wife shifted to another business field.
After witnessing golden days, the traditional craft has been regressing. According to Thai Duc Duy, a craftsman, there are only three households in the village that still make hand embroidery. Other people have given up the career because of low income.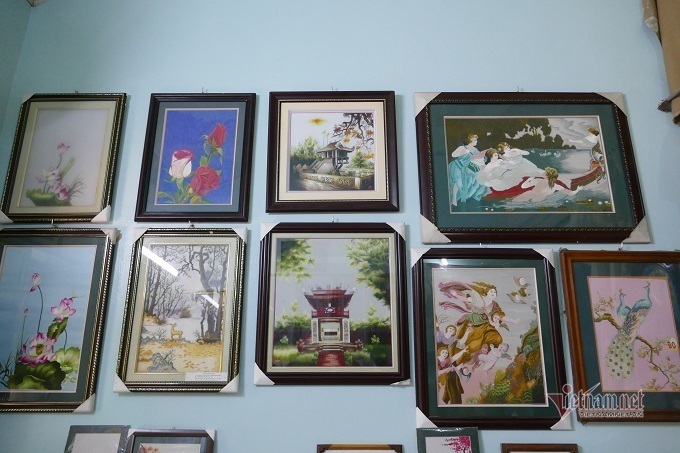 The emrboidery products created by Thai Duc Duy
It takes several days to one month to complete an embroidery product. Meanwhile, the product is sold at from VND50,000 to VND200,000 only.
The low income, plus the flooding of cross-stitched embroideries sourced from China, has discouraged local people to continue the career. Young people often leave the village for cities where they find jobs in companies. The number of embroiderers is now so modest that it 'can be counted on one's fingers'.
People in the village said that when the old craftsmen pass away, there will be no one to continue the traditional career.
Duy said his family members have been embroiderers for many generations. When he went to preschool, he embroidered his first stitches. When he was in seventh grade, he embroidered products for export.
As an adult, he has been developing his work, and his products have unique characteristics, expressing his personality as well as the high skill of the profession.
His embroidery has won many prizes at competitions. He also teaches embroidery at vocational schools.
He said embroiderers need to be clever with their hands, have artistic talent, and good professional skills and experience. A beautiful hand-embroidered picture requires a variety of threads of different colors, sizes and materials.
Duy, with the wish to preserve the traditional career, teaches embroidery every summer. However, most students just learn for fun, and there are very few people who want to continue the career.
Duy, whose his health is getting worse, said that he feels sad that few people want to work in this traditional career. 
Thai Minh

Trach Xa Village in Ung Hoa suburban district of Hanoi is famous for the craft of tailor-made Ao Dai (Vietnamese traditional long dresses), an epitome of Vietnamese culture.

Hoi An, home to one of the nation's most famous UNESCO world heritage sites, has reopened its pedestrian streets, night streets, and craft villages following several months of closure due to the impact of COVID-19 pandemic and flooding.