The land of statues
Daily at the cock's crow, when everyone is still snuggled up in their cozy beds, a man is busy using well-worn wooden moulds and clay to make traditional Kitchen God statues.
Dia Linh village (Huong Vinh commune, Huong Tra town, Thua Thien - Hue province) has long been known as the traditional land for sculpting Land Genie and Kitchen God (Stove God) statues for Vietnamese Kitchen guardian day on the 23rd of December (lunar calendar).
Along the paths across Bao Vinh old town approaching Lunar New Year, there are many raw statues basking in the sun getting ready to be baked. The sound of knockings on the moulds rings out evenly, covering the whole village in a festive atmosphere. This sight is incredible to behold at the very entrance. Land genie and Stove God statues, after going through firing process, will then be colored by skillful hands, smoothly and rhythmically.
Sitting in a corner of the house is a 64-year-old man diligently putting the clay in wooden moulds of Land Genie and Kitchen God shape. To avoid concavity, the moulds need filling with a generous amount of clay. Any excess afterwards is wiped off the edge. Stickiness is avoided during the shaping process by sprinkling some ash on the templates rather than just placing the damp clay in. The man next settles the raw products on red bricks so that water can easily be drawn out before sun drying. At day's end, the average number of statues he can produce is around 300.
His name is Vo Van Nhat, now already 70 years old. Time has flown since the day he started his father's profession at the age of 25. Half a lifetime went by in just a blink of an eye. A young man until this day, he's carried on the tradition as part of his means of living.
The village elders say the village in the past was renowned for its abundance of clay. During Nguyen Dynasty, the place specialized in manufacturing products to supply for the construction of mausoleums for kings in Hue. The profession of statue craft was then created.
The chief material of the process is clay which is obtained from the fertile fields behind the village or bought elsewhere. From March of the lunar calendar, craftsmen start to prepare clay by kneading it until smooth and flexible. A batch of statues becoming finished requires about two days in the kiln, and another two more days for cooling.
"The most significant and strenuous phase to make certain a successful outcome is clay processing and moulding. Clay with the least impurities is a must, the same with kneading it to a desired pliability and sufficient pressure whilst moulding to keep the statues neatly in shape later on.  Mould lining should beforehand be done with white ash," Mr. Nhat shared.
Land Genie and Stove God statue making gets the most hectic during later months when Lunar New Year is on its way. There are countless products Mr Nhat has made on his own during around 40 years in this profession.
Keeping tradition alive
Opposite to Mr. Nhat's house is Mr. Vo Van Nam's family, the members of which also have over 30 years of statue crafts.
"The process of placing statues in the kiln requires meticulousness. More than a thousand statues are arranged in rows with proper gaps maintained for the fire to burn evenly, to avoid cracks when heated," said Mr. Nam.
Previously, statues were barely decorated. However, to match consumers' tastes nowadays, they after cooling are brilliantly colored or sprinkled with eye-catching glitter powder.
Ms. Nguyen Thi Thuy Linh (28 years old, Mr Nhat's daughter-in-law) said that people do not earn much from this job since the products are sold at very low price ranging 500-2000 VND, which for craftsmen is just enough to make ends meet.
"VND100,000 is the average we make for a whole day. In comparison with other works, it is low-paid, but with burning passion, many families in the village still want to keep the tradition alive," Ms. Linh said.
The elders in Dia Linh village shared that Land Genie and Stove God statue making was first present in Thua Thien - Hue including Dia Linh village and Sinh village (Phu Vang district). Sinh village later shifted to making only votive offerings.
More and more households in the village are leaving the statue making tradition and seeking new ways to make their living because it demands a long day work alongside low income. There are now only four households engaging in the occupation giving rise to a fading culture of statue craft.
The profession generally reflects traditional values ​​of the past and cultural beauty that's worth breathing life into.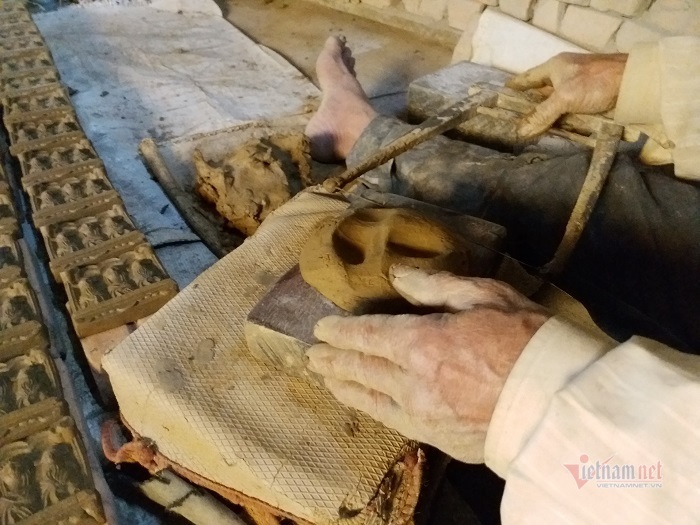 Clay excess being eliminated.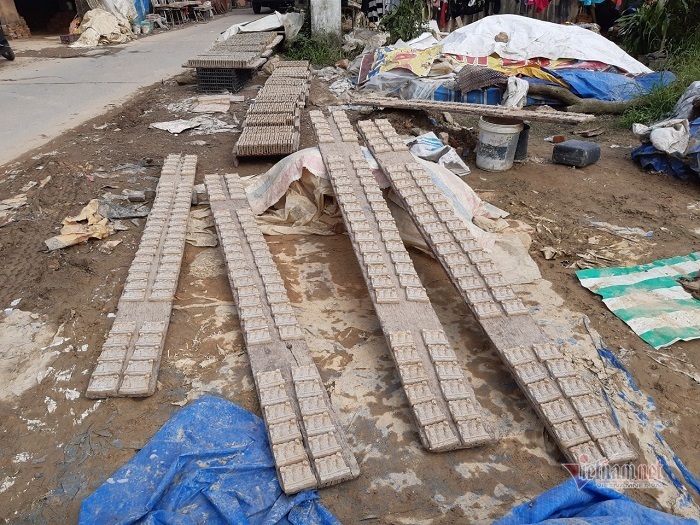 Raw statues being sun-dried.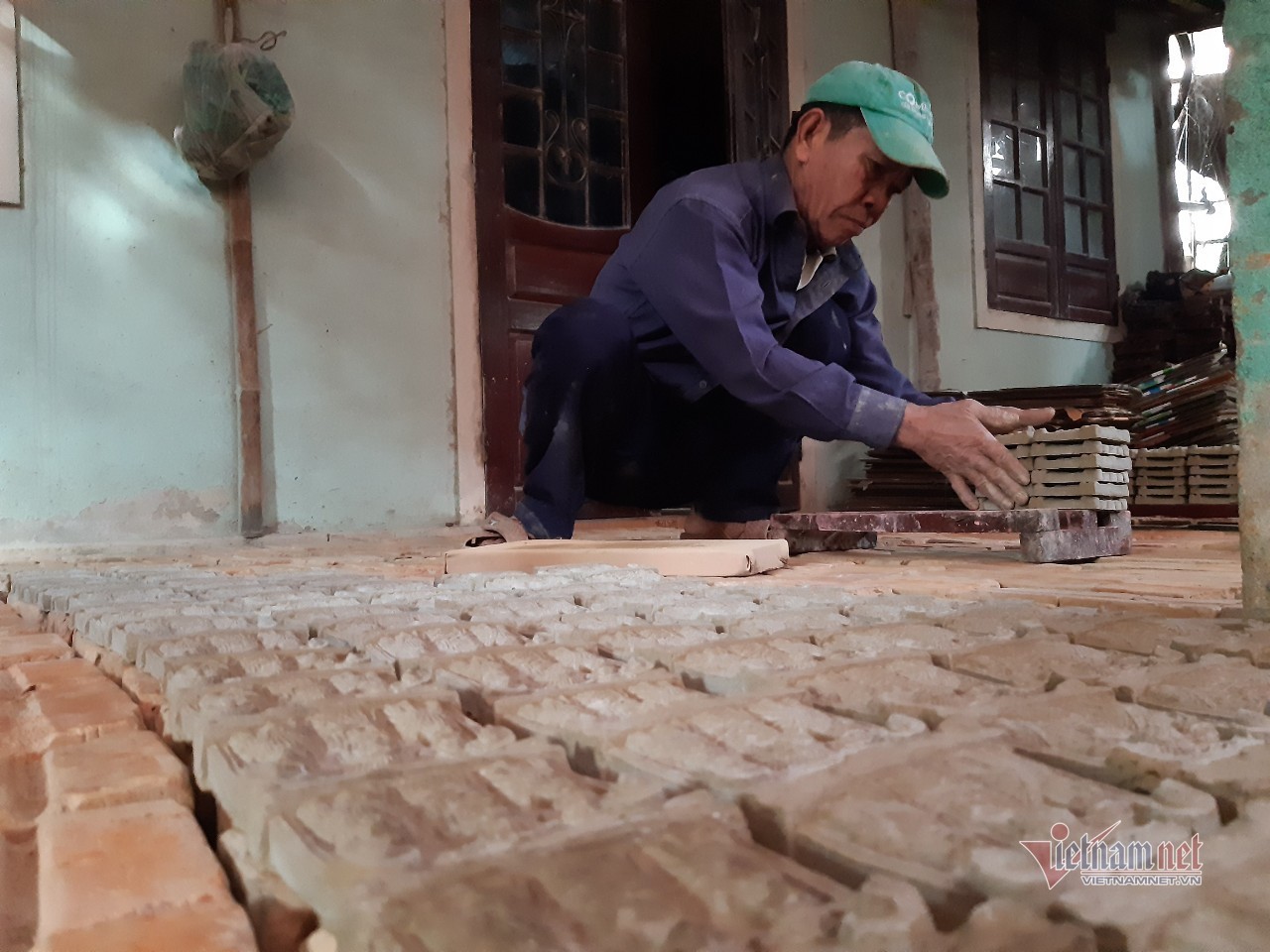 Mr Vo Van Nhat.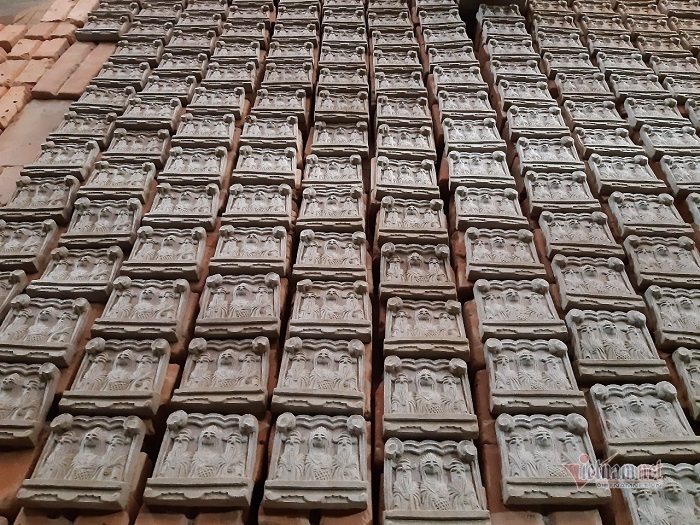 Land Genie and Stove God statues after molding.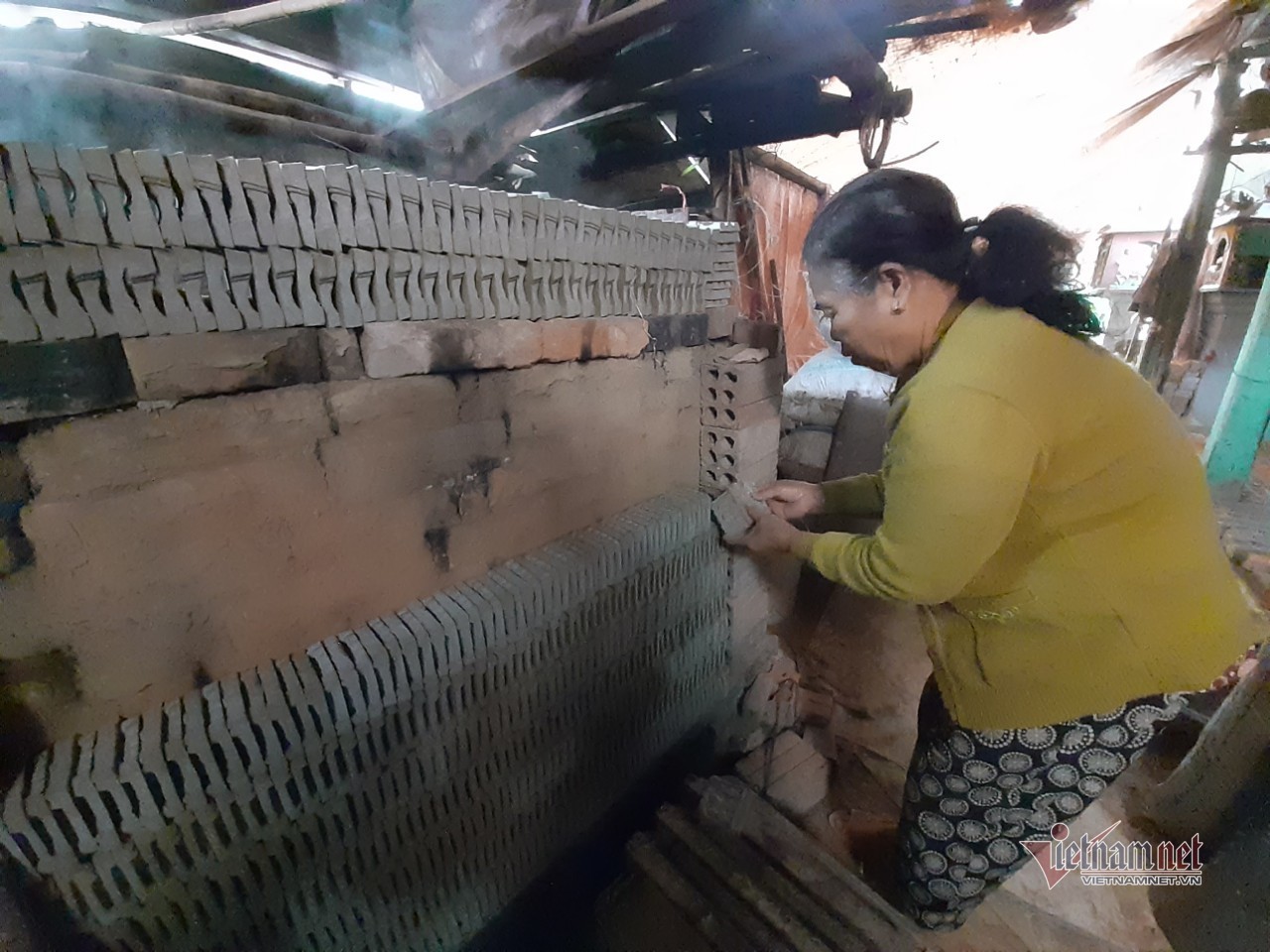 Mr. Nhat's wife places raw products around the kiln.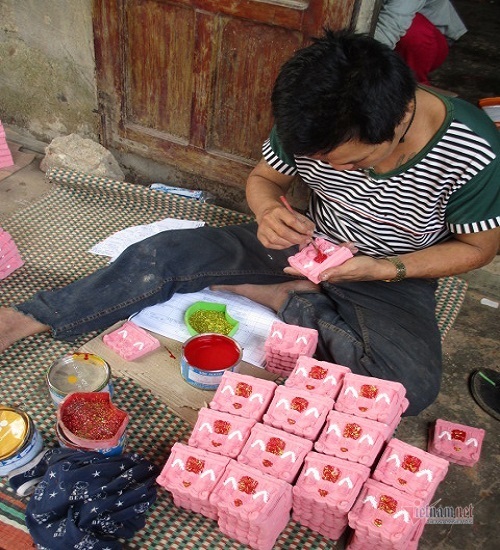 Final phase to get the statues finished.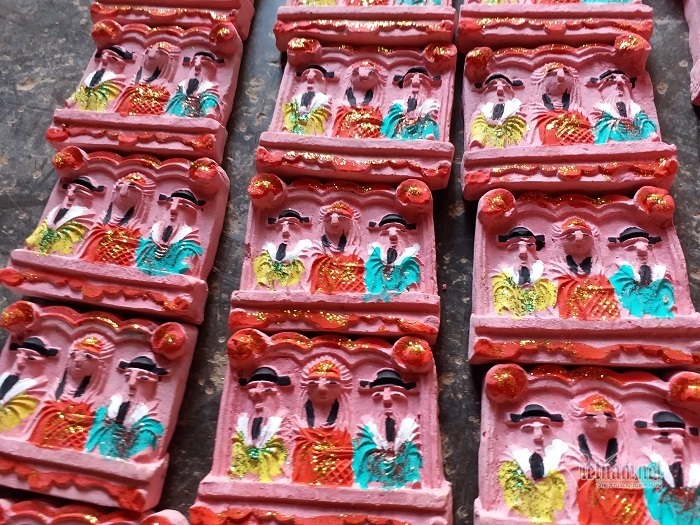 Finished products.
Quang Thanh

Trach Xa Village in Ung Hoa suburban district of Hanoi is famous for the craft of tailor-made Ao Dai (Vietnamese traditional long dresses), an epitome of Vietnamese culture.

The Ninh Van ancient stone carving village in the northern province of Ninh Binh provides a wide variety of handicraft products domestically and abroad.