The issues of the new government term
Prime Minister Pham Minh Chinh's government has inherited many legacies, but also faces many challenges, especially in institutional reform, to realize the aspirations of taking the country to new heights of development.
Legacies
Speaking for the last time before the National Assembly as head of the government for the 2016-2021 term, Prime Minister Nguyen Xuan Phuc recalled an incident when he took office.
At that time, the Prime Minister pointed out that Vietnam's economy ranked 48th in the world and 14th in population.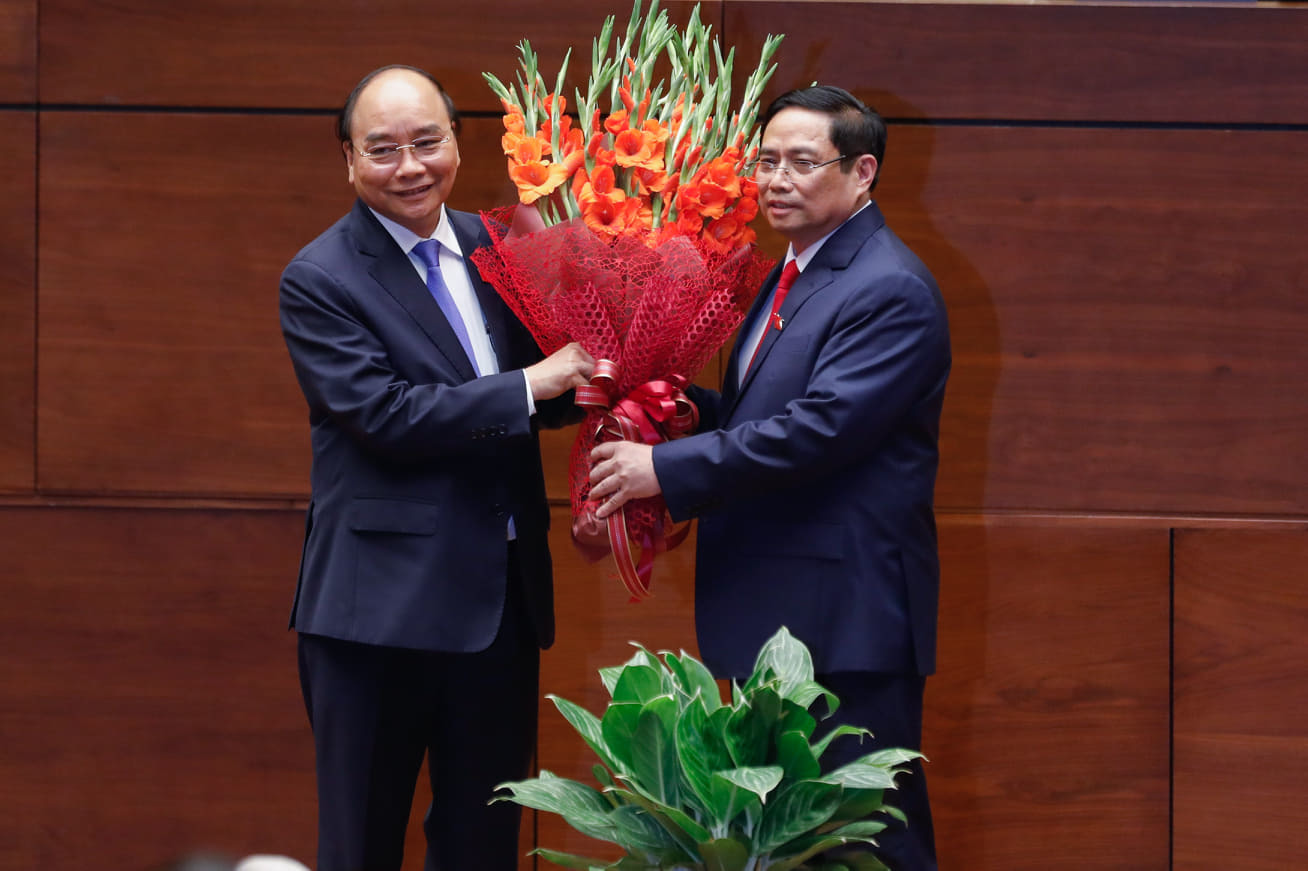 Newly-elected Prime Minister Pham Minh Chinh presents a bouquet of flowers to his predecessor Nguyen Xuan Phuc, who is now the State President. Photo: Minh Dat
This changed after the 5-year term of the Government. According to the International Monetary Fund (IMF), Vietnam's GDP in 2020 reached $340.6 billion, surpassing Singapore with $337.5 billion, Malaysia $336.5 billion, becoming the 4th largest economy in ASEAN and 37th in the world.
Mr. Phuc said: "In 2020, Vietnam's GDP increased by about 1.4 times compared to 2015, reaching over $340 billion. In the past 5 years, together we have created about $1,300 billion of added value... We are very proud that our rankings has increased 11 places, surpassed 11 countries, to rank 37th in the world."
"Although the road ahead is still full of difficulties and challenges, we completely believe that Vietnam will become an upper middle-income country and join the group of developed countries with high income by 2045," he said.
Economist Tran Dinh Thien said that the Vietnamese Government in the 2016-2021 term has made a number of economic achievements, of which there are three outstanding areas.
The first is to stabilize the macro-economy, curb inflation, reduce public debt to a low level, increase exports and foreign currency reserves, and create room for fiscal and monetary policies to support businesses and the people.
The second is economic institutional reform, with focuses on reform of administrative procedures as well as e-government. The government has eliminated thousands of sub-licenses, and simplified half of specialized inspection procedures.
The third is deep international integration with new-generation trade agreements such as CPTPP and EVFTA, which open new markets and create pressure for further domestic reforms.
Dr. Vo Tri Thanh, former Director of the Central Institute for Economic Management, added: "These foundations have created new positive energy for people, businesses and the economy. The position of Vietnam has taken a very significant step forward in the international arena."
The legacy left by Prime Minister Nguyen Xuan Phuc's Government for the next term is a successful anti-epidemic achievement, helping the economy from being blocked. As a result, the country's economic development prospects are quite promising as evaluated by many international financial institutions.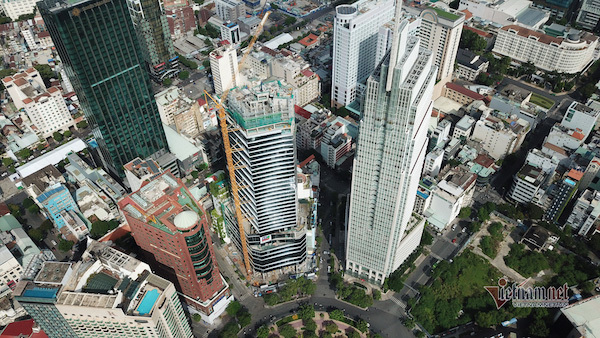 The core weakness of the current economy is very low efficiency of resource use. Photo: T.Tung
For example, Standard Chartered Bank said that Vietnam's economic outlook is stable and forecasted that economic growth will return to 6-8% this year and the coming years. The International Monetary Fund expects Vietnam's economy to grow by 6.5% in 2021. Meanwhile, Fitch forecasts that Vietnam's GDP can grow to 7.5% in 2021 and Euromonitor predicts Vietnam's GDP growth of up to 11% this year.
Development challenges
The economic foundations and position of the country today is created by efforts of many generations ahead in the struggle between the old and the new, between the new and the old, in the long journey since the start of Doi Moi (reform) 35 years ago.
During that journey, the economy is still in a transition stage with many shortcomings that need to identify and overcome. For example, the economic development rate, although the highest in the world, is slowing down.
According to a report by the Central Institute for Economic Management, the country's GDP growth rate has decreased gradually, from 7.34%/year in the 1991-2000 period to 6.82%/year in the 2001-2010 period, and estimated to be 5.9%/year in the 2011-2020 period - below the average target of 7-8%/year of the socio-economic development strategy for the period of 2011-2020.
Vietnam's growth rate was lower than other countries in the same period of development. Vietnam obtained an average growth rate of 8.21% per year for five years (1991-1995). Other countries in the period of equivalent qualifications of Vietnam today maintained very high growth rates for a relatively long time.
For example, South Korea achieved an average GDP growth of up to 9.58%/year for 30 years (1960-1990), over 10% for 14 years; abd the highest rate was 14.8% (1973). In China, in 30 years of reform and development (1977-2007), its average GDP growth was 10.02/year; and the highest growth rate was 15.14% (1984). This country had 15 years with GDP growth rate of more than 10%.
Compared with the past growth rate of our own as well as that of neighboring countries, Vietnam's growth rate for more than a decade is far behind.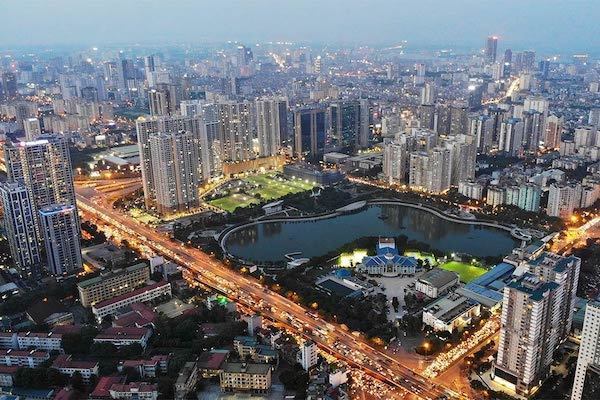 Compared with the past growth rate of our own as well as that of neighboring countries, Vietnam's growth rate for more than a decade is far behind. Photo: Le Anh Dung
To illustrate clearly the growth challenge, it is necessary to point out the fact that within 30 years, several countries in the region have become industrialized countries with a high GDP per capita.
For example, South Korea's GDP per capita of Korea was $100 in 1960, and by 1990 it increased to $6,516, which is over 65 times up in 30 years. By 2020, its GDP per capita was over $31,000.
For about 30 years, Vietnam's GDP per capita increased from about $100 in 1990 to $2,750 in 2020, an increase of more than 27 times. Although the growth rate remains high, the risk of falling into the middle-income trap is high.
Removing bottlenecks to growth
The Resolution of the 13th Party Congress targets an economic growth rate of about 6.5-7%/year in the period of 2021-2025; and GDP per capita of $4,700-$5,000 by 2025.
The growth target is lower than 7-8% of the previous period, but still very challenging in the context of the Covid pandemic. The world economy is uncertain and the local economy is facing many bottlenecks which have been unsolved for many years.
Dr. Tran Dinh Thien said: "The most central issue in institutional building for the development of new structures is a modern and integrated market economy."
Thien said that the five main markets are land, labor, energy, science - technology and goods. The private sector must develop healthily to promote the market economy.
According to Thien, of these types of markets, only the consumer goods market has developed according to the principles of the market, while the other markets are distorted.
It is necessary to ask why the market for means of production has been difficult to develop, while the market for consumer goods has been easily developed?
Awareness of market development is poor, resource allocation mechanisms do not follow market principles, the ask-give mechanism is still common, and central planning thinking makes markets operate asynchronously, he said.
According to the former director of the Central Institute for Economic Management, the core weakness of the current economy is very low efficiency of resource use, especially investment efficiency.
Nguyen Dinh Cung calculated that with a high level of investment, equal to about 1/3 of GDP, if Vietnam's Incremental Capital Output Ratio (ICOR) was equivalent to that of South Korea in the period 1961-2000 (ICOR = 4), or of Japan in the period of 1955-1973 (ICOR = 3), the Vietnamese economy could have grown about 8.5-11%, instead of an average of about 5.9%/year in the 2011-2020 period.
It is worth noting that, the upward trend is clearly decreasing. In the period of 1991-2000, the average growth rate was 7.58%; 6.8% in the period of 2001-2010, and estimated at 6.4% in 2011-2020 (if there was no Covid-19 pandemic), and now only about 5.9%. In general, the efficiency of investment capital is still low and has not improved significantly.
"Fundamental institutional change in distribution and use of social resources has been identified as a focus of reform to restructure the economy and transform growth models," said Cung.
According to Cung, the aforementioned major guidelines and solutions include ensuring that the market plays a key role in mobilizing and effectively distributing resources; allocating resources according to market principles into highly efficient, spillover-effect sectors, fields and regions; overcoming the thinking about subsidies, ask-give mechanism, and reliance on state agencies, local governments and in society.
Mr. Vo Tri Thanh pointed out six development points stated in the Vietnam 2035 report by the World Bank as country development tasks in the time to come.
These include economic modernization and private sector development; building national innovation capacity; improving the economic efficiency of urbanization and territorial development; sustainable development of the environment and strengthening resilience to climate change; ensuring equity and promoting social inclusion; and creating a modern and efficient state institution.
These development bottlenecks, if removed by the Government in this term, will become a launch pad for the whole economy.
Tu Giang - Lan Anh

Mr. Pham Minh Chinh has taken office as the new Prime Minister of Vietnam. 

President Nguyen Xuan Phuc, 67, on April 5, took the oath of office before the National Assembly, people, and voters. This is the first time that an incumbent Prime Minister was elected State President.