The diary of a student who joins the fight against pandemic in Thu Duc
"I usually have to stay up late at night to take samples for testing, often with an empty stomach," the medical school student said.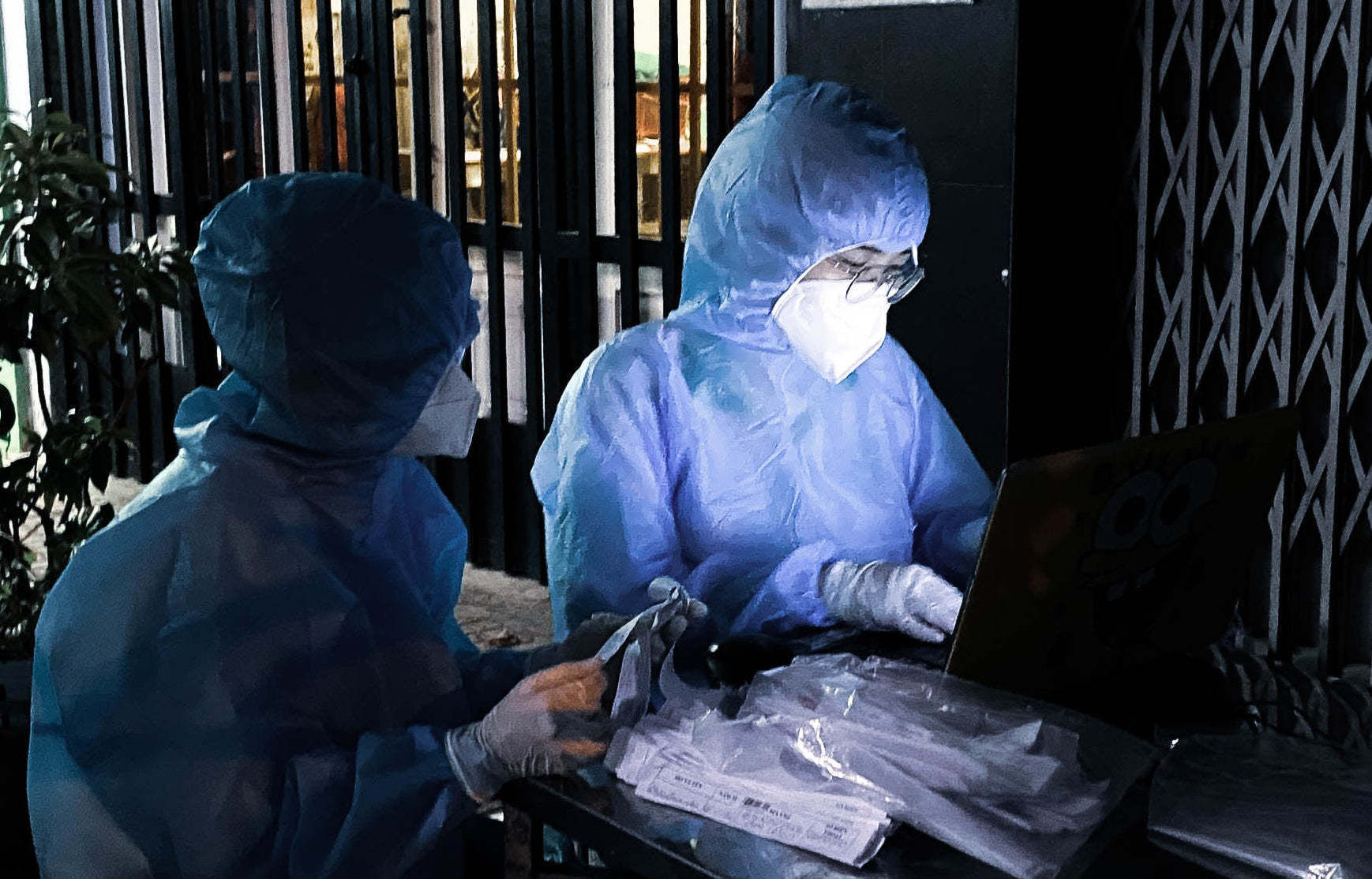 Phan Ngoc Lam Nhi is a fifth-year student in general medicine at the University of Medicine Pham Ngoc Thach (UPNT) in HCM City.
As the Covid-19 pandemic has turned more complicated, medical school students have been mobilized to help take samples for testing to ensure the capacity of 50,000 samples a day.
Nhi is continuing to study but works as a medical worker at the same time.
On June 1, the city called on medical school students to help take samples for testing in the hi-tech zone in Thu Duc City. Just five minutes after the appeal was launched on the website, hundreds of volunteers registered to join the campaign.
When the pandemic broke out in HCM City last year, Nhi learned about it and was well trained in necessary skills to fight the outbreak. She was preparing to join volunteer campaigns by maintaining her health.
"I will be a physician in the future. I am aware that I need to take care of my health. Only when I am in good health will I be able to take care for others well," she said.
Nhi studies online every day. In the morning, she checks whether any medical units need help and goes to sites if necessary. She updates information about newly discovered infection cases from every bulletin and exchanges information with friends and relatives.
On June 1, Nhi and her co-workers took 25,000 samples for testing at 17 sites in the hi-tech zone in Thu Duc City of HCM City.
Nhi was sent to the team at Jabil Company. About 6,000 samples total needed to be taken in two workshops. In the protective suit, Nhi had to sit and enter data into computer the entire night and she felt dizzy. She lost one kilogram in weight after that night.
Nhi said all volunteers and medical workers feel as taut as a violin string, but they never neglect each other or their duties because of fatigue.
"Huyen from District 9 Medical Center is on our team. She always tells us 'Go on! Almost everything is done', or 'Hang in there! I am coming'. The students of my school also have strong spirit. Some of them live in District 12 and they have to travel very far to District 9."
Nhi said they try not to eat and drink too much to avoid to go to the toilet when wearing protective gear. Masks, gloves, and glasses cause her to feel stuffy. She usually has to work late at night with empty stomach. Born as a city girl, the female student tells herself that she must not be fragile.
On tiring days, they tell jokes to ease the fatigue. They ask each other, "Did you get a sale today?" Sale here means a seat in the assistance team. And all of them hope the pandemic is stamped out quickly so that everything can return to normal.
Many HCM City medical university students have helped combat Covid-19. They said assisting medical workers is a chance for them to use what they have learnt in a practical situation.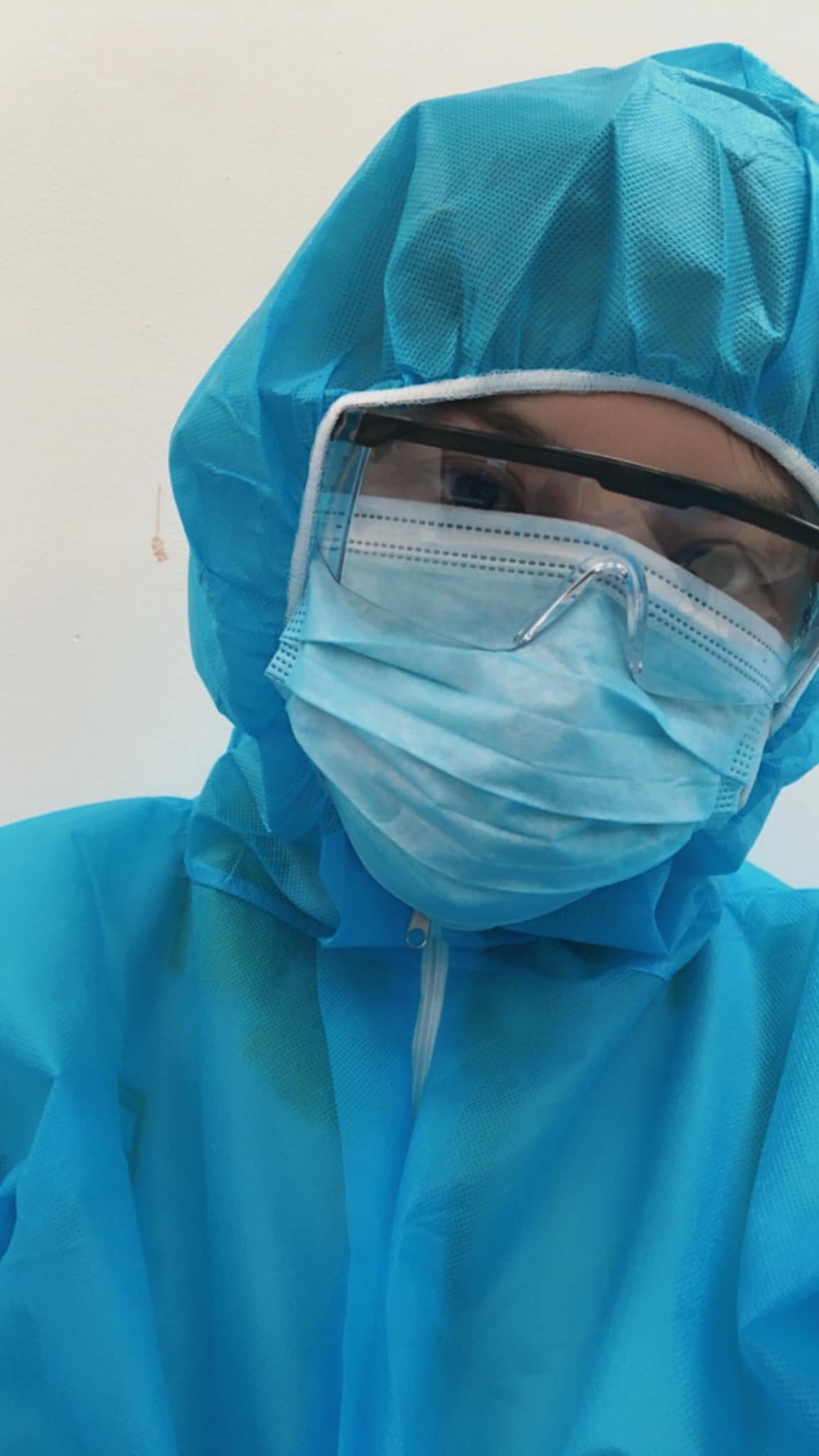 Phan Ngoc Lam Nhi
Here are excerpts from Nhi's diary about one day of work:
6.30 pm June 1.
I was assigned to take samples at Jabil Company. There were two workshops here and we needed to take 3,000 samples from each workshop.
We were told to enter data but we still had to wear protective suits, because we were in the middle of the testing area.
Thousands of people stood close to each other and I sometimes felt like I was suffocating in the protective suit. Two layers of protective masks. Two layers of gloves.
I felt I became weaker. My stomach began growling. Luckily, I was sitting next to the wall and I could lean against it to relieve the fatigue.
I looked up at the people who were standing and taking samples without any second of relaxation. How tired they must be! I was sitting there and I got scared when seeing too many people around. We sprayed alcohol on our bodies and machines once every ten minutes.
How much courage and love do the doctors and medical staff have to be able to continue this fight?
0.25 am June 2
I sat with my back against the wall. We still needed to take about 500 samples more. The pace began to slow down, but dizziness struck.
Any wrong action at this moment could cause infection to myself and to people. Who will continue if I stop now? We came here so that other people can sleep well. My heart woke me up and encouraged me to go ahead.
1 am June 2
Everything has been done. We 'bathed' the laptop with alcohol, disinfected everything and left. A new day has begun in our country. I went to the middle of the boulevard with overwhelming joy. Tomorrow will definitely be a bright day. Tomorrow is starting from today.
3.20 am June 2
People might be in their bed while I got home, had a bath and dried my hair. I smiled and said thanks for everything. We don't know how many more infection cases will be found tomorrow. But we will still try together. Fatherland, faith and hope. I will continue to do what I want in the days when my heart can't sit still. 
Le Huyen

A mobile air-conditioned COVID-19 testing booth has been set up and put into use in the current COVID-19 hotspot of Bac Giang Province 

Healthcare staff have been working day and night to provide screening tests in high-risk areas in HCM City to detect cases in the community amid the latest COVID-19 outbreak.