The 'count' of bamboos straws

The name Nguyen Van Mao, or Mao Meo (Cat), is quite well known in the national start-up community. 
Bamboo musical instruments in Vietnam
A passion for making musical instruments
Dao Xa village preserves traditional musical instruments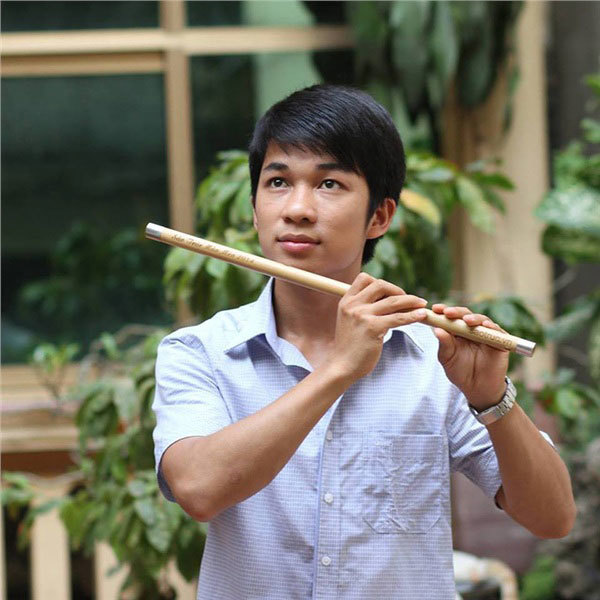 Nguyen Van Mao, the young businessman who loves to make flutes. — Photo tiin.vn
Harbouring a passion for bamboo flutes since he was a senior at college in 2012, Mao now earns VND25–30 million (US$1,000–1,300) per month from selling his instruments. In 2013 he opened his first shop selling mostly bamboo flutes and other musical instruments. Four years later he had 23 stores all over the nation, with total revenue of over VND2 billion ($85,700).
However, Mao would rather be better known for his bamboo straw business.
The 32-years-old from Nghe An Province is the owner and founder of three bamboo straw plants, one in Hanoi (which also produces bamboo flutes), one in Dong Nai and one in the process of being built in the Central Highlands.
Mao nurtured his bamboo plan for over a year, and now his products are exported to Germany and India, and he is in negotiations to ship them to other countries like Australia, the US, Finland and Poland.
Each day, his plants produce 100,000 straws, earning VND60–80 billion ($2.5 – $3.4 million) a year, and that figure is expected to reach VND150 billion ($6.4 million). Besides, he creates jobs for 200 in-house workers and 120 labourers.
Mao also wants to invest in bamboo brushes, spoons and cups. If his project goes as planned, his star will continue to rise.
Bamboo straws – a golden opportunity
"I feel like I have a connection with bamboo that has created a surprising result for both sides," said Mao.
He recalled his idea began from a conversation with a foreigner.
"Beautiful flute! Do you have the same in a smaller size?
"For what?"
"To make straw."
It brought to mind the image of rượu cần (rice wine in terra cotta vase), which used to be drunk through long bamboo stems.
"In recent years, social networks have been full of concerns over plastic waste. Images of turtles and fish choking on plastic straws are like a red alert for many people," said Mao.
The young man saw this was a God given chance, while he also had experience with the source, so he decided to grab it. The first orders were failures, as the boiled tubes were too wet or got burned. Other times, they had a strange smell and unattractive colour.
After experimenting with the technique, now he is finally happy with the results, he said.
His products can be found up and down Vietnam, and he has displayed them at international trade fairs.
"Many developed countries in Europe and Asia are taking environmental issues seriously, and some have banned plastic straws while they do not have bamboo in their natural habitation," he said.
"It is really a potential market."
Safeguard or damage nature?
With over 100,000 chaffs produced every day, the exploitation of natural resources is huge, which is a question Mao gets asked a lot.
But according to him, the answer is safeguarding.
"Chaffs can be reused many times for a maximum of six months. They are biodegradable, so they do not cause harm to the environment, and can be used as an alternative to plastic.
"The materials to make chaffs can be reused every two years. The exploitation of this plant has also developed the surrounding vegetation and limited deforestation. Although it is only small-scale, better late than never," he said.
Do your best and let God do the rest!
The young entrepreneur talks frankly about his ambitions.
"I think the same problem for many young start-ups is they are afraid of what people say about them. Many fail to see what future might hold for them, so they give up," Mao said.
"People say that if you follow your passion, success will follow, but for me it is just a bonus and only temporary.
"The biggest question to ask yourself is: 'If you dare you can succeed or fail. If you do not dare, you'll get nothing back.'
"When starting something, remember not to put money first. When I was younger, I tried to make good flutes to give to people; I only thought about selling them later on. Those people became regular clients, and there was no calculation in it. If you think of profit first, once you lose your capital, you will quickly give up.
"Finally, when you decide to do something, give it your best shot."
"I am grateful to be able to preserve and promote a cultural value. Ten years ago, it was rare to find someone playing the flute. Now I see it more," he said.
"I should be proud of it as it shows traditional musical instruments are making a comeback. I want to make the best flutes for the community, and I will keep doing it for years to come."
VNS