The aspiration to rise
In the article "Preparing and implementing the 13th National Party Congress well, bringing the country into a new stage of development" by the Party Secretary-General and President Nguyen Phu Trong, 
Vietnam's path of development towards prosperity has been exposed.
Accordingly, the specific targets have been identified as follows:
By 2025: To become a developing country with modern industry, surpassing the middle-low income level.
By 2030, the 100th anniversary of the Communist Party of Vietnam: A developing country with modern industry and high average income.
By 2045, the 100th National Day: To become a developed country with high income.
Ambitious goals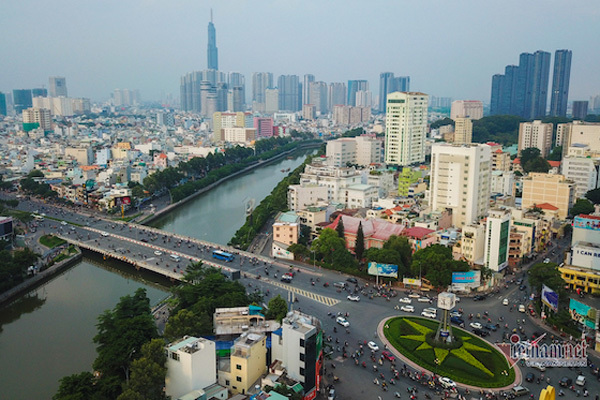 Clear economic goals need great aspirations, and the country is at a decisive stage for laying the foundation to achieve these goals. Photo: Thanh Tung
These specific goals represent the desire for a more prosperous future for the nation and the people in the context that the country has deeply integrated into the world economy and is committed to a complete and modern market economy.
According to the World Bank, lower middle income economies are those with a GNI per capita between $1,036 and $4,045; Middle-income economies are those with GNI per capita ranging from $4,046 to $12,535; High-income economies are those with GNI per capita of $12,536 or more.
With GDP per capita reaching over $2,700 in 2019, Vietnam will have to overcome a gap to reach these income milestones.
Mr. Cao Viet Sinh, former Deputy Minister of Planning and Investment, who participated in writing economic reports for the last four National Party Congresses, wrote: "Based on the current vision, by 2030, Vietnam's per capita GDP is expected to reach about $8,000 (based on purchasing power parity of about $15,000), and by 2045 it will reach about $20,000, towards a prosperous society, in which the middle class will rise rapidly, accounting for over 60% of the population."
According to the World Bank, the middle class in Vietnam is forming - currently accounting for 13% of the population and expected to reach 26% by 2026. Since 2014, about 1.5 million Vietnamese have joined the global middle class each year.
The rise of the middle class changes the aspirations of society, the focus of poverty reduction and prosperity sharing programs shifts from fighting extreme poverty to drastically improving the quality of life and supporting the rise of the middle class.
According to Mr. Sinh, the private economic sector is developing strongly in quantity, quality, efficiency and sustainability, becoming an important driving force in economic development. By 2030 Vietnam will have about 2 million private enterprises and this sector's contribution to GDP will reach 65%, he said.
"Science, technology and innovation are an important foundation to increase productivity. Many new business models will emerge while the digital economy will develop strongly, accounting for 30% of GDP. The quality of Vietnam's business environment will be drastically improved, and barriers to freedom of business will be removed. By 2030, Vietnam will be ranked in the group of top 30 countries in the business environment in the world," Mr. Sinh wrote.
Prospects and challenges
Such economic goals need great aspirations and the country is now at a decisive stage in laying the foundation for achieving those goals. Therefore, decisions made at the moment have important implications for Vietnam to achieve long-term aspirations of rapid income growth.
According to the Vietnam 2035 report, if necessary reforms are taken to increase GDP per capita growth to 7% a year, by 2035 Vietnam can reach the income of South Korea and Taiwan (China) in the early 2000s.
This means that Vietnam must have high and stable growth in the next 20 years with an annual income per capita growth of 7% (equivalent to a GDP growth of 8%/year) so by 2035 it will reach the average income per capita from $15,000 to $18,000.
From being a middle-income country, Vietnam will have a strong foundation to achieve high income in the future. Vietnam will also have a better chance of catching up and even outperforming neighboring middle-income countries like Indonesia and the Philippines.
However, if per capita income growth is only around 4%/year, by 2035 Vietnam will only reach the level of Thailand or Brazil today and have little chance of catching up with neighboring countries that have higher average income.
From aspiration to action
According to the latest report by the World Bank, Vietnam is still in the group of low-middle-income economies, which includes Timor Leste, Cambodia, Laos, Myanmar, and the Philippines in Southeast Asia.
To achieve high growth goals, as pointed out in this roadmap, according to economists, the only way is to increase productivity.
Vietnam's labor productivity growth has been steadily declining since the late 1990s. It is at a very low level compared to other countries in the region. Notably, labor productivity in even the private sector is continuously declining and at a very low level. There are several main reasons.
Firstly, the economic and labor structure of Vietnam is very backward: Labor in the informal sector is much higher than in the formal sector, with more than 44% of the total number of workers working in the agricultural sector, which creates low added value.
Secondly, the slow maturing market economy foundation has a harmful impact on property rights and reduces competitiveness in the commodity market.
Thirdly, the market for factors of production such as capital, land, and mineral resources is not allocated based on the market mechanism, but mainly by administrative orders.
Therefore, it is necessary to focus highly on promoting the development of domestic enterprises, especially private firms, in both quantity and quality, considering this the task of authorities at all levels. The health of domestic enterprises is the health of the economy. In the short term, it is necessary to improve the competitiveness and efficiency of domestic enterprises through improving and strengthening the foundations of a market economy, especially property rights and defining equal and fair policies in access to capital, land, resources and information.
Besides, entrepreneurship must be strongly promoted. The State must create a favorable environment, build guidance and training centers for startups, provide knowledge and capital through the formation of venture capital funds to support these businesses ... to create a wave of entrepreneurship and a strong entrepreneurial spirit in society. The position of the business must be considered the position of the country.
Furthermore, to sustain high growth, reform needs to be fostered and innovation and learning must be actively promoted. Neither businesses nor scientific research organizations are currently motivated to pursue a program of productivity growth. Building a national innovation system is therefore a way to improve Vietnam's labor productivity.
Tu Giang

The national brand will help build a new flag to turn all Vietnamese people around the world to look forward a common vision.

One of the important decisions made by many countries is to implement a methodical strategy to build and promote a national brand.