Teachers explain '10.0 GPA phenomenon' among primary school students
Two famous secondary schools for the gifted in Hanoi and HCM City have found it difficult to enroll students for the 2021-2022 academic year because there are too many students with a perfect 10.0 GPA (grade point average).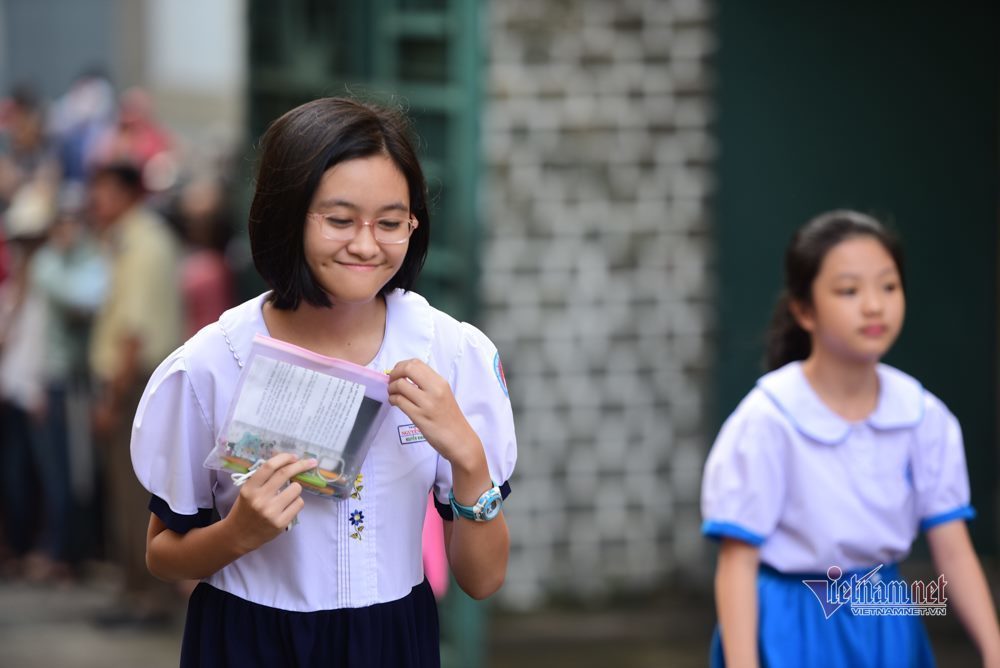 Because of the Covid-19 pandemic, the Hanoi-Amsterdam High School for the Gifted in Hanoi on August 20 announced it would not organize a school entrance exam to enroll students. The school will select students based on their records at primary schools.
In early August, Tran Thuy Duong, Headmaster of the school, noted that the number of registered students is very high every year, about 5,000. In previous years, about 3,000 applications would be shortlisted after the first round. The school organizes an exam to assess the abilities of the 3,000 students to select only 200 students.
"All the students applying for the school have excellent learning results at primary schools. Many of them have 10/10 scores for Vietnamese language and Math," Duong said.

On August 19, the HCM City Education and Training Department issued a decision on increasing the number of students to be enrolled in the sixth grade of the Tran Dai Nghia High School for the Gifted.
It stated that there would be changes in the way of enrollment, because there are too many students who have scores of 10 for both Vietnamese language and Math at primary school.
A report found that 1,560 students had a 60 score from academic year-end Vietnamese language and Math tests in third, fourth and fifth grades.
However, the school plans to enroll only 525 students.
The city's education department therefore has decided that the school will also consider the results of the Science, History and Geography tests in fourth and fifth grades when enrolling students.
Luong The Vinh Secondary and High School, a prestigious private school, received about 4,000 applications for admission to the sixth grade in 2016 and 2017 each year. Of these, 1,000 students had a perfect 10/10 score for both Vietnamese language and Math during their five years at primary school.
But the school could only enroll 660 students, so it said that students who had won prizes at local and national competitions would have privileges. The school, however, still had many students applying with high prizes at competitions.
The same situation can be seen at other prestigious schools every year.
What's behind the 'perfect resumes'?
According to Thanh Ha (not her real name), a teacher at a high school in Hanoi, there are real and artificial 10 scores. Some students score well based on real ability. But other .
10 scores are given by teachers because of various reasons, including requests from school leaders or parents.
"Exam questions are always very easy. Schools dare not raise difficult questions. Students can easily get a perfect score of 10," she explained. "However, even if exam questions are easy, such a high number of 10 scores is abnormal."
She said that students nowadays are more knowledgeable than previous generations, partially because they have more methods and resources that support study. However, many scores of 10 are indeed 'artificial'.
Teachers' concerns
Thanh Hoa, a teacher at a primary school in Hanoi, said she has had an unhappy academic year.
In March, she attended a training course after Ministry of Education and Training (MOET) issued Circular 27 dated September 4, 2020, which describes how to assess primary school students, beginning in the 2020-2021 academic year.
She heard at a training course that the entire educational sector needs to "declare war" against the "achievement disease", and that the number of excellent students, which is abnormally high, needs to decrease.
The teacher observed the regulations stipulated in the circular in assessing her students' abilities. However, she felt discouraged when seeing that other schools did not do so, because the schools had a very high percentage of excellent students, 70-80 percent.
Hoa agreed that the reported proportion of excellent students is fabricated, saying that many first graders still speak with a lisp and cannot do four basic math operations.
However, because of the "achievement disease", teachers, under pressure from school leaders, still give high scores to students so that schools can be honored for having many excellent students. 
Phuong Chi

Minister of Education and Training Nguyen Kim Son has asked schools to find ways to stop students from copying essay examples.

After graduating from Wellesley College majoring in biochemistry, Trinh Mai Chi, with impressive research achievements, has won a full scholarship to study at Johns Hopkins, the world's leading medical university.