Teachers complain about problems in online teaching, ask for guidance
After one year of teaching online, Vietnamese schools and teachers have become familiar with the new teaching mode.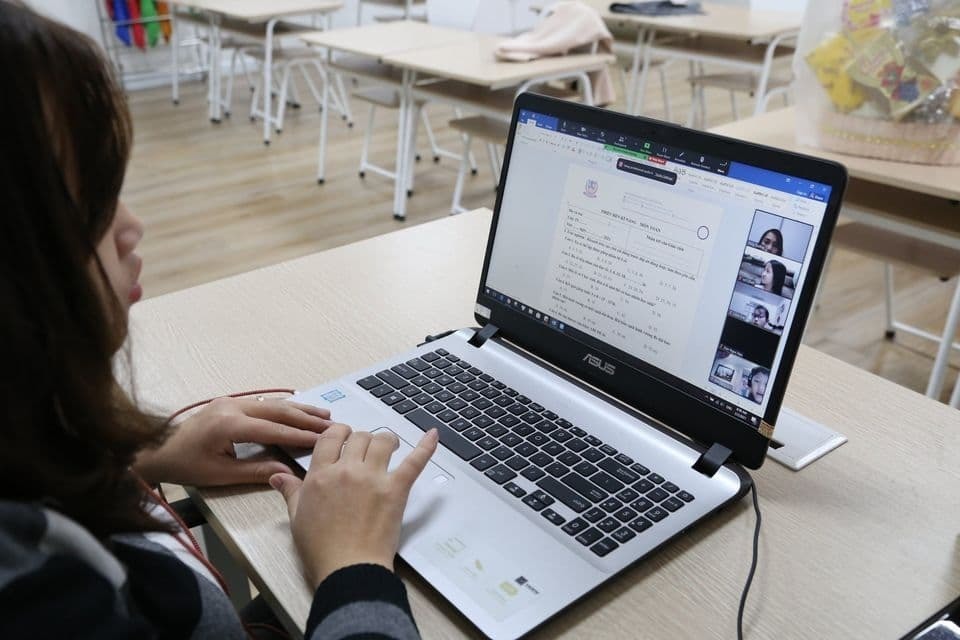 Local education and training departments have asked the Ministry of Education and Training (MOET) to create digital courseware and teaching software to be used throughout the country, and give detailed guidance on the content and requirements of lesson plans.
After one year of teaching online, Vietnamese schools and teachers have become familiar with the new teaching mode. Teachers not only prepare lesson plans thoroughly, but also try to use information technology in their teaching and seek new methods to have effective lessons.
However, many problems still exist.
Vu Thi Gioi, a teacher at Minh Duc Primary School in Hai Phong City said first grade teachers have to work harder.
"In in-person classes, teachers can meet students face to face and help them and remind them of work. In online classes, teachers don't know what students are doing," she said.
Meanwhile, teachers have to do more to prepare for an online lesson. They have to make video clips to guide students in their school work and give exercises.
Gioi stressed that online teaching is not that effective and she feels unsatisfied about the quality of lessons. If MOET creates digital courseware for teachers to download and use after making some adjustments to make it suitable to their circumstances, this would help teachers save time, and teaching would be more effective.
Thai Van Thanh, Director of the Nghe An Education and Training Department, also said there were still many difficulties in organizing online teaching, especially for first and second graders who still don't have a sense of self-study.
The Department therefore believes that it should organize online teaching in the evening, when parents are at home and they can help their younger children with online learning.
The department has also asked some education sub-departments to design online lesson plans and advice for parents, showing them how to help their children.
One of the biggest difficulties of schools in mountainous areas in Nghe An is the lack of smartphones. Only 60 percent of students have tools to serve online learning. Because of the lack of devices for online learning, teachers have to meet students at their homes.
Thanh agrees that MOET should create digital courseware for common use by schools throughout the country.
"It will be difficult if each province has to build courseware for itself. I think MOET should ask cities and provinces to contribute certain numbers of lesson plans for every subject. These will help create a bank of lesson plans for common use throughout the country," he said.
Noting that this is the best solution, Thanh said it would be better to share experiences among schools and provinces. Students would be able to learn with the best teachers in the country.
Schools need guidance
Phan Thanh Cong, Director of the Ninh Binh Education and Training Department, said there is not much unity in online teaching deployment. Schools, for example, choose software themselves for online teaching in their localities.
Therefore, he said MOET needs to stipulate the specific software to be used for online teaching, give directions, and train teachers on the criteria to build lesson plans, which are necessary to ensure unity among schools nationwide.
As for Bac Giang province, according to the provincial education department's deputy director Bach Dang Khoa, the province now has 500,000 free Microsoft Teams accounts. With the platform, Bac Giang can organize online teaching uniformly across the province.
However, he stressed that online teaching has been organized by localities in the ways they feel are best and online lessons are operating based on teachers' creativity. There has been no official training course on online teaching.
Khoa said one online lesson should last 30-35 minutes. 
Thuy Nga - Thanh Hung

Kaspersky's latest survey shows that 59% of children in the Asia Pacific region have used their phones to attend online classes.

At 8 am May 16, Hai Phong, a 12th grader at a Hanoi high school was sitting in front of his laptop, checking the internet, camera and headphone, waiting for his turn to be interviewed for admission to the Hanoi University of Science and Technology.