Taxing unoccupied villas: one solution for creating fair housing market
A reasonable taxation policy is expected to help settle several problems, including excessive investment in high-end apartment and villa projects, and speculation buying.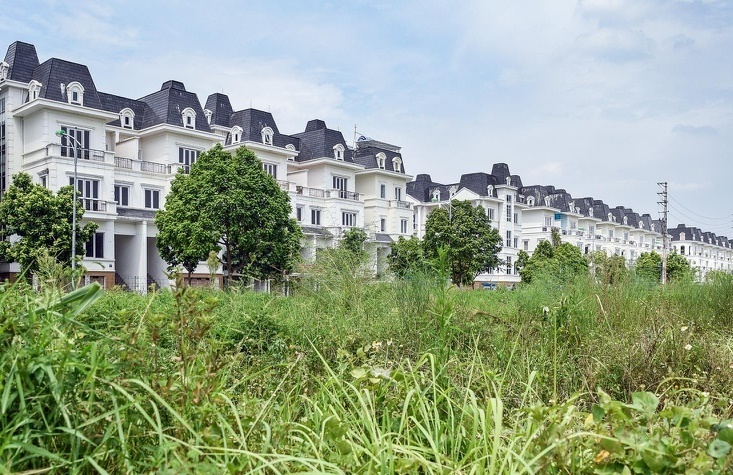 At a recent working session with the Ministry of Construction (MOC), Prime Minister Pham Minh Chinh stressed the need to develop a reasonable housing market with products at different prices, with a focus on houses for low income earners and disadvantaged groups.
The issue about taxing unoccupied and unused villas has been discussed for many years but no decision has been made.
Villas left unused
Many villas in Hanoi have been left idle for many years. The 38.23 hectare Lideco urban area in Tram Troi Town of Hoai Duc district, developed by Tu Liem Urban Area Development JSC with capital of VND781 billion, with 600 villas, is one of them.
At the time the project kicked off in 2007, the developer said it would be completed by 2013.
By 2013, when the North Highway 32 project was completed as planned, only 400 villas of the projects had been handed over to clients. Though more than half of the villas have been sold, the urban area remains unpopulated. Most of the buyers have not received villas or have not moved in. Hundreds of villas have been left idle, surrounded by wild grass.
The same situation is seen at the Cau Buou new urban area in Thanh Tri District in Hanoi developed by the Hanoi Urban Development, Construction and Investment Consulting JSC (Hanhud). A lot of villas with completed raw construction have been left unoccupied for 10 years, and there are few occupied villas. Some of them are offered for sale.
VinaPol's Orange Garden project is another example. The project kicked off in 2007 and had 1/500 detailed planning adjusted by the Hanoi People's Committee in 2015. In 2019, the project was reactivated with villas and garden houses built.
The Orange Garden villa area was designed to have a population of 7,000, comprise 162 duplex villas, 260 standard detached villas, 174 high-end detached villas, and 25 high-end garden villas, each 200-800 square meters.
But many of these luxury villas have been left idle, which means hundreds of billion of dollars worth of capital have been 'buried' in the project.
How to tax?

Many of these luxury villas have been left idle, which means hundreds of billion of dollars worth of capital have been 'buried' in the project.
Nguyen The Diep, deputy chair of the Hanoi Real Estate Club, said taxing unoccupied unused houses and villas is a necessity, but the taxation needs to follow a roadmap and should be put into discussion to reach a consensus in society.
He said that taxation should not 'disrupt' the development of the construction sector.
Diep, like other analysts, believes that it is necessary to define the concept of 'unoccupied houses'.
"Housing projects are long-term investment projects, which may last 3-5 years or even 10 years. The process of selling and completing houses is also long, because this relates to social and technical infrastructure," he explained.
"In many cases, people cannot move into the houses they bought until infrastructure items are completed," he said.
Dang Hung Vo, former Deputy Minister of Natural Resources and the Environment, a respected real estate expert, said people who buy houses but don't use the houses should be taxed as well as those who own many properties.
"It is necessary to tax the people who have houses but don't use houses, to avoid waste. The tax system needs to be radical and systematic,' he said.
If the real land area is lower than the residential land area limit, families would not be taxed. Under the current regulations, land which is not used in accordance with regulations is taxed 0.15 percent.
Experts have also proposed applying a progressive tax model, which means higher taxation on people who own many properties. If the real land use area is 2 or 3 times higher than the limit, the tax should be up to 1 percent as applied in some countries.
Vo, while suggesting that unused villas should have the highest tax rate, stressed that people who have many properties also need to be taxed, even though the properties are in use.
In 2012, the Hanoi People's Committee proposed taxing or fining the owners of unoccupied houses. It suggested applying different tax rates depending on the time when it is unoccupied. Under the scheme, the villas left unused for three months would be taxed 5 percent of contract value. If the villas are left idle for more than a year, their owners would be taxed 10 percent of the villas' value.
In addition to taxation, the Hanoi People's Committee also proposed imposing administrative fines on the owners of unused villas, VND10-20 million on each villa. It also proposed that the Government apply a progressive tax on those who buy second and subsequent houses.

No regulation on taxing unoccupied houses and villas exists. 
Minh Thu

Minister of Construction Nguyen Thanh Nghi said the ministry will change the policies related to the development of affordable housing by adopting a new mindset.
A series of listed businesses on the stock market have announced plans to expand and tap real estate investment.