Taking a dip to cool off in the capital

"Hot, hot, hot...!!!" That's the most common phrase being uttered at the moment in Hanoi as the heat of mid-summer overwhelms the north.
Going out in the middle of the day is a last resort, and fans and air-conditioners are operating at full capacity.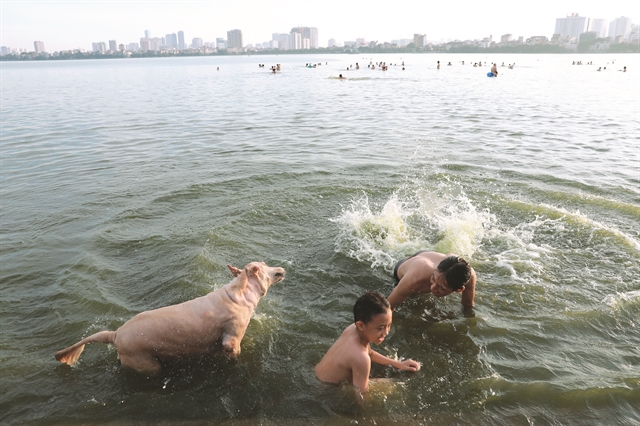 People even take their pets to the lake. 
People are doing anything they can to cool off.
Each afternoon, a corner of West Lake has become the ideal destination for people of all ages to just that. 
Swimming spots have appeared along the lake near the streets of Thanh Niên, Trích Sài, Nhật Chiêu and Quảng Bá.
"I bring my grandchildren here to teach them how to swim and cool off," retiree Vũ Thanh Bình told Việt Nam News. "It's so much fun."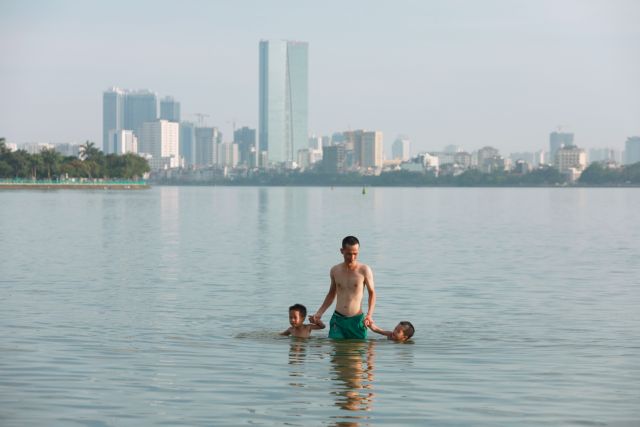 West Lake is a fun destination for children duringsummer.
People use all kinds of flotation devices to swim, including big pieces of styrofoam, plastic cans and real lifebuoys.
Children, teenagers, adults, old people and even pets flock to the lake.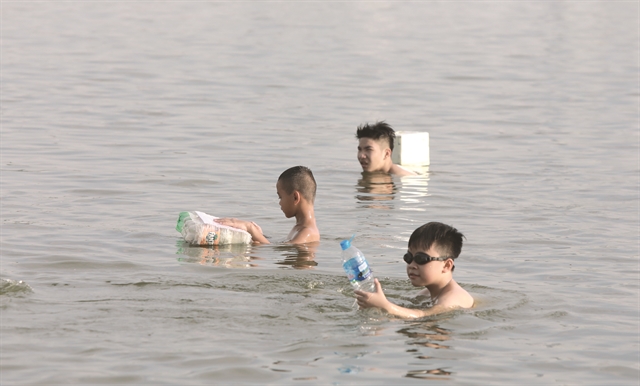 They use all sorts of flotation devices.
The lake is as crowded as a real beach.
"I come here to swim with my friends every summer," said 10-year-old Tô Thanh, who lives near the lake. "I think the water here is even cleaner than in swimming pools because I can't smell any chemicals. There are many small bricks and stones on the lake bed, so we need to be careful not to hurt our feet."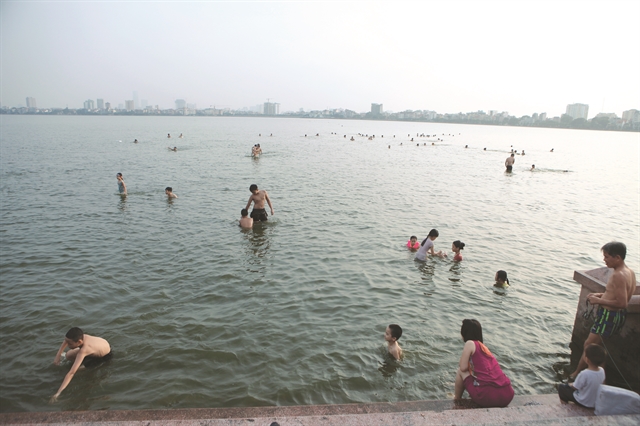 The lakeis as crowded as a real beach in the afternoon.
Thanh said he can freely splash his friends and even play water polo, which is not permitted at some swimming pools.
"It saves money actually," said Ngô Văn Toàn. "A ticket to swimming pool may cost VNĐ50,000 (US$2.14), and they're all crowded during the summer."
"It's much cooler and free here," he said.
Toàn said the lake is up to two metres deep.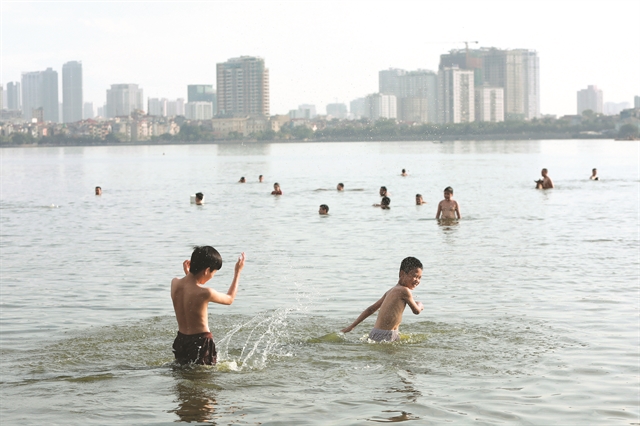 Children have more fun at the lake than at public pools because they can play more games.
"I think swimming in West Lake is safer than swimming in the Hồng (Red) River or Linh Đàm Lake," he said.
West Lake is the biggest natural lake in Hà Nội with a total area of 500ha and circumference of 18km.
History books show the lake used to be a section of the Hồng River.
Professor Mai Đình Yên from the Biology Faculty at the Hà Nội National University said West Lake is the biggest lake in the northern plain and the whole country.
It had also been listed on a global list of lakes in need of preserving, he said.
"Though there are signposts warming against swimming and fishing in the lake, I think each adult should ensure safety for themselves and the children they bring here. Safety first, then comes fun and entertainment," Binh said. VNS
Le Huong