Swedish couple help the poor in their 'second homeland'
Having loved Vietnam since the day they set foot on the land, the Swedish couple Kawa Wandi and Nishte have been living in Hoi An City for two years.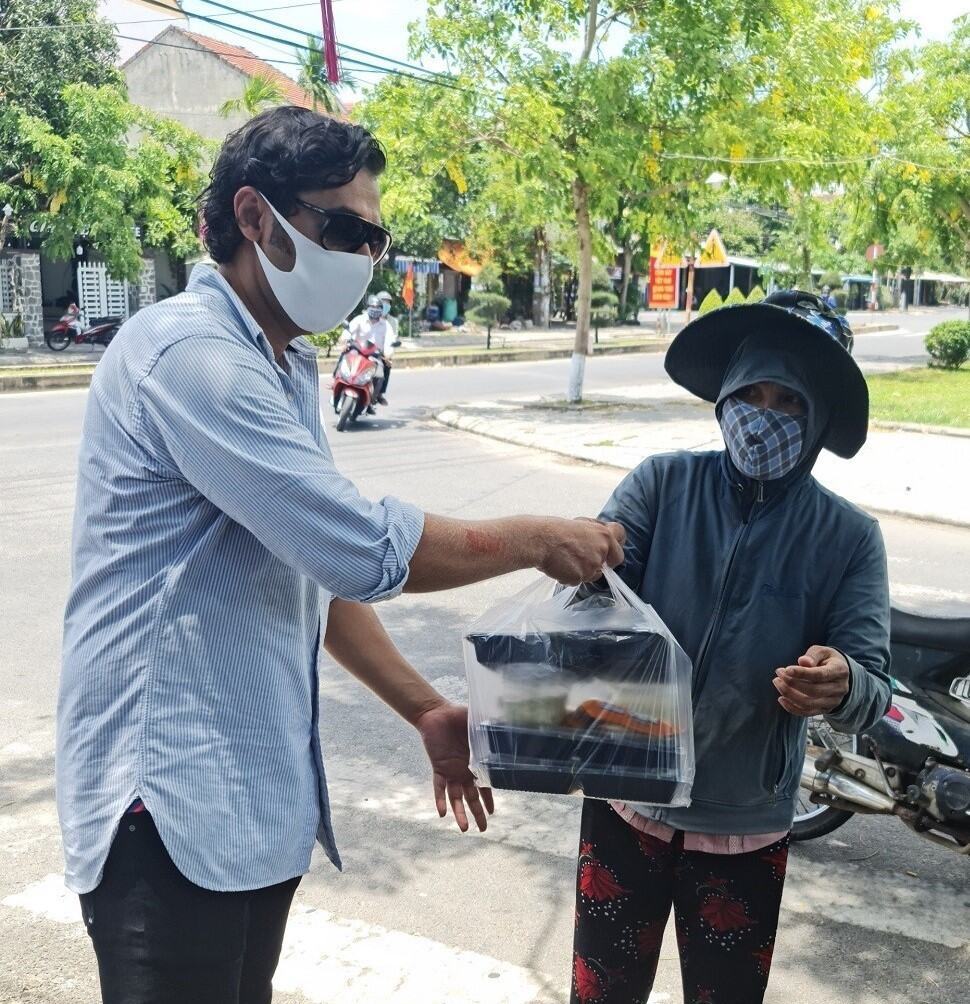 Wandi (left) helps Hoi An people
Wandi, whose own parents and family wete not that well-off, understands the feelings of people who lead unlucky lives and wanted to do something to help them even when he was young.
When he was 20, he used his savings to buy small gifts such as tomatoes and potatoes for needy people stating in hospitals.
After Wandi married, he and his wife opened three restaurants in Sweden, while making plans to help poor people.
In 2017, they decided to sell all the restaurants in Sweden to begin a journey around the world to help the needy.
"We have been to many countries in the world, including the UK, the US, France, Laos, Cambodia, Malaysia, and to Africa, and finally Vietnam," Wandi said.
They have fond memories of every country. In South Africa, they 'adopted' five kids. Each of them receives $200 a month that supports their daily lives.
After traveling to many countries and learning about different cultures, in early 2020, they decided that Vietnam would be the last destination on their journey.
"When I arrived in Hoi An, I was fascinated by the houses there. It is peaceful there and people are friendly. My wife and I decided to stay there to fulfill our dream of helping needy people," he recalled.
"Though we have been living there only for two years, we really consider this our second homeland," he added.
Support to the poor
As he was preparing products to be shipped to the needy in Hoi An City, Wandi told reporters that he would feel guilty if he did not help those in need.
"I think I need to wholeheartedly support our second homeland," he said.
Hoi An has been experiencing social distancing for the last two weeks. Wandi and a group of friends have organized campaigns, donating necessities to people affected by the pandemic in the area.
The gifts include rice, canned meat, instant noodles and vegetable oil, worth VND400,000 each.
"Three days ago, I went to Tan An Ward to give gifts. I could not hold back my emotions when seeing a man, 60, feeding his mother, 80, and his son, mentally ill, who was lying on a concrete bed. I burst into tears," he recalled.
"This is the most haunting scene in my memory. There are so many unhappy lives. I gave gifts to them and I hope I can come back," he said.
Wandi and his wife, together with his Vietnamese friend, Trang Quoc Tri, have prepared 3,500 servings of meals for four quarantine zones and needy people in the city.
Tri said the Swedish couple last year rented a house next to his home. They shared the same idea of helping needy people. In 2020, their group of friends went to Quang Tri province to give support to people in the flood stricken areas.
In early 2021, they built and repaired two clean water treatment systems for people in Dang commune in Quang Nam province, worth VND200 million.
Wandi said he wants to thank his wife, who has always supported him and stood by him on every path, and Tri, who has helped him learn about charity in Vietnam.
"In the coming days, I still want to accompany my friends to help people. Sweden is my birthplace, but Vietnam is my second home, so I will try my best to contribute to beautifying this land," Wandi said.
Vice Chair of Hoi An City Nguyen Van Lanh said: "Your family has chosen Hoi An as a home. But the reality is still not as good as you want and we want it to be. The pandemic has rushed down and you have quickly integrated into the life of the city and accompanied the city's people. The things you have done are quiet, but they have rekindled the flame for the community, which makes us feel warmer and stronger in the fight against the pandemic."
"I thank you and your friends who have wholeheartedly helped Vietnam, Hoi An and needy people. Human love will give us strength to overcome all challenges together," Lanh said. 
Cong Sang - Nguyen Hien

Understanding the difficulties of the poor, a car mechanic in Kien Giang and a young man in Can Tho have bought ambulances to take patients to the hospital for free.

For many years, a 77-year-old woman has been going to every small alley and street corner in her neighborhood to collect scraps and sell banh my to get money for her 'piggy banks', which are kept to help the poor.