Surgeons catch a busman's holiday to Vietnam

For more than 17 years, surgeon Robert Gordon Veith has travelled more than 10,000 kilometres from his home in Seattle, the US, to Vietnam.
Foot surgeon improves lives in Vietnam
Surgeons provide hope to kids with deformities
Dr Robert Veith with one of his small patients Luong Thi Trang. — Photo courtesy of Dr Veith
He is not here on vacation nor will you finding him snapping selfies at various tourism hotspots around the country.
Dr Veith's trip is a busman's holiday.
He is one of many surgeons from America who are part of a volunteer programme organised by Mobility Outreach International, an organisation that helps provide healthcare for people who can't afford it.
"I care deeply about the Vietnamese people," said the 69-year-old who specialises in correcting deformities in feet and ankles.
"The knowledge that a child or an adult must live their entire life with a treatable deformity or condition motivates me to keep returning to Vietnam to provide care. The patients and parents are all so appreciative which makes it very worthwhile for me."
Each year at Son La General Hospital, Dr Vieth carries out around 10 procedures. To him, it's just part of his everyday routine, for the patients, his work is life-changing.
One such patient is Lo Van Quan. At just 26 he is still a young man, yet because of a clubfoot he has had since birth, he became isolated, and he would struggle to do even basic things most people take for granted.
"Life for me used to be like hell," Quan said. "At that time when I couldn't even sit properly, I was depressed. How can a man withstand becoming a burden on his family?
"Luckily, there was a charity surgery programme, and I was privileged enough to be one of about 10 clubfoot patients who were chosen to receive the surgery, and my saviour is Dr Veith.
"Thanks to him, my feet almost returned to normal. He helped my dream of becoming an auto repair mechanic and most importantly, to feel alive.
"Now that my dream has come true, I even got married and had children. Everything that I have is like a gift from Dr Veith."
Quan's clubfoot had not been treated since birth, so his feet were deformed and he needed surgery.
For patients who are diagnosed earlier, clubfoot can be fixed using the Ponseti method, which is considered the gold standard for treating people with the condition.
It involves casting and manipulating the joints back into the correct place.
According to the World Health Organization (WHO), there are about 100 million children with disabilities worldwide.
According to the Global Clubfoot Initiative, Vietnam is a country heavily affected by birth defects and it is estimated that about 1,800 children are born with clubfoot each year.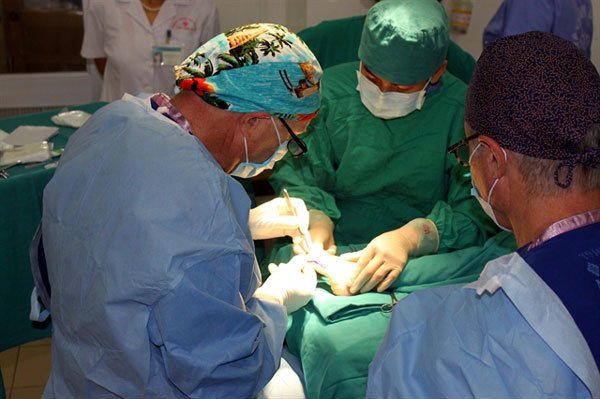 Dr Veith (left) has been doing charity surgery for patients with difficulties in Vietnam for the past 17 years. — Photo courtesy of Dr Veith
"Dr Veith has performed surgery on patients in Son La over the past 14 years," said Dr Tran Hong Minh, director of Son La general hospital.
"Thousands of patients with clubfoot have been treated at Son La general hospital. Thanks to that, the condition has basically disappeared."
Dr Veith's work has not gone unnoticed. Thanks to his dedication and commitment, he was given an award from the Son La Provincial People's Committee.
"Nothing brings me more happiness than seeing patients that I have treated on prior surgical missions," Dr Veith said.
"It is so wonderful to see how their lives have been improved after corrective surgery.
"There are some very special patients that I see in Son La and a few of them came to the ceremony in April when I was honoured. Remembering these patients will inspire me forever."
Over the years, other doctors from the US, Mexico, Turkey, China and Thailand have followed in Dr Veith's footsteps volunteering with the Outreach programme.
As well as providing valuable treatment, the doctors are also working with their Vietnamese counterparts to teach them the skills needed to perform the procedures.
"Treatment for foot and ankle disorders in Vietnam has been lacking," said Dr Veith, who is president of Mobility Outreach International.
"However, since 2002, the American Foot and Ankle Society (AOFAS) and MOI have been sending surgeons over every year to teach Vietnamese surgeons how to treat various disorders.
"I will encourage more surgeons to fill my shoes as I retire from surgery."
One such doctor is Scott Gray who made the trip for the first time last month.
"The whole idea about coming to another country that desires some help with expertise that we can volunteer to do is fascinating," the 63-year-old orthopedic surgeon from Connecticut said.
"I want to take this opportunity, see what it was like, to be able to work with surgeons from a different country who I can learn from and they can learn from me." VNS

Facts
Clubfoot is one of the most common birth defects.
If not treated it can cause serious problems in adult life.
Each year, more than 100,000 children around the world are born with clubfoot, of which 80 per cent of cases occur in developing countries.
One in every 1,000 babies is born with a clubfoot.
It makes feet shorter and smaller than normal.
Pregnant mothers should avoid smoking and drinking to prevent children being born with clubfoot.
Hoang Ho