Striker Yen breaks the mould

After scoring the winning goal for their country in a massive tournament, you'd expect most footballers to spend the next week celebrating. Pham Hai Yen, though, is different.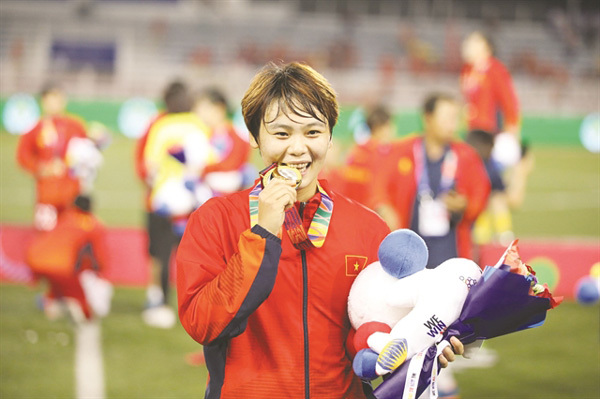 Striker Pham Hai Yen celebrates her gold medal at the SEA Games 30 this year. VNA/VNS Photos Hoang Linh

When the Vietnamese national women's team striker returned home after heading in the extra time winner against arch rivals Thailand to secure gold at the 30th Southeast Asian (SEA) Games in the Philippines on December 8, she didn't hit a club or splash out on a lavish meal.
Instead, she lit some incense for her maternal grandmother.
The 25-year-old was itching to return home to Nghiem Xa Village, Thuong Tin District in Hanoi to pay tribute to a woman who helped Yen live her dream.
Crucial goal
Yen's goal in the final was her first of the tournament, but it was by far the most important strike of all as it secured the 1-0 win and Vietnam's sixth title at the biennial tournament, one more than Thailand.
At only 1.62m tall, Yen isn't a physically imposing footballer, but her industrious and intelligent style of play means she's always capable of changing a game.
"Yen is a footballer who can play with her head very well. She tried her best at this year's Games and shone," said head coach Mai Duc Chung.
"I started Yen in the first half in the SEA Games' group stage but her form wasn't that good so I benched her in the final. I only brought her on in the second half. This move aimed to rouse her competitive spirit and it proved successful," he said.
"Actually my form wasn't good until the final, so I prepared carefully and waited for my chance," Yen said.
"When my coach gave me a chance to compete against Thailand in the final, I was determined that I had to play with all my heart as it was my last chance. Luckily, I scored a decisive goal. I was very happy," she said.
The final match went to extra time lasting 120 minutes, leaving several Vietnamese players injured or cramping up, but it didn't stop them rallying together to defend their title.
"I was very happy with the result which the whole team won. I hope the female team will receive more support in the next tournaments and fans will travel with us," Yen said.
Following the region's biggest sporting event, Yen and her team returned home and had around one week off, which she used to pay tribute to her biggest supporter, who sadly passed away recently.
"I was looking forward to returning home as soon as possible as I wanted to dedicate this victory to my maternal grandmother who died when I was training for and competing in the Games. I couldn't see her one last time," said Yen.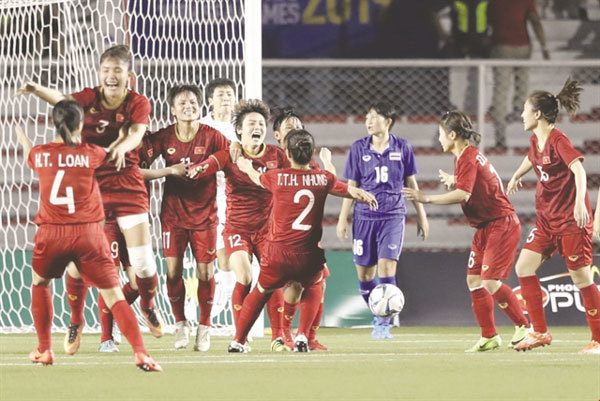 Striker Pham Hai Yen celebrates with teammates after scoring in the final against Thailand at the SEA Games 30 this year.
 
As a child, Yen was mostly raised by her grandparents.
"My family was very poor so I had to send Yen to my parents-in-law, who had better conditions than me. Her maternal grandmother loved Yen very much. She always supported Yen unconditionally including her playing football, instead of hanging around the house to play with dolls like other little girls," Yen's father, Pham Van Muoi, said.
According to Yen, the three most important things in her life are family, football and teammates.
"My biggest source of pride is to be one of members of the national women's football team and do my part to bring glory to the country," Yen said.
"I have never regretted pursuing football. It is my passion and my happiness."
Childhood dream
Yen has loved football since she was five years old. At that time, female football in the northern province of Ha Tay (now part of Hanoi) was developing fast. At Yen's home in Nghiem Xa Village, there was a female football team coached by Duong Khac Kiem.
Almost every day, Yen went to the football pitch near her house to watch Kiem coach.
At first, Yen's parents were against her spending all her time on football as they saw little future in the sport for her, and they needed her help with the family's fish breeding business.
However, because of her love for football, Yen would spend the morning and early afternoon working for her parents, and then race to the pitch in the afternoon.
After seeing Yen's love for football, her parents decided to let her devote herself to the sport.
When Yen was in the eighth grade, she started down the path towards professional football and began training at the Sports Centre in Ha Dong District, Hanoi.
At the age of 14, Yen had to stand on her own feet. She spent money sparingly with around VND750,000 (US$32) per month funded by the State.
"Yen always made us feel secure as she could arrange her time for training and for her education. She was then selected to compete in national U14 and U16 tournaments. At the age of 17, she became captain of the national U19 team," her father Muoi said.
Achievements
Yen plays for Hanoi Club, and she has helped the team to national titles in 2011, 2013 and 2014. They were the runners-up in 2012, 2015, 2016 and 2019.
At the 2019 AFF Women's Championship, Yen contributed six goals to help Vietnam clinch their third AFF title.
Yen was part of other national team achievements including bronze medals at the AFF Women's Championships in 2011 and 2018, a silver medal at the AFF Women's Championships in 2016, and gold medal at the SEA Games in 2017.
She was top scorer in this year's National Women's Football Championship with 17 goals. She also took the golden boot in 2015 and 2018. VNS
By Thanh Nga

The Vietnamese women's national football team have been awarded a bonus totaling VND2.5 billion following their progression to the final round of the 30th Southeast Asian (SEA) Games 30.

Vietnam secured an additional 20 gold, five silver and seven bronze medals on December 8 – the eight competition day of the 30th Southeast Asian Games, moving to second place on the medal tally.