Speculators lose big money during 'land fever'
Investors pourin money into real estate seeking profits from land price increases have not attached much importance to the surplus value from production and business, which seriously affects the economy, experts say.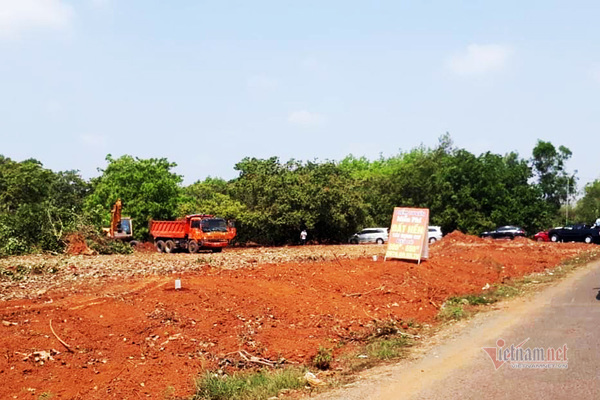 In Binh Phuoc province, a plan to build a 500 hectare airport in the communes of An Khuong and Tan Loi in Hon Quan district sparked a 'land fever'. People flocked to the area and hunted for land plots, including ones 10 kilometers away from the projected airport. On peak days, the land price escalated hourly.
The price of a land plot located one kilometerfrom the airport soared from VND200 million per square meter to VND1 billion.
A local real estate broker said that a 200 square meter land plot was sold at VND1.1 billion one day, and its value rose to VND1.9 billion the next day, which allowed the investor to pocket nearly VND1 billion after one night.
Some major investors spent tens of billions of dong to acquire large land plots, and then split them into smaller plots for sale for profit.
The Hon Quan district authorities then released a document on strengthening management over land as well as social order, while recommending that people think carefully before making transactions.
Just 10 days later, the land price bubble in Hon Quang burst. A land plot, which was once offered by brokers at VND350 million, saw the price fall to VND200 million.
A local man said a group of investors once decided to buy a land plot at the price of VND23 billion and deposited VND4 billion. But the real value of the land plot was just VND2 billion. They would have incurred a loss of VND21 billion, but even if they gave it up, they would lose the deposit of VND4 billion.
Prior to that, land fever occurred in Hanoi after a rumour about the building of Ung Hoa Airport in 2020. This also happened in Phan Thiet and Binh Thuan in 2019. Many speculators lost billions of dong.
According to analysts, these land fever periods last only a short time.
In early February 2020, land prices skyrocketed in Binh Ba commune in Chau Duc district in Ba Ria – Vung Tau on the news about a large corporation developing a 800 hectare project there. But the land fever ended just two weeks later.
In March 2020, ignoring advice on avoiding social gathering during Covid-19, hundreds of people flocked to Dong Truc commune in Thach That district in Hanoi to seek investment opportunities after hearing that Vingroup planned to develop two urban areas.
The price escalation then stopped 10 days later when local authorities affirmed that they had not received any document from the municipal authorities on the development of urban areas.
Bitterness of speculators

Investors pourin money into real estate seeking profits from land price increases have not attached much importance to the surplus value from production and business, which seriously affects the economy, experts say.
Su Ngoc Khuong from Savills Vietnam said land fever first appeared in 1993, when the Land Law came into effect, which allowed easier transfer of land-use rights.
Since then, the number of artificial pricing periods has been increasing. They occur when there is unclear information about the development of infrastructure and urban area projects.
With the presence of numerous brokers, land prices are easily pushed up. Early speculators are the ones who make the biggest profits. Latecomers suffer the most, as they cannot sell land once the prices fall.
The land price hikes also prompt people to sell production land to buy cars, household appliances and houses. Hon Quan People's Committee warned people that there is a risk of falling into poverty if they do not use the money from land sales effectively.
Experts said that most local people have been living on cashew and rubber plantations, and if they sell land, this means they are selling their 'livelihood', which affects the local economy.
Lawyer Truong Anh Tu, president of TAT Law Firm, pointed out that the behavior of pushing prices up to make profits seriously infringes on the real estate management process and the public's benefits.
"This behavior should be subject to criminal prosecution," he said.
At a conference on reviewing the 5-year term (2016-2020), Deputy Minister of Construction Nguyen Thanh Nghi said the state will control and regulate real estate market development and deal with the underground market, as well as speculation. 
Hoai Nam
The long process of project approval from competent government agencies and the serious impact of COVID-19 have helped mergers and acquisitions in real estate sector become more active.

Vietnam has more real estate investment opportunities than other more mature Asia-Pacific markets, though certain difficulties remain.