SOE equitization: investors attracted by 'golden land' holdings
Vu Dinh Anh, a respected economist, has pointed out that in many cases, investors decide to buy shares of equitized enterprises because the enterprises have many land plots in advantageous positions, or 'golden land'.
In 2017-2020, Vietnam set a goal to complete the equitization of 127 state-owned enterprises (SOEs). However, only 28 percent of the plan has been implemented so far.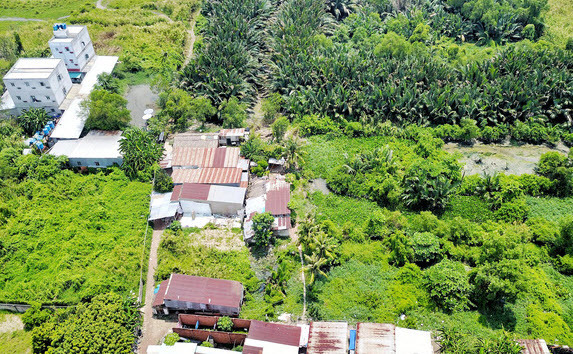 Nguyen Hong Long, deputy head of the Steering Committee for Enterprise Renovation and Development, said that equitization has been going slowly because large-scale enterprises such as VNPT, Vinachem, Mobifone and Agribank have very complex financial situations.
As many properties are not covered by laws, it is very difficult to determine their value. Some kinds of assets, especially land, cannot undergo valuations.
Vinafood 1, for example, has to work with 22 units that own nearly 250 land plots in 25 localities.
Vinachem has two independent units, two public non-business units, three 100 percent-owned subsidiaries and 21 50 percent- invested subsidiaries which own land plots in many localities.
Meanwhile, Agribank has 2.6 million square meters throughout the country with diverse sources of land, including land with incomplete legal records.
According to Anh, equitization is going slowly partly because it takes too much time to assess land value. Many instances of mishandling land have occurred, causing loss to the state's properties.
He pointed out that in many cases, involved parties are enthusiastic about equitization just because of the large land fund that enterprises have.
Meanwhile, the promulgation of new regulations that prevent land speculation and ensure regular land use monitoring is going slowly.
The State Audit, when auditing the use and management of land during and after equitization in 2011-2017, discovered many violations of the Land Law. Assets were sold not through auctions; the land management was loose; and the shortcomings in land management led to land resource waste, state budget collection losses and reduced investment efficiency.
The State Audit proposed an administrative fine of VND1.369 trillion on the violations, and a return of 7,592 square meters and three land plots with undefined area.
Tran Minh Khuong from the State Audit said in a 'B' province, according to the local department of natural resources and environment, as of December 31, 2017, 25 land plots of equitized enterprises were found being used for wrong purposes and 14 land plots had not been put into use, while three other land plots were encroached upon and three plots were in dispute.
Five joint stock companies were allocated land by the provincial authorities to use as head offices and production workshops, but transferred the land to other individuals and institutions.
Join stock companies have re-leased the entire area on 26 land plots or re-leased a part of the area on 12 other plots.
Loss of revenue

In many cases, investors decide to buy shares of equitized enterprises because the enterprises have many land plots in advantageous positions, or 'golden land'.
Nguyen Minh Phong, an economist, said the state might have incurred a loss of revenue worth trillions of dong from land, business premises and public assets because of the improper calculations of land use rights and other reasons.
In April 2018, Tan Thuan Investment and Construction transferred to Quoc Cuong Gia Lai JSC a 30 hectare land plot in Phuoc Kien commune at the price of VND419 billion, or just VND1.29 million per square meter. Meanwhile, the market price of the land plot at that moment was no less than VND2 trillion.
Deputy Auditor General Doan Xuan Tien at a workshop on improving the efficiency of equitization on November 24 said that many problems occur during the equitization process, affecting the state's capital and assets. Many institutional problems have been slowly resolved, especially ones related to land use rights and intangible asset valuations.
Therefore, the State Audit intensified the auditing of pre-equitization SOE valuations, making national finance more transparent and preventing embezzlement.
Since 2017, the agency has audited the consulted valuation and treated financial problems before the official announcements about the SOE value of 16 enterprises from 2016 to 2020. In doing so, it found a lot of mistakes in branding costs, business advantages, inventories, and fixed asset valuation.
The State Audit has used the asset-based approach to define the actual value of the state capital in enterprises and found an increase of VND15.447 trillion in asset value.
It also used the discounted cash flow (DCF) to define the actual value of two companies (they meet the requirements for DCF application, but consultants still used an asset-based approach method) and found an increase of VND15.684 trillion in asset value. 
Ngoc Ha

The Ministry of Finance (MoF) has said the supervision of financial results from State-owned enterprises (SOEs), carried out by the Committee for Management of State Capital at Enterprises, (or Super Committee) was "very slow".

Many state-owned enterprises (SOEs) have been equitized but have not seen considerable changes as the state's ownership ratio remains high. Many of them are still taking losses and struggling to survive.