Sending parents to nursing homes
"Young children depend on their father, but when they get old, who will they rely on? This is a matter of controversy in Vietnam.
Mrs. Uyen, 77, in Binh Chanh district, HCMC has two children. The first daughter settled abroad. Uyen is living with her youngest son, who is the director of a large company.
"My son and his wife are often not at home. Since my husband died, I have been alone in this spacious house, feeling like I was imprisoned. I plan to ask my children to send me to a nursing home," she confided.
But she did not tell her children about it, afraid that they would not agree. Her biggest concern is that if she goes to a nursing home, her children will be considered unfilial by others as they are rich but unable to take care of their elderly mother.
Unlike Mrs. Uyen, Mrs. Cuc, 77, in Phu Nhuan district, Ho Chi Minh City, has other concerns. Although she wanted to go to a nursing home, she did not dare leave her children at this time. She feared that her son's marriage would fall apart.
"I sold my house and garden in my hometown to move to Ho Chi Minh City to live with my son's family, but during the past 5 years, my life has been a lot of sadness. My children and I hardly eat together because they are too busy with the office. They go to work all the time. On holidays, if they don't travel, they also hold their phones, computers, and lock themselves in the room... Sometimes, I find myself as a maid," she said.
Mrs. Cuc was even sadder when she constantly witnessed the conflict between her son and his wife over work and money. When she had a grandchild, Cuc and her daughter-in-law had a conflict in raising the child.
She said she wanted to live in a pagoda or a nursing home, but she could not realize her plan yet. "If I am here, my children have me to take care of their home, and I can hold my grandson. When they fight, they still look at me and try to pass. If I leave, my son's marriage will break, my grandson will suffer, and our friends and relatives will decry and say that my son is undutiful to his mother," Cuc said.
Living with children or going to a nursing home?
According to the census conducted on April 1, 2019, the total population of Vietnam was 96,208,984 people, the number of people aged 60 and over more than 11.4 million (11.8%), and the number of people 65 years and older over 7.4 million (7.7%).
According to the Vietnam General Statistics Office, the population in 2019 was 96.484 million people, and the proportion of the population aged 60 and more and of people 65 years and older were the same figures as the Census.
Bui Anh Trung, Director of Binh My Nursing Home (Cu Chi District, Ho Chi Minh City) said that a large number of people still see nursing homes as a place for the homeless, the needy, and the poor. Vietnamese society has an unfavorable view of nursing homes and aged care centers.
The issue of "young children depend on their father, but when they get old, who do they rely on" has become a dilemma. Living with children or going to a nursing home in the last years of life… this is still controversial.
In many cases, the parents need to go to a nursing home but their children do not agree. One of the reasons is that the children are afraid of being "stoned" by society, being criticized by others as unfilial, or of abandoning their parents.
"There are many cases where children, after sending their parents to a nursing home, abandon them. This makes the elderly have an aversion to nursing homes. When being asked by their children whether they want to live in a nursing home or not, they often panic, react negatively, and show opposition. This leads to conflicts between parents and children," Trung said.
Sending parents to a nursing home has made couples fight because, in many cases, one of them wants to send the parents to a nursing home, but the other person disagrees.
Ngoc Anh, 40, in Hanoi, said that she is in an ironic situation as she wants her father-in-law and her mother to enjoy a better life at a nursing home, but her husband vehemently opposes it.
"I have to take care of both my father-in-law and my mother who are both over 80 years old. They are very fastidious, and cannot control their personal hygiene. Coming home from work I have to try to take care of them, so I'm very tired. If they live in a nursing home, they will be taken care of by professional nurses 24/7 and they can talk with friends of the same age, so it will be more fun than being alone at home," said Ngoc Anh.
But Ngoc Anh's husband said that their parents would not live long so they should try for a while. Ngoc Anh argued that she has been living with her father-in-law for nearly 20 years. The time is not short and she has never been "free" in the true sense. The couple could not find a common voice and had to work hard to take care of two elderly people, resulting in conflicts.

Nursing homes in the future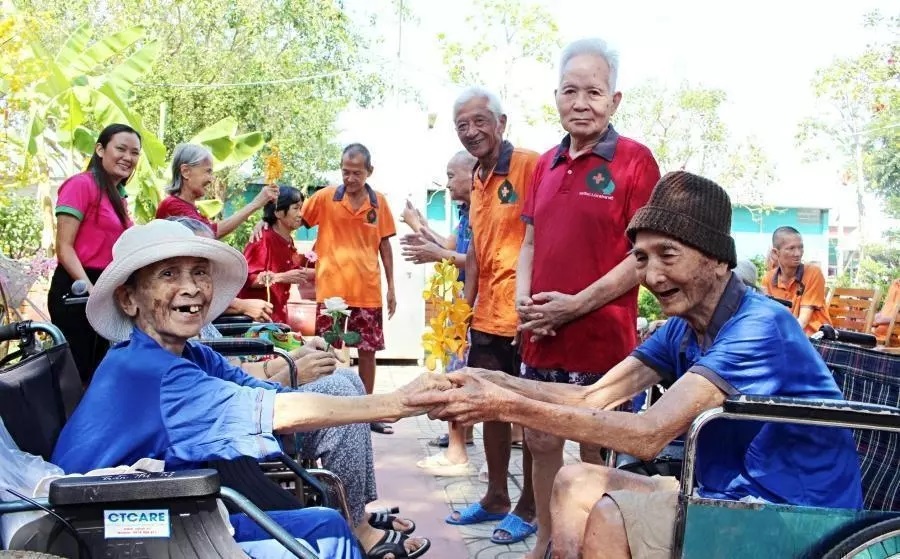 Vietnam's population is aging the fastest in Asia. Therefore, nursing homes and elderly health care centers will be an inevitable trend in the future.

Vietnam has about 425 health care facilities for the elderly, disabled and children. Of these, there are 195 public establishments and 230 non-public establishments. However, of these 425 facilities, there are only a few dozen centers for the elderly. At the current rate of the aging population, the demand for nursing homes is anticipated to be huge in the future.

Many young people in Vietnam have a more open view of the concept of filial duty: sending their parents to nursing homes where they have professional caring services.

Dr. Khuat Thu Hong, Director of the Institute for Social Development Studies (ISDS), said: "Many elderly people do not want to be a burden on their children. Urban life is inherently stressful, where houses are cramped, with 3-4 generations living together, so many problems can arise. Children are busy with work, taking care of their children so taking care of their parents becomes a burden. Therefore, sending the elderly to high-quality nursing homes will be the optimal choice for many families."

Tran Canh Tung, Head of the Department of Social Affairs of the Social Welfares Authority of Vietnam, said that to meet the demand for nursing homes in the future, the Vietnamese Government needs to be more open in developing private nursing facilities.

Accordingly, private investors will build nursing houses and the state will support and care for service users at these facilities. "For example, a private company builds a nursing home for 300 people, and the state will support subsidies and care for these 300 people. The coordination between the state and private businesses will jointly create favorable conditions for the elderly," said Tung.

Tung also emphasized that nursing facilities must improve service quality and ensure that the elderly receive comprehensive care to get rid of the fear of many people.

Phuong Anh, 35, from Binh Tan, Ho Chi Minh City told VietNamNet that she supported the idea of sending the elderly to nursing homes that meet "5-star" standards.

She said this would be a trend in the future. Many middle-aged people have accumulated money to prepare for a life in a nursing home when they get old.

Nguyen Son

Many countries in Southeast Asia are facing the risk of an aging population. As a result, subsidies for the elderly will gradually become a burden on governments.

Having only one child or no children has not become common in Vietnam, but it can be seen clearly in some provinces and regions.