Secrets behind drums that cost hundred million VND
For nearly 200 years, the art of drum-making has been handed down to  generations of craftsmen from Binh An village who use their aural skills during the 20 manual phases required to make perfect products.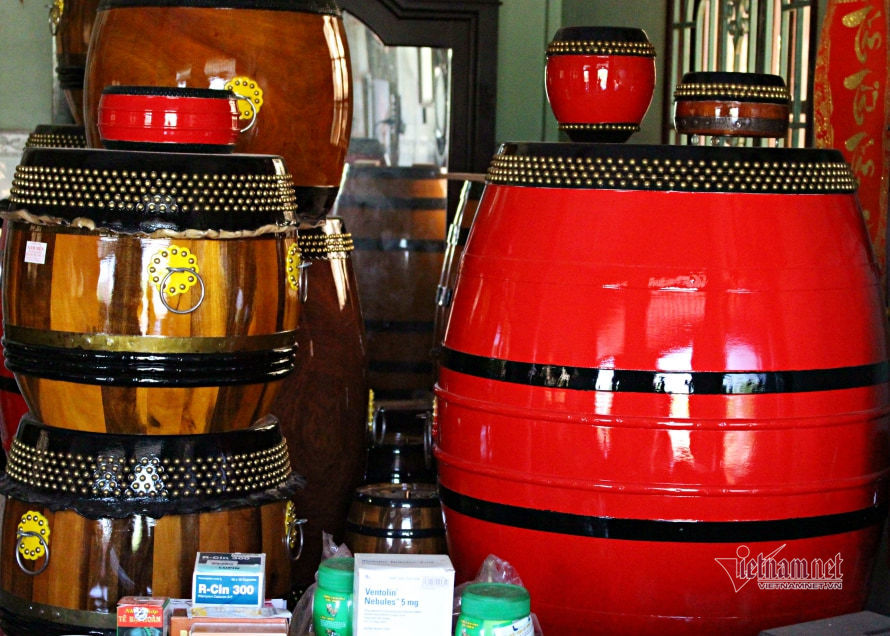 Leather drums from Binh An traditional drum-making village are renowned for their first-class design and good sound
Hundreds of years in the profession
Binh An drum village (Binh Lang commune, Tan Tru district, Long An province), during the early days of spring, grows busier than ever when the sound of drum making and testing echoes in the quiet of the village.
Mr. Nguyen Van An, owner of a reputable drumming facility in Binh An village, said: "My father said that the ancestor of Binh An drum village was my forebear Nguyen Van Ty. Leather drums back then were very simple. There has been considerable advancement in design and sound quality since the time of my great-grandfather and grandfather."
However, it was not until the time of his father Mr. Nguyen Van Men that the leather drums in Binh An village were perfect in sound. An belongs to the 5th generation of craftspeople and is elevating the model and bringing products to foreign markets.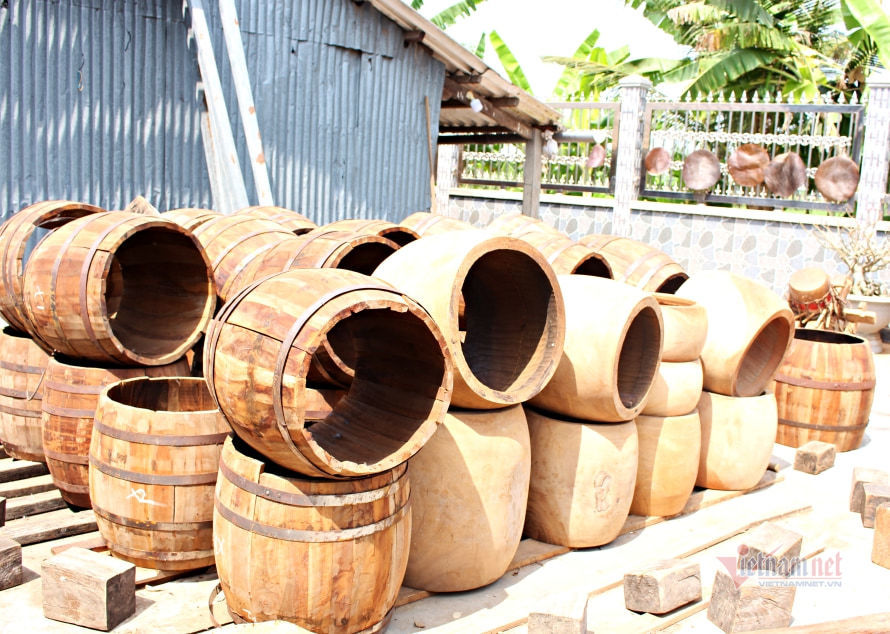 The drums are made of buffalo hide and sao wood which first must be sun-dried.
Though sharing the same origin and facilities, individuals have their own skills and techniques. Therefore, only proficiency in drum making will equal a prosperous life, or else it is hard to live if you're not qualified enough as poor quality drums can barely see a future.
There are 22 households in the village who work as drum makers, but only five are able to make a living by the profession. "It is challenging to make good drums and keep that a source of stable income. It demands passion and expertise and of course the aspiration to preserve traditional jobs," said Mr. An.
In the last days of the year, prestigious artisans have to work restlessly as orders from communal houses and pagodas keep coming in.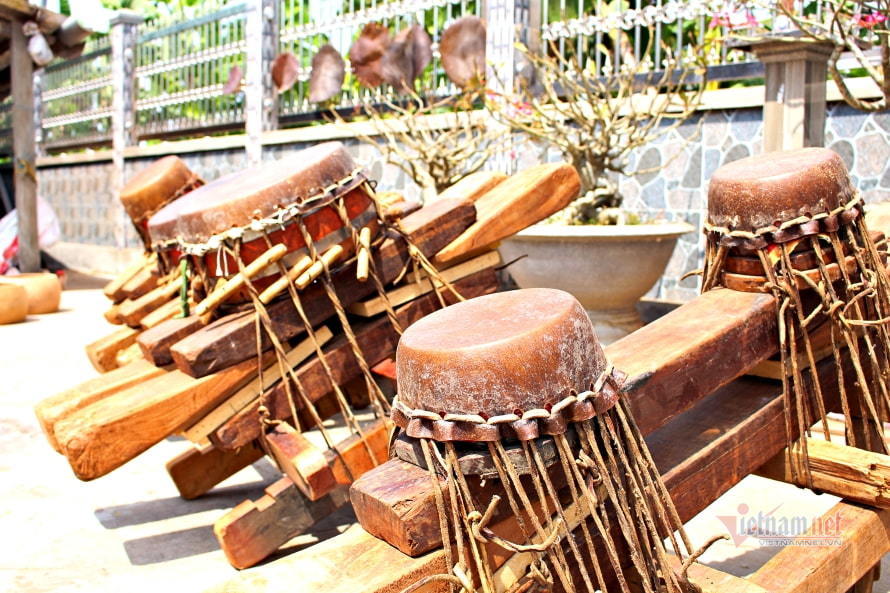 The process of skin stretching and sealing the drum is very delicate so that the final products come out with the best sound quality.
"Annually customer demand is at its peak during the last few days of the year. Therefore, we only have time to wind down until the afternoon of the 30th or the 1st of the new year... On the 4th day of Tet, we get right back to the flow because there are many traditional festivals held after the full moon of January," Mr. An added.
Sound quality says it all
Binh An leather drums are also available in international markets. According to Mr. An, recognized as a skilled craftsman years ago, the prerequisite for standard drums is the ear training technique.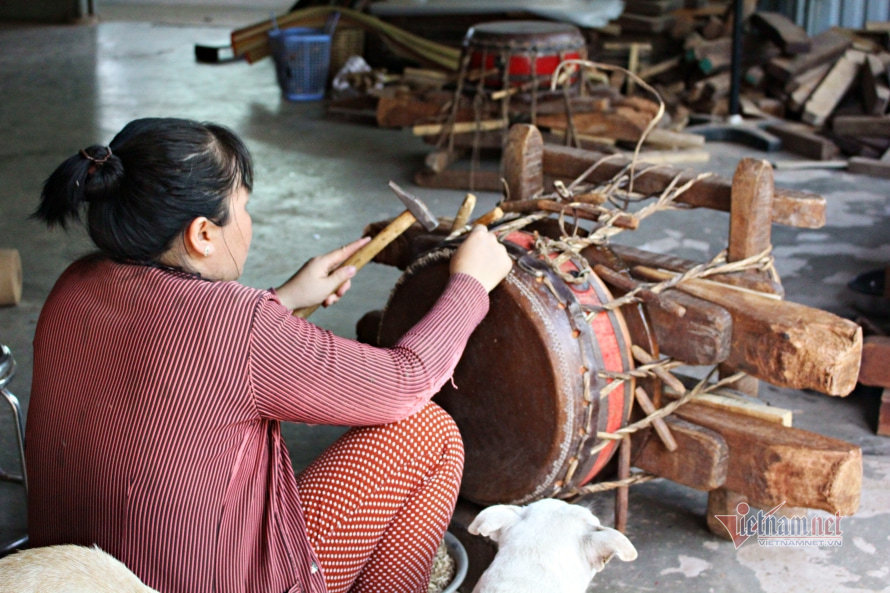 Pinning the drum handle seems effortless at first glance, but only skilled craftsmen are capable of it.
"Drums that are up to the mark have sound characteristics that vary from type to type. For instance, drums for dragon dances should be noise-like, sharp and clattering, while praise drums are expected to be deep, smooth and penetrating. Artisans can adeptly identify pitches, chords and rhythms solely by hearing. How adept the craftsmen are is manifested by the sound their drums make."
Weather, aside from ear training, also plays an significant role in drum production since it affects the quality of the materials like wood and buffalo leather. Absolute dryness is required for the best results. The preferred wood is Golden Oak which can be bought from big sawmills and then whittled before sun drying.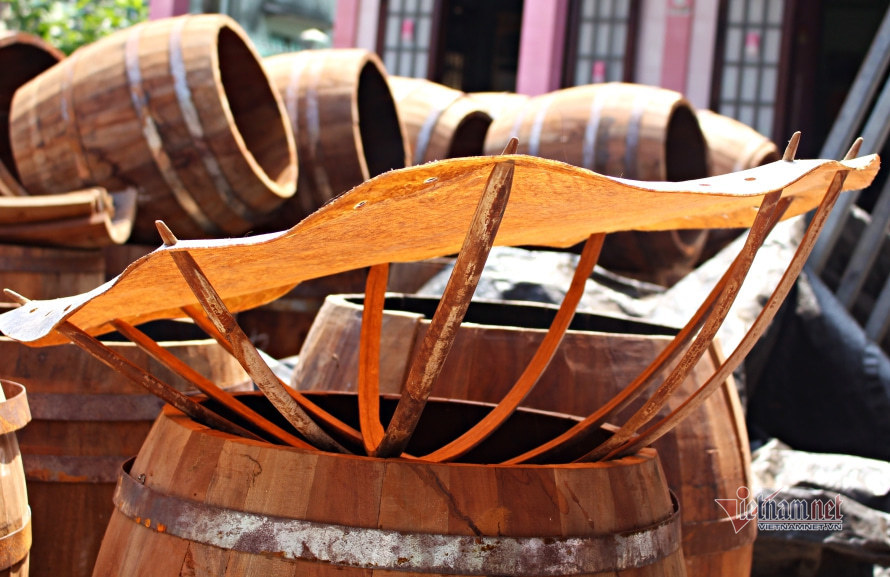 Buffalo hide used for the batter head is sun-dried until the desired waterlessness
While wood for small drums needs daily sun exposure, wood for big drums requires a whole year in the solar heat before it is ready. At Mr. An's drum factory, there are many wooden logs with large diameter of 3-4 humans' embrace. These logs were bought decades ago and mainly are for large pagodas domestically and abroad. Such giant drums take many years to complete and cost up to several hundred million VND.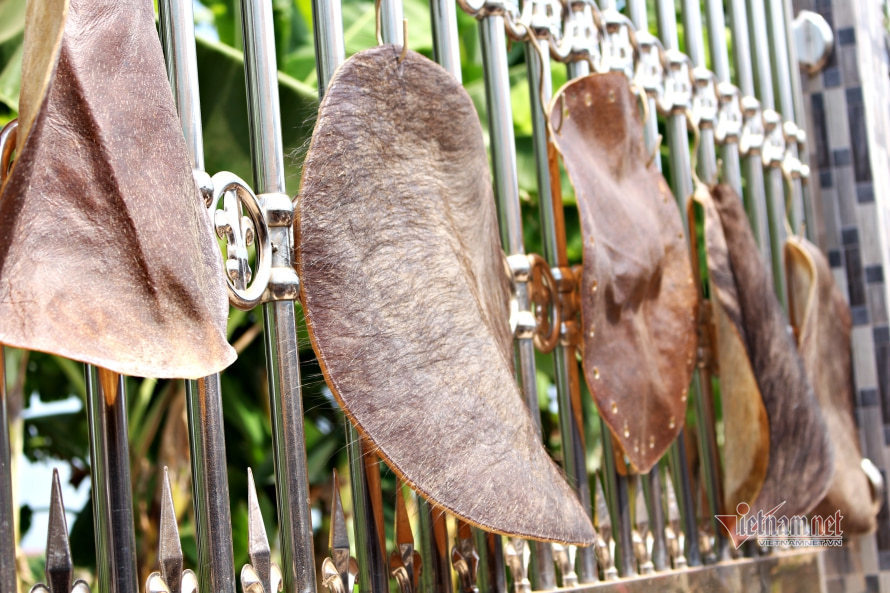 No other drying methods are used but sunlight
Buffalo hide for drum sealing which is from back and shoulder skin is also dependent on the sun. Only natural daylight can dry the skin properly for successful production.
"Only these skin areas give the standard sound, but if bought on days of undesirable weather like rainy or cloudy days without prompt drying, the skin can't be used. The purchased skin can only be exposed to natural sun so that it slowly drains. If artificially dried, it will get brittle, unable to stretch the drum."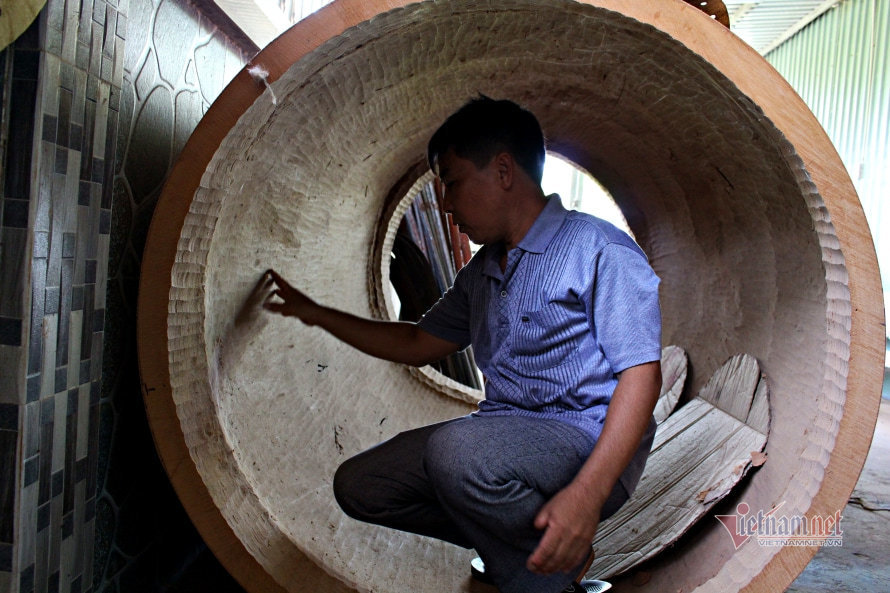 A large diameter monolith has just been hollowed out to make the body of a giant drum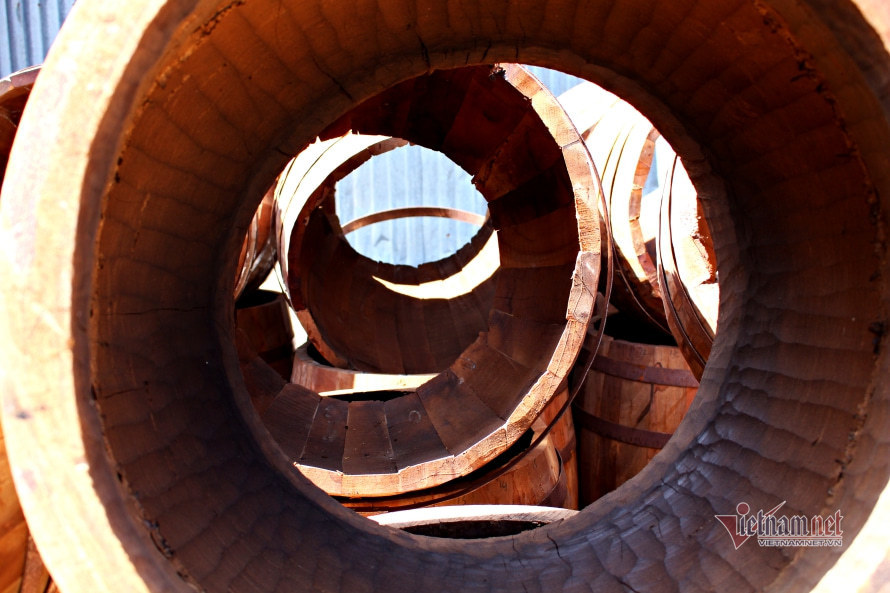 Wood for giant drums requires months of hollowing. The cost for one from such monolithic wood is over 100 million VND
From January to the 3rd lunar month, drum manufacturers in Binh An village have to purchase and store the skin of more than 100 buffaloes which are enough for a year of production.
This job not only gives An a chance to contribute to preserving and developing traditional drum making but also keeps his chin up every time he hears the drums resounding on spring days.
Nguyen Son

With jackfruit wood and buffalo leather, the talented craftsman can make drums, creating the sounds of life.