Saigonese take up archery, stand-up paddleboarding following lockdown
Social isolation in HCM City has sparked interest in archery which improves focus and patience and rowing SUP (Stand Up Paddleboarding) which allows people to enjoy a riverside picnic.
Trying archery for the first time, Phuong Anh, 22, was intrigued by the peculiar sensation she experienced. Equipment, safety clothing, and instructors were included in the price of 50,000 VND for 30 minutes/ person.
Relieving tension, and enhancing attention and patience are some of the benefits of archery according to Phuong Anh. Instead of asking each other to dine and drink, she and her circle of pals engage in athletic activities. Since traveling to neighboring provinces is still risky, the expense of trying this activity is well within reach especially after protracted social distancing.
Many individuals want to give archery a try.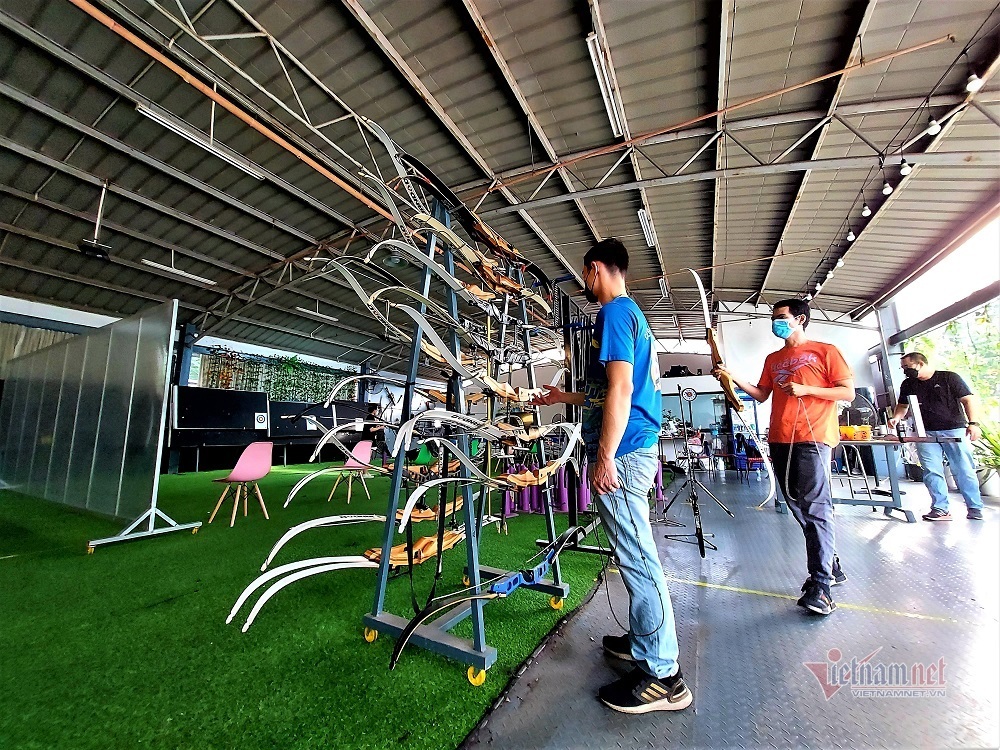 More and more people have enrolled in archery lessons.
Visitors of all ages partake in this, although the majority of them are office employees aged 25-40, according to Ms. Doan Thi Le, Chairwoman of the Archery Club (Ho Chi Minh City's Youth Cultural House). After work, they head to a packed archery range on the weekends or evenings.
There was a 30 percent rise in the number of tourists following the fourth wave of the Covid-19 pandemic. About 100 participants are accepted each day because of distance rules, as well as the limited number of bows and arrows. Many people also sign up for archery lessons, which cost between VND 500,000 and 600,000 VND each course.
Players require at least three months to learn the fundamentals and perform at a high level. All first-timers must be accompanied by a coach for the first 15 minutes.
An entry-level set of bows that may be used for recreational purposes costs around VND 5 million in total. More extensive sets are expensive, and the associated accessories are unavailable in Vietnam. Consequently, instead of buying, many individuals come to play and test them, according to Ms. Le.
Paddleboarding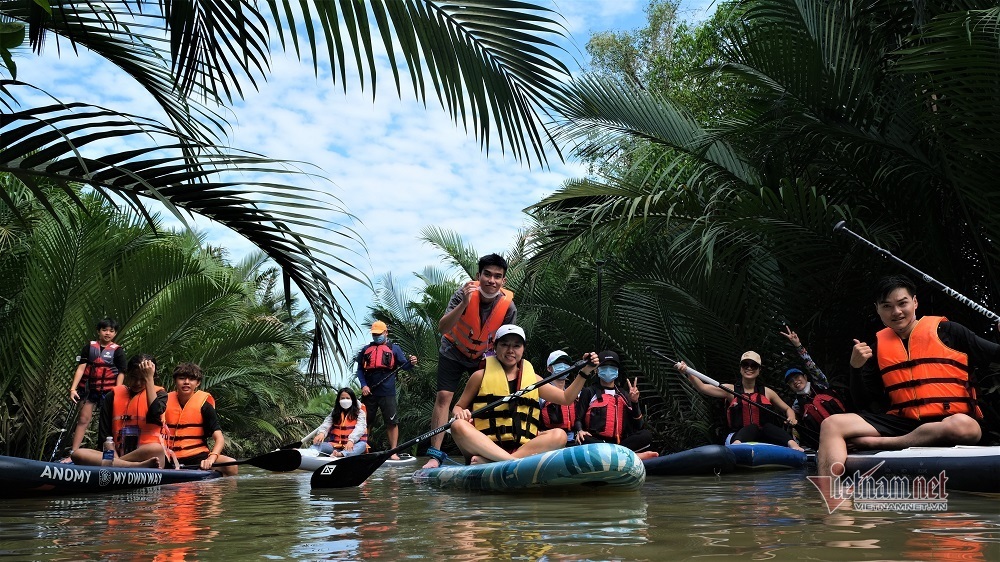 SUP is a sport that offers a riverside picnic experience in the heart of the city.
Nguyen Vu Hoa Ha no longer trembles while he stands on the SUP (Stand-up Paddle Board). When Ha was introduced to the sport by friends, he became hooked after a time of practice. In the heart of Ho Chi Minh City, SUP gives a feeling of adventure and allows her to explore the river. Ha and his buddies SUP every weekend instead of trying to find a way to get away from the city as they used to.
The cost of VND 400,000 - 500,000 is affordable for a four-hour SUP lesson, according to My Hanh. Having a picnic in the middle of the city while still being physically active is a special experience.
SUP has only recently been introduced in Vietnam, so it might be a challenge for a coach to instruct players because they are unfamiliar with the river environment. At first, visitors to the game will feel apprehensive about the water and the possibility of falling. As soon as they get to know the boat, however, everyone is eager to hop in and paddle. Participants get instruction in the basics of rowing prior to the event and are constantly accompanied by a coach.
The manager of Saigon Rowing Station, Mr. Dao Le Phuong, said that health training and outdoor sports activities became popular in the community following the pandemic. The activity attracts a lot of people on the weekends, although playing SUP in nature is contingent upon the tides. The Saigon rowing station features 30-40 boats at the stations, but players must arrange 3-4 days in advance to get the opportunity.
Tran Chung
HCM City residents now can clearly feel the strong revival of the city when taking trips on double-decker buses or going on waterway tours.

Many non-residents in HCMC have been plunged into unimaginable hardship caused by the Covid-19 pandemic, but the Saigonese are willing to provide a shot in the arm for them to ride out the pandemic together.