'Safety belt' for the epidemic era
Digital technology is an invisible wall that provides security to foster trade and tourism during the time of epidemic. This is a new trend that forces the service industry to accelerate digital transformation during a historic turning point.
Safety belt
One morning at Changi Airport (Singapore), the small number of passengers made the operation of the busiest airport in the world unusually quiet. Two years ago, Changi held a record of serving up to 63.8 million passengers.
The Covid-19 pandemic caused arrivals to Changi to drop by 83% last year. The construction of its 5th terminal was halted. In January 2020, Changi had 33,000 flights taking off and the number plunged to 7,500 in January 2021.
Although it closed the door, Singapore still organizes flights for its residents and for international businesspeople. Singapore has leveraged its technological capabilities to develop digital initiatives that provide safety for people.
Singapore Airlines has provided "non-contact" flights, where passengers do not have any physical contact. It also launched the national digital check-in system called SafeEntry to help track in-and-out history by scanning QR codes and using the TraceTogether tracking app.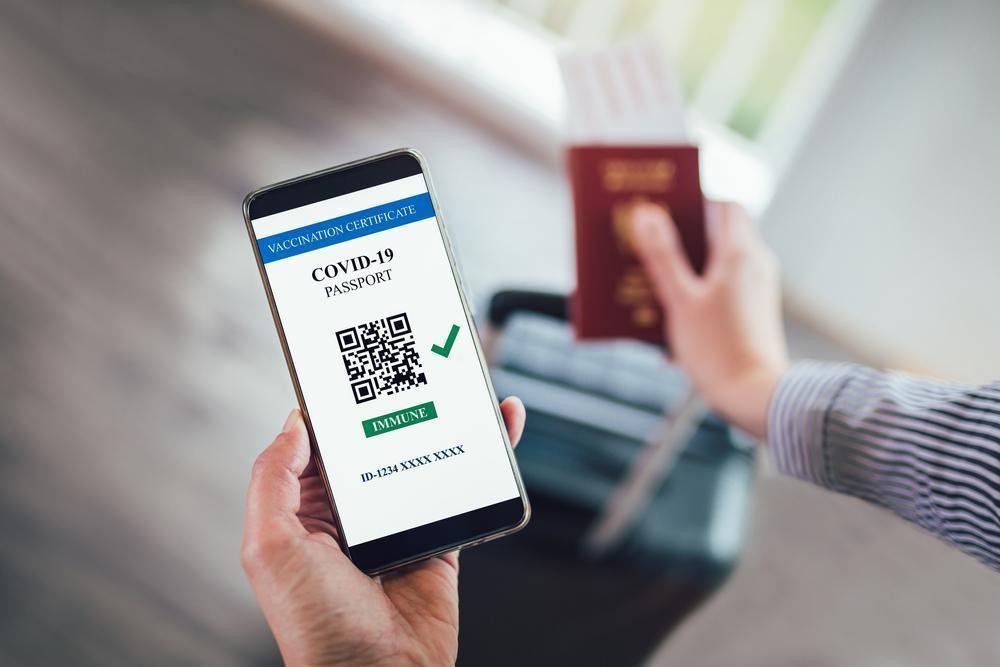 The International Air Transport Association (IATA) is promoting an electronic health certificate called "Digital Travel Pass" to certify Covid-19 test results and vaccination. This application was accepted by Singapore on May 1.
From 1 May, passengers traveling to Singapore are able to use IATA Travel Pass to share their pre-departure COVID-19 PCR test results upon check-in with their airline, as well as on-arrival at the immigration checkpoints at Changi Airport. This is part of an ongoing collaboration between the Civil Aviation Authority of Singapore (CAAS) and IATA to facilitate seamless and efficient travel through digital certificates of COVID-19 tests.
Singapore Airlines is the first airline in the world to trial the Digital Travel Pass.
According to IATA, digital health certificates will be a key feature in air travel moving forward. Establishing trusted, secure solutions to verify the health credentials of travelers will be critical in facilitating smooth air travel and safeguarding public health. The IATA Travel Pass is a personal secure digital wallet solution that can be used by passengers to obtain and store their COVID-19 test results from accredited laboratories.
Meanwhile, Scoot - a Singaporean low-cost airline which is a subsidiary of Singapore Airlines – is trialing the digital verification process of Covid-19 test results. It has also tested an online portal allowing travelers on flights departing from Singapore, Indonesia and Hong Kong to schedule Covid-19 tests conveniently. This online portal can be accessed on the website or mobile app so that passengers will be connected directly to the system of clinics authorized to perform Covid-19 tests.
Singapore also aims to reshape the future of the tourism industry by applying digital technology.
The Singapore Tourism Board (STB) has applied digital technology such as contactless technology, cleaning robots, and a national digital check-in system to help the tourism industry adapt to the pandemic situation. It also uses technology innovations in entertainment, such as bartender robots and online interactive programs to bring Singapore closer to global visitors.
Technology used to help fight disease
With the results achieved in response to the Covid-19 pandemic through technology tools and platforms, Singapore has risen to the top position in the Smart City Index 2020.
Mr. Arrif Ziaudeen, CEO of tech firm CHOPE, said that life after the pandemic gives them a chance to "reimagine" itself. "We realize that we can leverage more technology to improve our health, safety, and experience," he said.
Keith Tan, Director General of Singapore Tourism Board, said: "We will constantly create and develop Singapore tourism to become a new Singapore, a reimagined Singapore."
Similar to Singapore, the impact of the Covid-19 epidemic on Vietnam's tourism industry has been severe. This shows the urgency and the need to promote a faster and stronger digital transformation for Vietnamese tourism.
From a support tool for people, technology and artificial intelligence has become the main resource that brings people safety, brings life back to normal at a new stage. The pandemic is an opportunity to rethink the building of sustainable solutions in the future.
Vietnam is one of the few countries that has effectively restrained and prevented the spread of Covid-19. This success has contributed significantly to Make in Vietnam technology products.
When the epidemic occurred, the Covid-19 tracing app named Buezone was immediately created. Bluezone has become a useful solution for management, traceability, and warnings.
Many other applications to support epidemic prevention and control have been launched such as the medical declaration application (NCOVI), the Vietnam Health Declaration application.... There are also useful solutions such as remote temperature measuring device, floor cleaning robot, disinfection robot and others.
These are effective solutions to reduce costs and have proven the agility and ability of Vietnamese technology enterprises.
In an effort to revitalize tourism, digital technology has made a positive contribution to ensuring the safety of visitors, creating new, unique products and effectively supporting businesses in marketing, online promotion and e-commerce.
Technology is also being deployed at airports, hotels, and tourist sites to help visitors limit contact, ensure visitors' safety, and add new experiences. The authorities as well as local airlines have researched and trialed the "vaccine passport" and the electronic health passport proposed by IATA.
Make in Vietnam applications for Covid-19 prevention:
- NCOV: For people to declare personal information and health status. This is the official channel for authorities to send recommendations to people about the epidemic situation.
- Vietnam Health Declaration: For people entering Vietnam to make medical declarations. Based on the data collected from this application, the health system will provide medical assistance as quickly as possible.
- Bluezone: A Bluetooth-based app that helps determine if a person has come in contact with a COVID-19 patient. The contract tracing app uses Bluetooth Low Energy, a wireless personal area network technology, to link with smartphones within a two-meter distance. If a user is positive for SARS-CoV-2 (known as person F0), health authorities can identify those who had close contact with that person (known as F1), and the system will alert them about the risk of infection. They will be also provided with instructions on contacting health authorities for assistance. So far, around 32 million downloads of Bluezone have been recorded.
- Hanoi Smartcity: This application makes it possible for people to monitor people under quarantine and Covid-19 patients. The monitoring is conducted by the GPS system on the phone. The Hanoi SmartCity app displays the location of people who are quarantined or under medical supervision due to suspected Covid-19 infection (F1 to F3).
Duy Khanh - Manh Hung

Digital transformation is keeping life going but in a 'new normal' state.

With many variants and outbreaks, Covid-19 is expected to be a long-term struggle requiring the contribution of the entire society.