Running out of money, businesspeople fall into black credit hole
Many businesspeople have complained that they have had to sell cars and fixed assets to maintain operations. Some have even sought capital from black credit sources with exorbitant interest rates.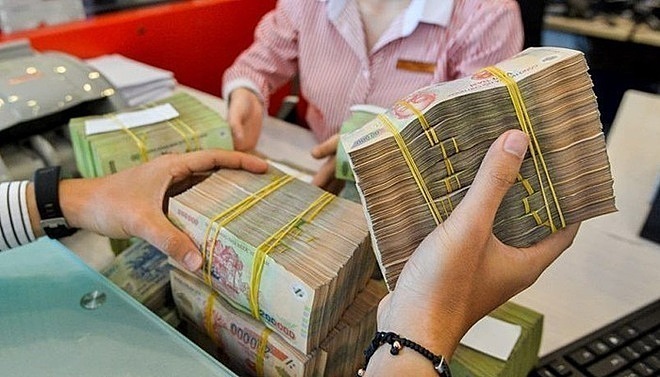 A survey by the National Economics University (NEU) found that businesses are running out of money to cover operation expenses. Many businesses have had to suspend operation because they don't have revenue and products remain unsold. Lack of capital and input materials is a big problem.
While the revenue has fallen dramatically, businesses still have a lot of expense items, including pay to workers, bank loan interest, regular expenses and premises rents.
Dinh The Hien, a respected economist, said that banks' loans are higher than mobilized capital, showing businesses' serious need for capital.
Ngo Tri Long, a price expert, said businesses lack capital because they have had to suspend operation. The supply chain has been disrupted, which has caused cash flow problems.
Since businesses have no more money, they cannot pay workers and don't know how they will manage if they resume operation.
The survey about the situation of Vietnam's businesses announced recently by the Business Development Agency pointed out that 83 percent of businesses cannot access loans if they don't have collateral. Sixty percent commented that the requirements for private enterprises are always stricter than state-owned enterprises (SOEs). Around 46 percent said the procedures to get loans are troublesome and 39 percent said banks and credit institutions impose unfavorable credit conditions on them.
A VCCI (Vietnam Chamber of Commerce and Industry) survey in September of 3,000 businesses found that many businesses can contend for six more months only.
The enterprises in the field of agriculture, forestry and fisheries can hold out for 4.7 months, information and communications 4.9 months and construction 5.3 months. The major reason is the exhaustion of money. They will have to leave the market if they cannot get support.
Economists estimate that from now to the end of the year, if the pandemic can be controlled and the economy recovers, about 100,000 businesses will be dissolved. If not, the figure would be 150,000. If just one enterprise loses liquidity, its partners will fall into the situation and cannot arrange cash flow.
How to ease the thirst?
Many businesspeople said they have to sell cars and fixed assets to maintain operation. Because of the difficulties in accessing official credit, some businesses have to seek capital from black credit with exorbitant interest rates.
Ngo Trung Hung, Marketing Director of Dai Viet Huong, said businesses need new loans. When cash flow gets depleted, new loans are necessary to maintain production and business.
Appropriate agencies need to determine who are eligible for loans and who are not. A state agency needs to approve the list of businesses which can get new loans.
It's risky to lend those who don't have money, but businesses need help. There should be an agency which takes responsibility for this. It would be impossible to disburse loans if doing this via commercial banks.
Experts believe there should be a refinancing package to provide new loans, and a loan guarantee fund that operates under a new mechanism, not the existing fund. No business would be able to access new loans if collateral is required.
One of the most important factors to ensure that businesses can access new loans is unsecured lending. The procedures also need to be simplified, or it'll take a lot of time to establish the fund.
Experts have also suggested that commercial banks will be granted special refinancing at preferential loans and they have to use refinancing to provide new loans. It's necessary to clarify the conditions businesses need to satisfy to access new loans, including the level of effects of the pandemic, the current business situation, and recovery capability.
Le Huu Nghia, Deputy Chair of the HCM City Business Association, warned that if businesses 'die' en masse, banks will incur bad debts. Therefore, banks should give support to businesses to help them overcome difficulties.
According to Nghia, mortgaged assets are always valued at much lower than the market value, while loans that businesses can get are just 70-80 percent of the value set by banks.
He suggested that banks provide 15-20 percent more and don't require more collateral.
"With the additional loans, businesses would have money to cover expenses to resume operation," he said. 
Tran Thuy

Prime Minister Pham Minh Chinh convened a national teleconference on Tuesday to seek ways to disburse nearly VND 250 trillion (over US$11 billion) in public investment capital within the next three months.

More than 85,500 businesses, mostly small and medium enterprises (SMEs), have suspended operations or were dissolved in the first eight months of the year because of Covid-19, according to the General Statistics Office.