"Resuscitation Coffee" program – a venue for enthusiastic doctors

Every Sunday morning, in a coffee shop in District 10, HCM City, nearly 40 doctors and technicians, nurses, and medical students gather together to share specialized knowledge of resuscitation.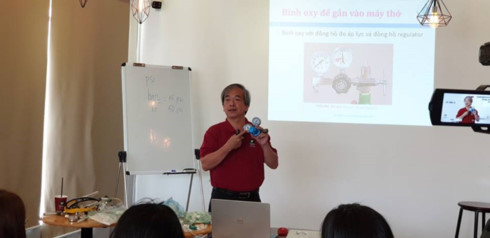 Doctor Dang Thanh Tuan lectures in a "Resuscitation coffee" session. (Photo: FB café hoi suc)
The founder of the "Resuscitation Coffee" program, Doctor Dang Thanh Tuan, Head of Resuscitation Department, Children's Hospital 1, Ho Chi Minh City, said this is an opportunity for medical workers to share their knowledge and experience.
Established in July 2018, nearly 30 sessions of the "Resuscitation Coffee" program have been held.
Each session is carefully prepared and concerns a different topic which is presented by one or two guests, being doctors specializing in resuscitation from different hospitals in Ho Chi Minh City.
Doctor Dang Thanh Tuan, Head of the Resuscitation Department, Children's Hospital 1, Ho Chi Minh City, and founder of the program, said, "As you know, the program is designed for doctors specializing in resuscitation. They are always very busy, so they have almost no time to interact with and learn from each other. That's why I wanted to fashion a program where these doctors can share their practical and clinical knowledge in their free time. The program attracts many participants."
"We have precious little free time. Besides our time in the hospital, we have to care for our family. So, we don't have much time for ourselves. However, because of our passion and commitment, we all try our best. Coming to a session of the "Resuscitation Coffee" program, you can see many people with expectant eyes waiting for us to share useful knowledge and experience. Because of that, we don't feel tired," he added.
Any hospital, whether it is big or small, has a department to receive seriously-ill patients. This is the Resuscitation Department. Children's Hospital 1 has 3 resuscitation departments of internal medicine, surgery and neonatology.
Big hospitals like Cho Ray Hospital may have more resuscitation departments. Patients delivered to this department are often seriously ill. Doctors and nurses in these departments have to deal with many problems.
For example, with a patient who suffers from vascular disease, respiratory inefficiency or kidney failure, doctors have to use many machines and devices such as a respirator or a hemodialysis machine to recover their health. Doctors specializing in resuscitation work very hard and must have a broad knowledge base.
According to Dr. Tuan, the program initially aimed at doctors in resuscitation. However, after many sessions, the program received support from other doctors, and even nurses, not only in resuscitation but in other fields, as well.
"We have held a number of sessions with the participation of two more classes of medical workers: technicians and nurses. The recent session held in Ben Tre was attended by many nurses. As recommended by Dr. Bach Van Cam, Chairman of the Ho Chi Minh City Resuscitation and Emergency Association, every 3 months, we will have a session dedicated to nurses", said Dr. Tuan.
Despite being busy, doctors participating in the "Resuscitation Coffee" program prepare their presentations wholeheartedly and with care. After the presentation is delivered, participants will discuss the issues in a sincere and open manner.
Everyone, especially young doctors and medical students, is excited to acquire knowledge shared by senior doctors.
Thanh Truc, from Intensive Care Unit Department of District 11 Hospital, Ho Chi Minh City, said, "I was not taught much about resuscitation at school. Attending this program, I have gained a good deal of knowledge on the subject. It's easy to understand with practical examples. We can put questions directly to doctors and teachers at the sharing sessions or otherwise by making comments on the fanpage. What's more, the space here gives us a comfortable feeling".
All the sharing sessions of the "Resuscitation Coffee" program are livestreamed on Facebook and YouTube. So, those who are interested in the program can follow and put their questions to the doctors.
This is managed by the logistics staff. They are not involved in medicine, but they nonetheless want to contribute to the medical community. That's why they have been attached to the program since its launch.
Doctor Nguyen Hong Truong, Lecturer of Resuscitation and Emergency Faculty of Pham Ngoc Thach University of Medicine, said, "I used to be a young doctor. I am not too old now. I had to grope for knowledge by myself without instruction and faced many difficulties and failures. That's why I want to help younger doctors."
To run the program, Dr. Tuan has faced several difficulties. The biggest concern, he said, is ensuring quality content. There is a research team set to find relevant topics for the sharing sessions.
After selecting a topic, the program looks for senior doctors specializing in that field in Ho Chi Minh City and invite them to the talk. The topic is posted on the fanpage for people to study in advance and submit their questions. Looking for a suitable topic is the first difficulty.
The second one is the audience. The third difficulty is funding. All the participants in sharing sessions under the "Resuscitation Coffee" program have free coffee. So, it's necessary to have a certain source of funding. Despite the difficulties, however, Dr. Tuan and his colleagues with their enthusiasm have done their best to steadily run the program.
Dr. Tuan said, "I see that all the people involved in the resuscitation field have a passion for it and want to save the lives of patients. We don't choose this field if we aim to earn money. We choose this field because of our passion. Earlier, Vietnam's medicine was not developed. We almost taught ourselves. Now, young doctors can easily access information and documents on the Internet. Yet, not all these documents are precise. Senior doctors with rich experience can know which is correct and effective to share that knowledge with younger doctors. So, I think the "Resuscitation Coffee" program is very helpful to young doctors."
In light of its practical application and utility, moving forward the "Resuscitation Coffee" program will hold new sharing sessions in Hanoi and Hue. VOV5