Resolution 120 changes the mindset about Mekong Delta development: expert
"Many people call Resolution 120 the 'golden resolution'. For me, the resolution removes the obstacles that strangled farmers, helping them have a better life," said Prof Vo Tong Xuan, a respected agriculture expert in Vietnam.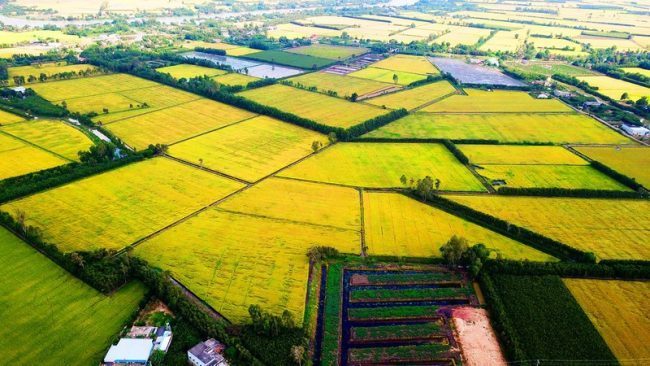 On the threshold of the government's conference to review the 3-year implementation of Resolution 120 on Mekong Delta sustainable development amid climate change, to be held in Can Tho City, VietNamNet spoke with Prof Vo Tong Xuan about the effects of the resolution.
Why do you call Resolution 120 released in November 2017 the 'Thuan Thien Resolution'?
The word 'Thuan Thien' (Let things flow naturally) originated from a short conversation on a dining table between PM Nguyen Xuan Phuc and me, when I was invited to a conference on sustainable development in the Mekong Delta in the context of climate change in Can Tho.
At that time, I said to the PM that Mekong Delta farmers are bearing a 'vong kim co' (golden hoop) on their head (vong kim co is something mentioned in a novel and is used to refer to strict and harsh control).
Explaining this, I said 'vong kim co' is a problem in rice farming. People grow rice because they have to implement the policy on food security. And they have to grow rice even when there is more than enough rice. They grow rice on normal land and on coastal land. They even try every possible means to prevent saltwater and bring fresh water from hundreds of kilometers far away to fields to till the rice.
The state asks farmers to grow rice in saltwater areas, while they could hatch shrimp and farm fish to earn big money on those areas. So, we are trying to be contrary to nature, go against natural laws.
When the conference ended, the Prime Minister agreed to use the word' Thuan Thien' as the guideline for Resolution 120.
So, we need to turn risks into opportunities and develop 'modern farmers'?
Yes, when we say 'Thuan Thien', this means letting things go naturally as they like. If so, we no longer consider saltwater as the 'enemy'.
In the past, we considered saltwater as 'enemy' because we could not till rice with saltwater. Now, with 'Thuan Thien Resolution', sea water is a 'friend' and we can live together with it.
Mekong Delta people now develop irrigation systems to manage saltwater. In rainy season, they till rice. In sunny season, they hatch shrimp with saltwater control systems.
Locals began farming shrimp before the Resolution 120 was released. But this was not organized planning. Rice growers tried to bring freshwater to the fields, while shrimp farmers tried to get saltwater.
The rice-shrimp farming regime was applied by farmers in the 1980s, without the state's investment. The state only invested in rice farming.
When implementing the Resolution 120, local authorities were puzzled. A new policy needs to be associated with guides for implementation and budgeting.
To implement Resolution 120, Vietnamese farmers need to become 'neo-farmers'. They need to join next-generation cooperatives to improve yield and increase income. Cooperatives need to be associated with businesses, and businesses need to tie to the market. But this can be done only with the state's support.
How has Resolution 120 come into life?
The most visible 'gain' in terms of 'Thuan Thien' is the strong development of the rice farming – shrimp hatchery rotating regime.
This has increased farmers' incomes. Farmers in coastal areas are very happy with the newly planned transformed areas. The thousands of hectares of rice-shrimp farming areas can bring profits 4-5 times higher than rice monoculture of the past.
In the areas which suffer from drought but not salinity, farmers have shifted to cultivate sesame, lotus and other fruit trees.
In 2020, despite the Covid-19 pandemic, Vietnam set many records with farm produce reaching 190 markets in the world and farm exports bringing $41.2 billion worth of turnover, the highest ever level.
Vietnam's litchi, rambutan, dragon fruit, star apple, mango and longan are now present in choosy markets like the US, Australia, Japan and South Korea.
The rice export volume decreased by 3.5 percent, but fell by 9.3 percent in value. Of this, high-quality rice accounted for 85 percent of total exports.
For the resolution to gain the desired goals, it is necessary to continue to change in a clear direction. The state needs to step in to support farmers and businesses. There should be clear strategies: which plants and which kinds of animals to be farmed in which areas so as to optimize benefits.
The state needs to make reasonable development planning. In the area adjacent to Cambodia, from Kien Giang to Long An, fresh water is abundant, so farmers can have three rice crops a year, or five crops every two years, to ensure food security.
In the area including a part of Dong Thap, AN Giang, Vinh Long and Tien Giang, farmers can reorganize production to specialize in fruits and vegetables.
In coastal areas, it would be better to follow rice-shrimp or intensive shrimp cultivation models. 
Ho Van - Hoai Thanh

According to the analysis by QY Research published in 2020, the total value of global organic rice exports in 2018 was US$1.5 billion.

For years, the supply chain of the Mekong Delta's agricultural products has remained fragmented, and the smallholders have been struggling to get wealthier, getting trapped in the vicious cycle with no way out. What could be the reasons?