Refusing to sell businesses to foreign giants, businesses vow to develop VN brands
Local sources several years ago reported that a large foreign corporation had completed negotiations to buy Sunhouse, a Vietnamese kitchenware brand, at the price of $250 million.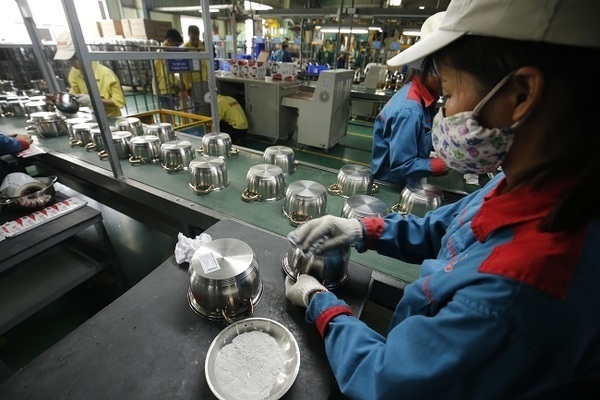 However, at the last minute, the owner of Sunhouse changed his mind. The deal was cancelled with no legal dispute because of a mistake made by the foreign partner.
Nguyen Xuan Phu, chair of Sunhouse, who was a trader in 1990-2000, said he is surprised that Vietnam imports many things, including simple products which can be easily made.
"This prompted me to set up a production factory," he said.
However, production was not enough. He wanted his products to have a strong brand, because this is more valuable than simple assembled components.
"That is why a shirt with foreign brand can be sold at a price 50 percent higher than a shirt with a Vietnamese brand, and the buyers include Vietnamese," he said.
At that time, he saw many Vietnamese brands sold to foreign investors. But he wanted to preserve the Sunhouse brand.
Tran Uyen Phuong, a representative of Tan Hiep Phat, said at a workshop on Vietnamese brand development that she refused $2.5 billion from a foreign enterprise.
In 2012, a US group contacted Phuong and offered to buy into Tan Hiep Phat. After one year of negotiation, Tan Hiep Phat finally refused the offer.
According to Phuong, the foreign partner wanted Tan Hiep Phat to sell its products only in Vietnam, Laos and Cambodia and not develop new products.
"However, we wanted to bring Asian products to the world, so we decided to continue to invest in new factories and refused the offer," she explained.
For many reasons, many Vietnamese businesses have sold their businesses to foreign partners. X-men, Diana, P/S, Kinh Do and Nguyen Kim are brands initially created by Vietnamese but they have fallen into hands from India, the US, Thailand and Japan.
Some analysts say that if some of the brands were not sold to foreign partners, they would not be as famous as they are today because of the weaknesses of Vietnamese enterprises.

For many reasons, many Vietnamese businesses have sold their businesses to foreign partners. X-men, Diana, P/S, Kinh Do and Nguyen Kim are brands initially created by Vietnamese but they have fallen into hands from India, the US, Thailand and Japan.
However, in many cases, foreign investors take over Vietnamese enterprises just to eliminate their rivals, and don't intend to develop the Vietnamese brands.

High hopes on Vietnamese enterprises
Analysts say that the presence of Vietnamese brands in the world market remains weak. Though 'made-in-Vietnam' products are available in markets of all five continents, including choosy markets such as Europe and the US, most of them are only assembled in Vietnam.
However, in the last 10 years, Vietnam has had more large private enterprises in many business fields, including aviation, real estate, food processing and retail, capable of compete ING equally with foreign enterprises.
Meanwhile, M&As are no longer the playing field for only foreign investors. Many Vietnamese enterprises have to be sold after a period of development, but in many cases, the buyers are Vietnamese enterprises.
According to a report from MAF Research and CMAC Institute, the most noteworthy M&A deals in 2019-2020 were related to Vietnamese private groups, including Masan, Thaco, Gelex and Vinamilk.
Masan Consumer got VinCommerce and VinEco, while Vinamilk bought Moc Chau Milk holding company and Thaco was involved in the restructuring of HAGL Agrico.
Experts said selling businesses is quite normal in a market economy, but they are worried that after businesses sold to foreign partners Vietnamese brands will no longer exist. It would be better to transfer businesses to other Vietnamese investors who want to continue to develop brands created by predecessors.
Vingroup transferred its VinMart, VinMart+ and VinEco to Masan Group, a Vietnamese owned enterprise. Vingroup decided to join forces with Vietnamese enterprises instead of foreign ones, which is expected to help balance the domestic retail market.
Experts, noting the sale of Sabeco, a well known beer brand to Thai investors, said it was a regrettable deal, though Sabeco was then sold at a good price. In order to protect and develop Vietnamese brands, it is necessary to build a detailed strategy on improving the strength of local enterprises.
Vietnamese people should also prioritize use of Vietnamese goods. The consumers' habit of preferring foreign products to Vietnamese ones will kill Vietnamese brands.
A foreign marketing representative of VONTA Vietnam commented that the 'Buy Vietnamese' slogan can be seen everywhere, but Vietnamese still prefer foreign products, which is quite different from his home country.
Consumers there prioritize domestically made products, believing that this is a way to implement social responsibility and contribute to development. 
Duy Anh

While fashion fanatics will welcome the ever-increasing presence of international brands, the domestic consumer base has already lost a significant portion of its purchasing power amid the influence of the global health crisis on the economy, 

Vietnam has become the fastest growing national brand in Brand Finance's ranking this year, with its brand value skyrocketing by 29 per cent to US$319 billion.