RCEP will not make the trade deficit with China worse: MOIT
Worries have been raised that RCEP will lead to a higher trade deficit with partners, especially China. But the Ministry of Industry and Trade (MOIT) doesn't think so.
In the first 10 months of 2020, Vietnam exported $18.9 billion worth of products to ASEAN markets, while it imported $24.5 billion worth of products from them. Meanwhile, Vietnam's export turnover to China was $37.91 billion and import turnover reached $65.62 billion.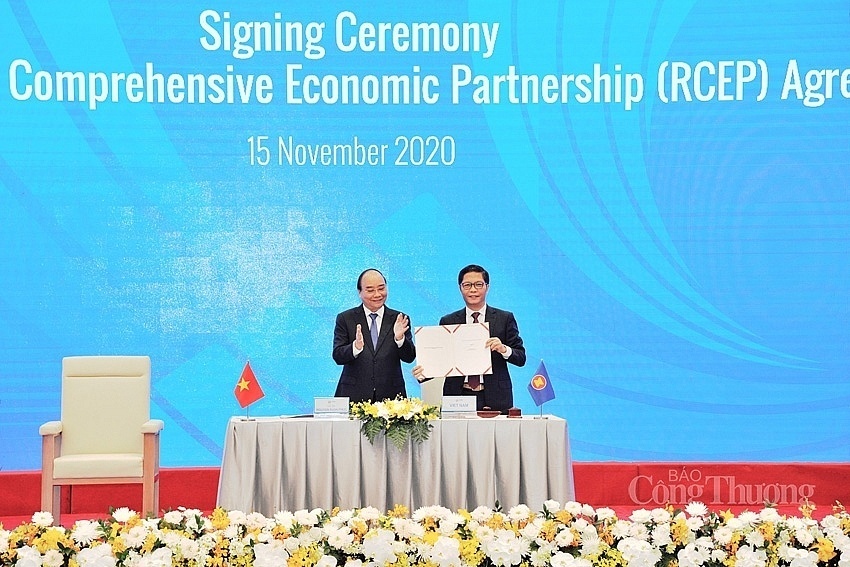 Vietnam signed RCEP Agreement on November 15
As for the South Korean market, Vietnam exported $16.1 billion and imported $37.47 billion from it. The figures were $15.74 billion and $16.55 billion, respectively, for the Japanese market.
MOIT believes that RCEP won't bring more risks to any member country. With the principle on harmonization of rules of origin, Vietnam's businesses can use input materials from other markets such as Japan and South Korea to enjoy the preferential tariffs under RCEP, so as to boost the export to regional markets, including China.
Vietnam already has FTAs with ASEAN and five partner countries in RCEP, including the FTA among ASEAN member states (ATIGA) and the FTAs between ASEAN and every partner in these five partner countries (ASEAN+1).
This means that the tariff liberalization process with ASEAN countries has been implemented over the last 20 years, and with the five partners over the last 15 years.
So, MOIT affirmed that the implementation of RCEP will not cause any shock to Vietnam once the tariffs are cut.

In the first 10 months of 2020, Vietnam exported $18.9 billion worth of products to ASEAN markets, while it imported $24.5 billion worth of products from them. Meanwhile, Vietnam's export turnover to China was $37.91 billion and import turnover reached $65.62 billion.
For all ASEAN countries, the agreement is not directed to new added value regarding the market opening as ASEAN has FTAs with partner countries.
Instead, RCEP is basically an agreement that connects ASEAN's existing commitments with five partners in an FTA.
For example, enterprises will only have to use one rule of origin instead of five separate rules of origin in separate FTAs. Similarly, the rules on customs procedures and trade facilitation have also been united and strengthened.
As such, RCEP doesn't have new commitments on market opening or new competition pressure, but it focuses on creating favorable conditions for enterprises to do business, especially small and medium enterprises.
From the provisions in the FTAs between ASEAN and partner countries, RCEP is expected to have high value in reducing transaction costs, attracting foreign investment, and strengthening the central position of ASEAN in settling trade disputes in the region.
Small and medium enterprises in ASEAN countries, including Vietnam, now find it difficult to take full advantage of preferences because of the existence of many different provisions in the agreements between ASEAN and partner countries.
MOIT believes that with RCEP, these difficulties will be eased thanks to the use of a single set of rules and the principle of adding up all the content from regional countries.
With separate agreements, it will be more difficult for ASEAN countries to settle trade disputes with large partners. Now, with a multilateral mechanism applied to all 15 countries, the rules of trade will be observed more thoroughly.
"RCEP won't make the trade deficit worse. It will bring improvement to Vietnam and ASEAN countries, especially in the long term," MOIT said.
According to the ministry, whether Vietnam will see an excess of imports over exports is a factor for it to consider when weighing up the benefits of FTAs, but it must not be the only factor.
Vietnam, for example, has a bilateral FTA with South Korea and now has a multilateral FTA with the country through RCEP. Vietnam still incurs a deficit in trade relations with South Korea, but it is undeniable that the agreements help connect the two economies, increase foreign investment attraction capability, and bring benefits to people and businesses of the two countries.
When Vietnam joined the WTO in 2007, it also incurred a trade deficit. However, the decision to join WTO and integrate into the world's economy has helped Vietnam's enterprises develop strongly. With WTO membership, the competitiveness of the economy has improved significantly.
"We have had experience from international integration over many years, which will help us succeed with RCEP," MOIT said.
Regarding the time of enforcement of RCEP, MOIT said the agreement will be valid when at least six ASEAN countries and three partner countries complete the procedures of ratification. As for other countries, the agreement will become valid after 60 days since the day of completing domestic procedures.
Soon after RCEP takes effect, the member countries will immediately implement their commitments.
Regarding the commitments on tariffs, Vietnam and partner countries will remove the tariffs on at least 64 percent of tariff lines soon after the agreement takes effect.
At the end of the 15-20 year roadmap, Vietnam will remove 85.6-89.6 percent of tariff lines for partner countries, while partner countries will remove 90.7-92 percent of tariff lines for Vietnam.
RCEP will create a vast market with 2.2 billion consumers, or 30 percent of the world's total population, and GDP of $27 trillion, or 30 percent of the global GDP. 
Tran Thuy

Other RCEP-member economies have the same export products as Vietnam's, so If Vietnam's production capability does not improve, the domestic market will become a playing field for Chinese and other foreign products.

If RCEP economies can be united to have a common voice, they will be able to overcome protectionism and unilateralism to develop.