Vietnam railways corporation incurs big losses, thousands of workers take leave
The Vietnam Railways Corporation (VNR) is experiencing its toughest days in history as many trains have stopped running during Covid-19. Many workers have had to take unpaid leave.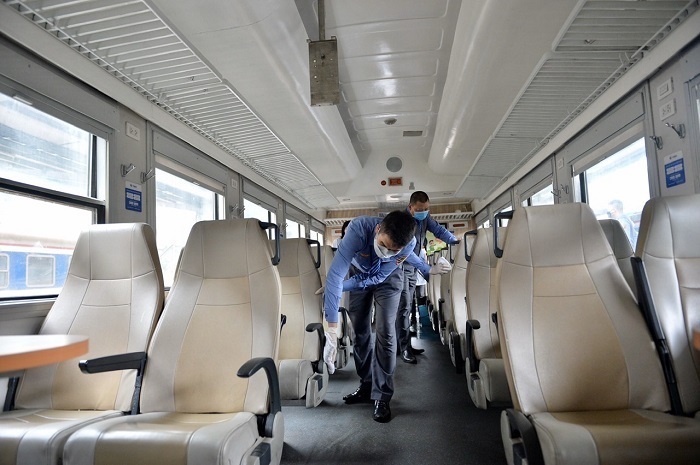 VNR's General Director Dang Sy Manh said that 2020 and the first six months of 2021 were an unprecedented difficult time for the railway industry.
In 2020, the operation of the corporation was seriously hit by Covid-19 and the execution of a VND7 trillion investment package for the North-South railway route.
The impact of the storms and floods in the central region in November and December 2020 also led to a sharp fall in output and revenue, just equal to 81 percent of 2019, causing a loss of VND1.3 trillion.
These difficulties continued in the first months of 2021.
During the 2020 Tet holiday and the April holiday alone, VNR had to cancel 2,300 trains as passengers gave back 232,000 tickets. It had to give back VND195.5 billion to passengers.
Passenger transportation, the major source of income, could not be maintained. Cargo transportation just accounts for a small 30 percent proportion, so VNR now finds it difficult to manage cash flow to maintain its operation.

Passenger transportation, the major source of income, could not be maintained. Cargo transportation just accounts for a small 30 percent proportion, so VNR now finds it difficult to manage cash flow to maintain its operation.
VNR's revenue in H1 was estimated to be equal to 77 percent of the same period of 2020, and 53 percent of H1 2019, before the Covid-19 outbreak. It has estimated a loss of VND942 billion in 2021.
It is estimated that during the two years affected by Covid-19, VNR would incur a loss of VND2.2 trillion. The corporation has asked the Commission for the Management of State Capital at Enterprises (CMSC) for a preferential loan of VND800 billion to maintain its operation.
According to VNR, VND800 billion is the minimum amount of money needed to maintain cash flow which would allow it to hold out at the minimum cost.
A senior executive of VNR said the corporation had been facing serious difficulties before the Covid-19 breakout, and the situation has become even worse because of the pandemic. He warned that if VNR cannot get support from the State, the risk of the State capital running out is visible.
If VNR stops operation, this will affect not only the existence of the corporation, but also the operation and development of the railway industry and the lives of tens of thousands of workers.
VNR therefore needs to restructure the apparatus and administration scheme, and increase the application of science and technology in production to reduce labor costs and increase efficiency.
Because of Covid-19, trains have had to stop running and workers have been idle. The transportation unit of VNR alone reported that 13,000 workers have been hit by the pandemic, and of these, 1,627 have had to leave or temporarily stop working.
Nguyen Viet Hiep, Director of the Hanoi Railways JSC, said that the company now runs only half of the pair of Thong Nhat passenger trains (one-way Hanoi-HCMC) and one pair of Hanoi-Hai Phong trains. So the number of idle workers is high.
Of the 3,500 workers of the company, nearly 1,000 have taken unpaid leave and have temporarily stopped labor contracts.
Hiep said railway workers receive low income, so most of them don't have savings. It is very difficult to find new jobs amid the complicated developments of the pandemic. Even those who still have jobs and receive a monthly salary of VND4 million a month are also facing difficulties.
He went on to say that in 2020, the company tried to access the government support package for businesses and workers facing difficulties because of Covid-19. However, enterprises and workers were not eligible for support.
Bui Xuan Phong, chair of the Vietnam Railway and Economic Association, said that VNR needs to undergo a restructuring in apparatus, workforce and capital to ease difficulties. It would be better to give up unprofitable routes and just maintain key profitable routes. In the long run, it should not shout for help every time it lacks capital or faces difficulties. 
Vu Diep

To survive in the Covid-19 pandemic, the Vietnam Railways Corporation (VNR) has applied for a non-interest loan package worth VND800 billion (nearly $35 million), according to Vu Anh Minh, VNR Chairman.
State-owned giant Vietnam Railways (VNR) has faced many difficulties due to the impact of the ongoing Covid-19 pandemic, leaving thousands of its workforce unemployed.