Race for digital transformation: now or never
The rules of the game in the future will be "quick fish eats slow fish". Even "giants," without timely performing digital transformation, may lose ground to "rookies" that are young and agile in the 4.0 technological revolution.
"With the current working method, it is very difficult for our company to effectively control the performance of sales staff," said Jung In Jeong, sales director of Miwon Vietnam. When employees quit, they take a large number of customers with them, which greatly affects the company. Miwon has had to seek a
software that helps both manage and support activities. So far, the firm has a huge distribution network, with 200 level 1 agents and tens of thousands of retail outlets across 63 provinces and cities in Vietnam.
Vo Quang Nhan, from R.E.P Biotechnology Co., Ltd., said that after two years of applying management technology, the company has had a significant change. The customer conversion rate has increased by 20%, while the problem-solving time is now only 1-2 hours. The number of points of sale doubles every day. Market staff realized that the new way of working helped them to better control their daily work and boost sales.
Thanks to digital transformation, many businesses have overcome difficulties caused by Covid-19. Fabbi, a rookie in the technology inudstry, generated US$4 million in revenue in 2020 by taking advantage of the epidemic to provide digital transformation solutions to major partners in Japan.
Digital trends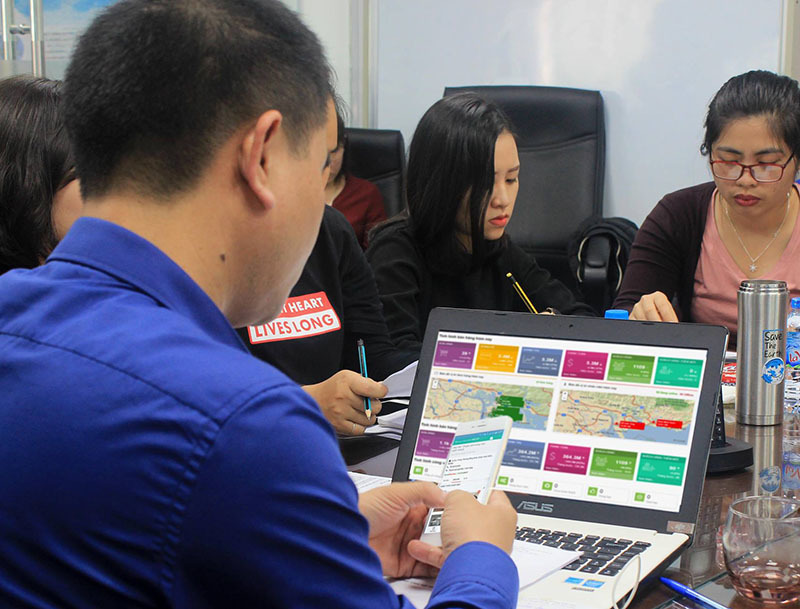 Digital transformation is an inevitable trend.
Similarly, MobiWork successfully developed the MobiWorks DMS distribution management solution, fully meeting the needs of monitoring, automation and sales activities. This is a solution to digitize the entire business process in the distribution system, helping businesses have a more intuitive and accurate view of the market, customers and their competitors. 
According to a survey by Vietnam Expo, despite the impact of the pandemic, the demand for trade is still increasing. Therefore, the fair Organizing Committee has implemented new forms of trade while calling on organizations and businesses to promote domestic trade and export. 
Chairman of the Vietnam Software and Information Technology Services Association (VINASA) Truong Gia Binh, said that digital transformation is a global trend, a vital issue for countries, organizations and enterprises. The world is witnessing a strong "transformation" in labor productivity and user experiences with many new business models that have been formed. 
The digital transformation trend is thriving but is not easy to realize because understanding the digital economy is a big challenge. 
A survey by the Ministry of Industry and Trade on the readiness to apply 4.0 technology in production and business activities in 2018 showed that 61% of enterprises "stood out" in the trend, 21% had initial preparations and 16 out of 17 fields under surveys had a low level of readiness in the digital transformation process. 
According to a survey by the Vietnam Chamber of Commerce and Industry (VCCI) and the Japan External Trade Organization (JETRO) with 400 Vietnamese enterprises in 2020, the four main barriers in digital transformation include: Lack of information about digital technology (30.4%); lack of internal manpower to apply digital technology (32.3%), fear of leaking personal and corporate data (33.9%); lack of digital technology infrastructure (38.9%), and high cost of digital technology application (55.6%). 
Le Viet Canh, CEO of Fabbi, said that many domestic companies have just heard about digital transformation and do not know how to implement this process. 
Taking advantage of opportunities in digital transformation
"Many businesses still think that they do not need digital transformation and all issues can be handled on paper or Excel files. However, they need to consider the future development direction and future scale. Without determining digital transformation early, they will be in trouble later," Canh warned.
Like Japanese businesses, Canh said, Vietnamese will face some difficulties when digital transformation starts, but they will see long-term effects, and this will result in stronger motivation. Therefore, these businesses need support of tech companies that specialize in digital transformation.
According to the White Book on Vietnamese Businesses 2020, small and medium sized enterprises account for 98% of the total number of corporates in the country. They have many advantages in digital transformation thanks to their flexibility and fast change. It is important for them to understand how large enterprises operate, their business models, and transformation processes, and apply them flexibly and creatively.
Hoang The Anh, business director of Mobiwork, said that in the current digital transformation trend, local businesses can cooperate with partners in the tech field to take a short cut, to buy effective solutions to save money and time.
Digital transformation will be very convenient because there is a lot of good technology, good infrastructure, good human resources. Technologies, tools, and human resource programming languages are the same, but business leaders decide on the success of digital transformation. Digital solutions must meet business and management needs of specific businesses. Business leaders will decide appropriate technology packages and methods of technology application.
Besides, participating in trade promotion activities will also help businesses have opportunities to seek partners and find suitable solutions. With the theme "Accompanying businesses in the digital era", Vietnam Expo expects to bring resonance to the National Digital Transformation Program, creating a forum to connect the business community, and enable their approach to digital transformation solutions to increase competitiveness in production and business.
Bao Anh

Minister of Information and Communications Nguyen Manh Hung posed key questions and outlined solutions to digital transformation issues at a recent meeting with officials of the southern province of Ba Ria - Vung Tau.

Digital government will be formed by 2025, representing a transition from e-government. The challenge will be management of change.