Professor devotes all life to Vietnamese neurology

Having worked with dedication in neurology for more than 55 years, Professor and People's Doctor Le Duc Hinh has made great contributions to the national healthcare system and to enhancing Vietnam's place in the world of neurology.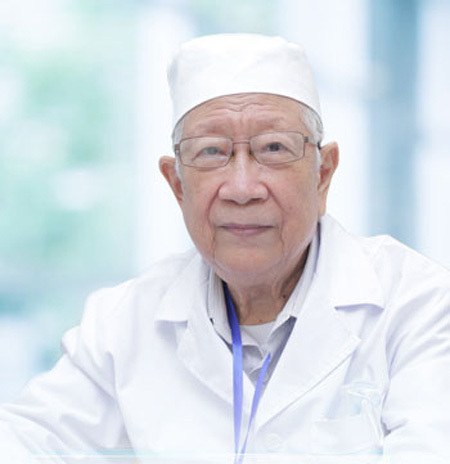 Professor and People's Doctor of neurology, Le Duc Hinh. Photo courtesy of the doctor
Prof Hinh, a lecturer at the Ha Noi Medical University and the Central Military Hospital 108's Research Institute of Clinical Medicine Science, has been recognised as part of this year's ongoing national movement to honour individuals following President Ho Chi Minh's thought, morality and lifestyle.
He is the former head of the Neurology Department under Bach Mai Hospital and currently Chairman of the Viet Nam Neurology Association.
In his 80s now, the intelligent and energetic doctor leaves a distinct impression on anyone who talks to him.
He still has vivid memories of his work as a doctor and researcher in neurology that run through his mind like a constant stream.
Explaining his decision to become a doctor, Dr Hinh said since he was at high school, he liked all things related to human mental health and the nervous system as the system plays an important role in the formation and development of human characteristics.
"Many human activities including thinking, speaking and behaviour are related to the nervous system. With such profound insight, I decided to choose neurology and mental health as my specialist field to study at university. During my time, very few people were interested in such a hard area so only I chose it and the school had to appeal for four more people to set up a team of neurology researchers," the professor.
After graduating from Ha Noi Medical University in 1962, Hinh's first teacher, Dr Nguyen Quoc Anh -- a leading specialist in neuro-psychiatry and founder of Viet Nam's neuro-psychiatry in 1956, convinced him to work for Bạch Mai Hospital's Department of Neurology and Mental Health.
Prof Hinh headed the treatment section for eight years until the department was re-organised in 1969. He continued to hold important positions in the department including deputy dean, dean and specialist doctor until his retirement in 2005. With such positions and tasks, he has made great contributions to the neurological academic faculty as well as healthcare for thousands of patients.
Dr Hinh also studied overseas, including at the University of Havana in Cuba. He got a scientific internship at four universities of Holland, and had study tours at the University of California, the US, and other countries. He was recognised by the Government as Associate Professor in 1991 and Professor of Neurology in 2002.
Along with his medical practice, Prof Hinh was a lecturer due to his abundant knowledge and experience in neurology. He has taught generations of medical students at universities and guided them through many master's dissertations and doctoral theses on mental health and neurology.
Prime Minister Nguyen Xuan Phuc congratuates and awards a merit certificate to Professor and People's Doctor Le Duc Hinh as a recognition for his contribution to the national public health care. Photo: VNN

He has written and edited many specialist medical books and published articles on healthcare and published books on his work in Vietnamese and foreign languages including English, French and Spanish.
"Working makes me more active, healthy and flexible. I always spend my spare time on reading, writing books and articles. I will feel very tired if I'm not doing such things," Dr Hinh said.
Therefore, after retiring in 2005, he still took part in many professional activities such as lecturing, examining, neurological assessing and consulting for the National Institute of Forensic Medicine and the advisory board of the Council of Health Protection for high-ranking officials. At the same time, he worked as chairman of the Viet Nam Neurology Association.
Prof Hinh made great contributions to the national fight against encephalitis in children after he defended his doctoral thesis in 1989 on the disease.
He clearly remembers the pandemics that would break out in the north of the country in 1968.
"The disease became a horror of all families with children due to the high mortality rate. At that time, most children with the disease were treated in the departments of paediatrics or infectious diseases rather than in the neurology faculty," the professor said.
The children had a high fever for several days and then died. At that time, the disease was misunderstood and many people blamed birds.
It was discovered that the disease was caused by the mosquito-borne Japanese encephalitis virus. Domestic pigs and cattle are reservoirs of the virus before it is transmitted to humans by mosquitoes.
In the years before a vaccine was found, 30 per cent of infected children died and the remaining 70 per cent that survived faced intellectual disabilities.
In 1968, Dr Anh was assigned by the Ministry of Health (MoH) to establish a department specialising in treating children with encephalitis B. The ministry also assigned the department to provide treatments for the most serious cases from provinces.
Dr Hinh said at that time, the department received about 9-14 children from 9-10 years old every day, all of them in severe conditions and at risk of death.
Of all the cases he faced, he thinks the most about an unconscious child whom he said could have died without intensive care.
The child of about three years old was taken to hospital by his mother at about 2pm. He was immediately examined and given some medicine.
At around 5pm, the end of the doctors' shift, as he prepared to leave the hospital, he saw the child and realised he was still not well at all.
"It was really a very serious case and I guessed he would potentially die that night if he was neglected. Immediately, I returned to the hospital and decided to stay with my colleagues to look after him. Everything became better after we gave him emergency treatment. The child fortunately survived. Now after nearly 40 years, the little patient still sometimes phones me to talk and say thanks to me," Dr Hinh said.
Being a neurology doctor, Hinh said he had to have empathy for the patients. Every time they came to him, he always tried to spend a lot of time talking to them before making any conclusion or giving a prescription.
On the obstacles he faced during his career, the professor said as he was just a doctor of neurology, his knowledge about paediatrics, infections and bacteria was limited. Therefore, he and many other colleagues had to study more deeply about the disease.
Reading and writing books and articles always make Prof Hinh more active and healthy. Photo: VNN

To learn how to cure and care for the children with Japanese encephalitis, he had to read documents and materials in the foreign press and regularly practise.
"In the years 1968-1970, the country's healthcare system was facing hardship due to prolonged wars. I set my own goals to find the safest treatment in most economical conditions for my patients," the doctor said.
His doctorate thesis on Japanese encephalitis was finished in 1989 and is a summary of his experience in diagnosis and treatment over nearly two decades of treating children with the disease.
Currently, despite his old age, Dr Hinh is still interested in treating the complications of Japanese encephalitis in children. He also helps and guides young doctors in their studies of the disease.
He is also a member of many international associations such as Cuba's Neurological and Neurological Society, the Pediatric Society of Cuba, the French Neurological Society, the American Academy of Neurology, the Asian Advisory Board for Acute Brain Infarction and Stroke, and the Brain Infarction and Stroke Association of Thailand. VNS
Minh Hue