Prime Minister's first trip to Europe affirms Vietnam's position
Prime Minister Pham Minh Chinh's business trips to the UK and France have contributed to strongly promoting foreign relations; strengthening the trust of international friends and partners; and affirming the position and role of Vietnam.
On November 6, Prime Minister Pham Minh Chinh and a high-ranking delegation of Vietnam arrived at Noi Bai airport in Hanoi, ending the Prime Minister's first business trip to Europe.
During this trip, the Prime Minister attended the 2021 United Nations Climate Change Conference (COP26), and paid a working visit to the United Kingdom (October 31 to November 3) and an official visit to France (November 3 to 5).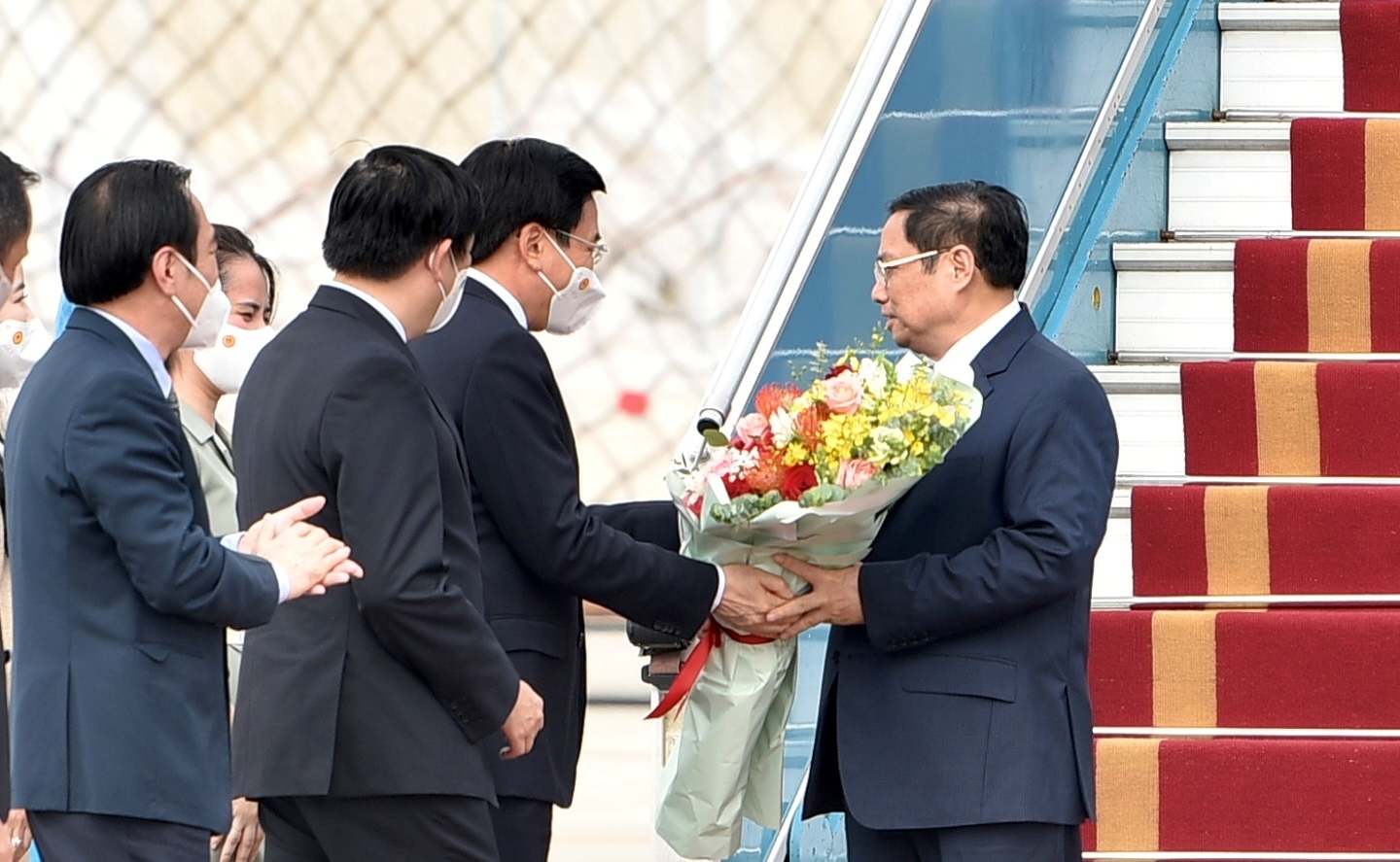 Prime Minister Pham Minh Chinh arrived in Hanoi, successfully ending his trip to Europe. Photo: Nhat Bac
During his stay in the UK, Prime Minister Pham Minh Chinh participated in dozens of bilateral and multilateral activities, contributing to enhancing Vietnam's position and prestige in the international arena.
The Prime Minister attended and delivered an important speech at the COP26; attended and spoke at events announcing initiatives of important partners on the sidelines of COP26 such as announcing commitments to reduce global methane emissions, forest and land use action.
He also met with UK Prime Minister Boris Johnson, Crown Prince Charles, and other UK officials.
In addition, the Vietnamese Prime Minister had more than 20 bilateral meetings with leaders of countries such as the United States, Germany, Japan, Canada, Australia, India, Korea, Thailand... and leaders of international organizations such as the Secretary-General of the United Nations, President of the European Commission (EC), Director-General of the International Atomic Energy Agency (IAEA)...
He also attended dialogues and meetings with leaders of more than 30 economic groups, universities, leading organizations in the world and the UK.
He attended the seminar "Creating a Sustainable and Prosperous Future Through Private Investment"; witnessed the launching, signing and awarding ceremonies of nearly 30 cooperation agreements of the Government, ministries, sectors, organizations and domestic enterprises with UK and international corporations, businesses and organizations, including economic - trade agreements worth billions of US dollars.
The Prime Minister worked with leaders of AstraZeneca and promoted important content related to investment and technology transfer for drug and vaccine production.
During the trip to the UK, Prime Minister Pham Minh Chinh conveyed a strong message to all international friends at COP26 about a responsible, proactive and active Vietnam in dealing with climate change.
He emphasized two main messages. The first is that climate change is a global issue, so a global approach is required. This problem affects everyone, so a people-wide approach must be taken. Secondly, he called for equity and justice in climate change, and developed countries support developing countries in terms of finance, technology and capacity building to be able to successfully implement the Paris Agreement on climate change.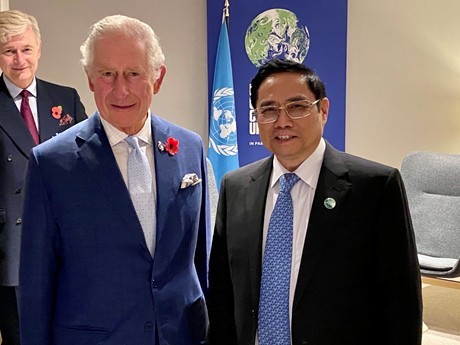 Crown Prince Charles met with the Vietnamese Prime Minister on the sidelines of COP26. 
The Prime Minister's strong commitment related to achieving net zero emissions by 2050 has been shared and appreciated by many countries and partners. The international community has clearly seen Vietnam's policy, determination, efforts and strong commitment in responding to climate change.
Regarding bilateral relations between Vietnam and the UK, although it had to focus on COP26, the UK gave the Prime Minister and the Vietnamese delegation a respectful welcome. The host country attached importance to the role and position of Vietnam and wishes to deepen and elevate the strategic partnership with Vietnam. Leaders of the two sides agreed on major orientations to promote cooperation in both bilateral and multilateral fields.
The Prime Minister's meetings on the sidelines of COP26 also promoted cooperation between Vietnam and other countries and partners, and actively contributed to the consolidation of a solid and favorable foreign policy for maintaining peace, stability and development of the country.
The trip to the UK has opened up many opportunities to strengthen cooperation between Vietnam and other countries and partners in finance, technology transfer and capacity building to support Vietnam in responding to climate change.
Relations with France
During his official visit to France, Prime Minister Pham Minh Chinh also had a dense working program with outstanding activities. Specifically, the Prime Minister met with French President Emmanuel Macron, French Prime Minister Jean Castex, President of the French Senate Gerard Larcher, President of the French National Assembly Richard Ferrand, and National Secretary of the French Communist Party Fabien Roussel.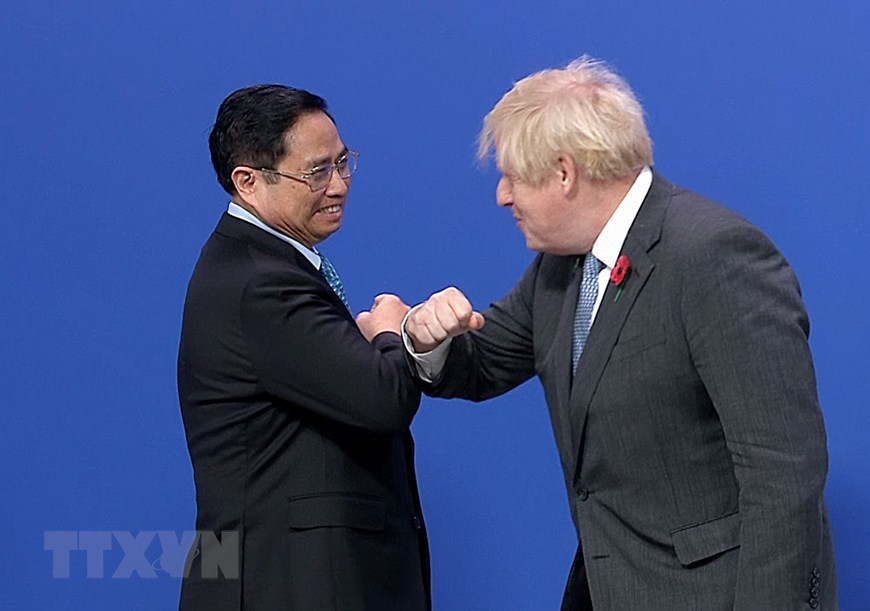 UK Prime Minister Boris Johnson and Prime Minister Pham Minh Chinh at COP26. Photo: VNA
In addition, the Prime Minister worked with leaders of a number of major international organizations based in France such as the United Nations Educational, Scientific and Cultural Organization (UNESCO), the Organisation internationale de la Francophonie (OIF), the Organization for Economic Co-operation and Development (OECD)…
The Prime Minister received the Managing Director of the COVAX Facility; visited and worked with Sanofi pharmaceutical corporation, and the Pasteur Institute in Paris; and met with Vietnamese and French doctors and medical experts.
In addition, he witnessed the signing ceremony of cooperation agreements and memorandums of understanding between the two governments, international organizations and businesses, attended the Vietnam - France Business Forum; worked with leaders of many large French economic groups and leaders of the Movement of the Enterprises of France (MEDEF)…
The host country France gave Prime Minister Pham Minh Chinh and the Vietnamese delegation a respectful welcome.
Prime Minister Pham Minh Chinh and French leaders had an in-depth exchange of directions and cooperation measures in the coming time to strengthen strategic trust, helping the two countries' relations continue to achieve many more practical results.
Vietnam and France are determined to further deepen cooperation between the two countries in many fields, and at the same time adapt to changes in the region and the world. The two sides agreed to jointly develop an annual plan with specific tasks, in order to bring Vietnam-France relations to a new height.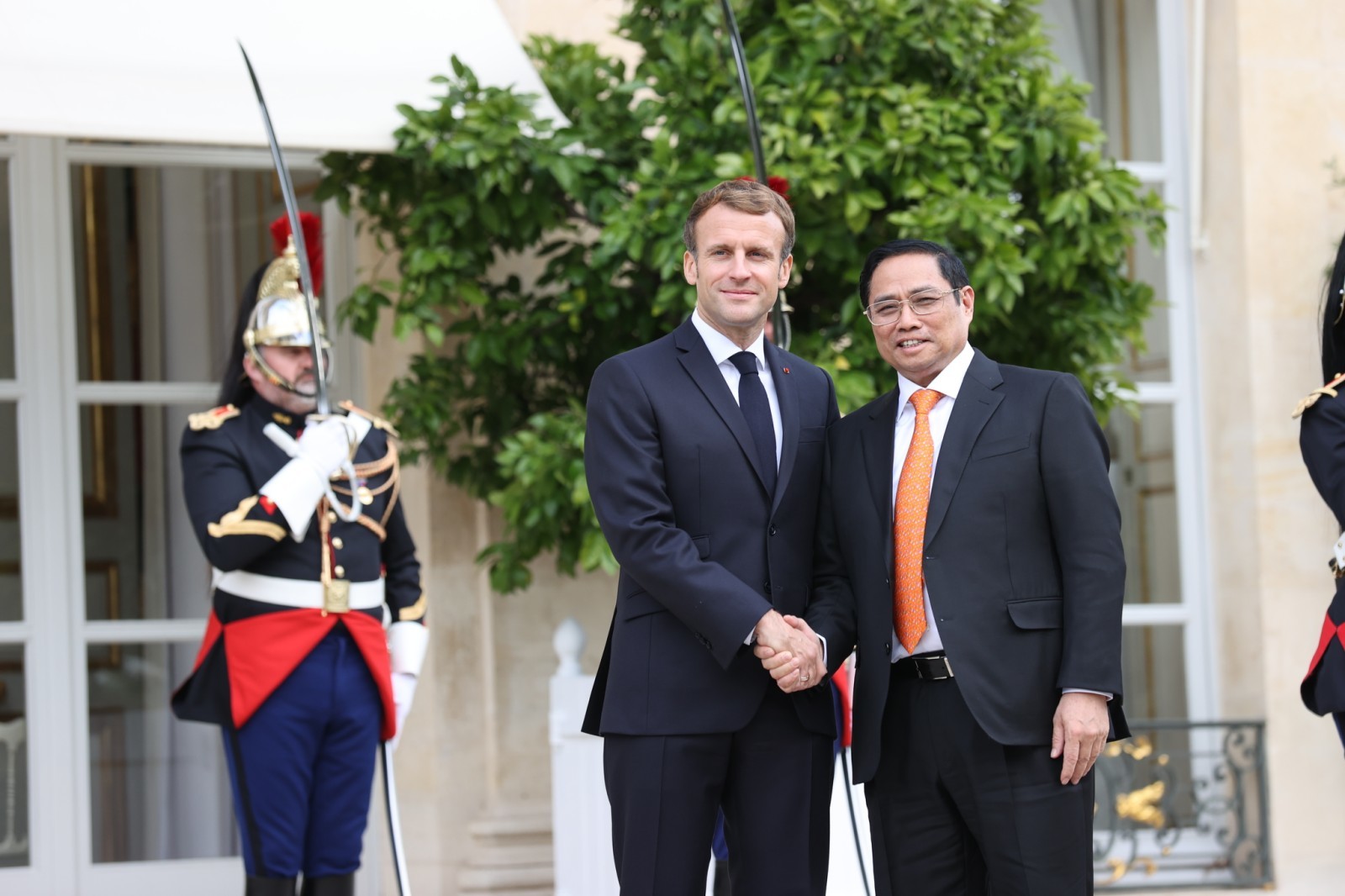 Prime Minister Pham Minh Chinh met with French President Emmanuel Macron.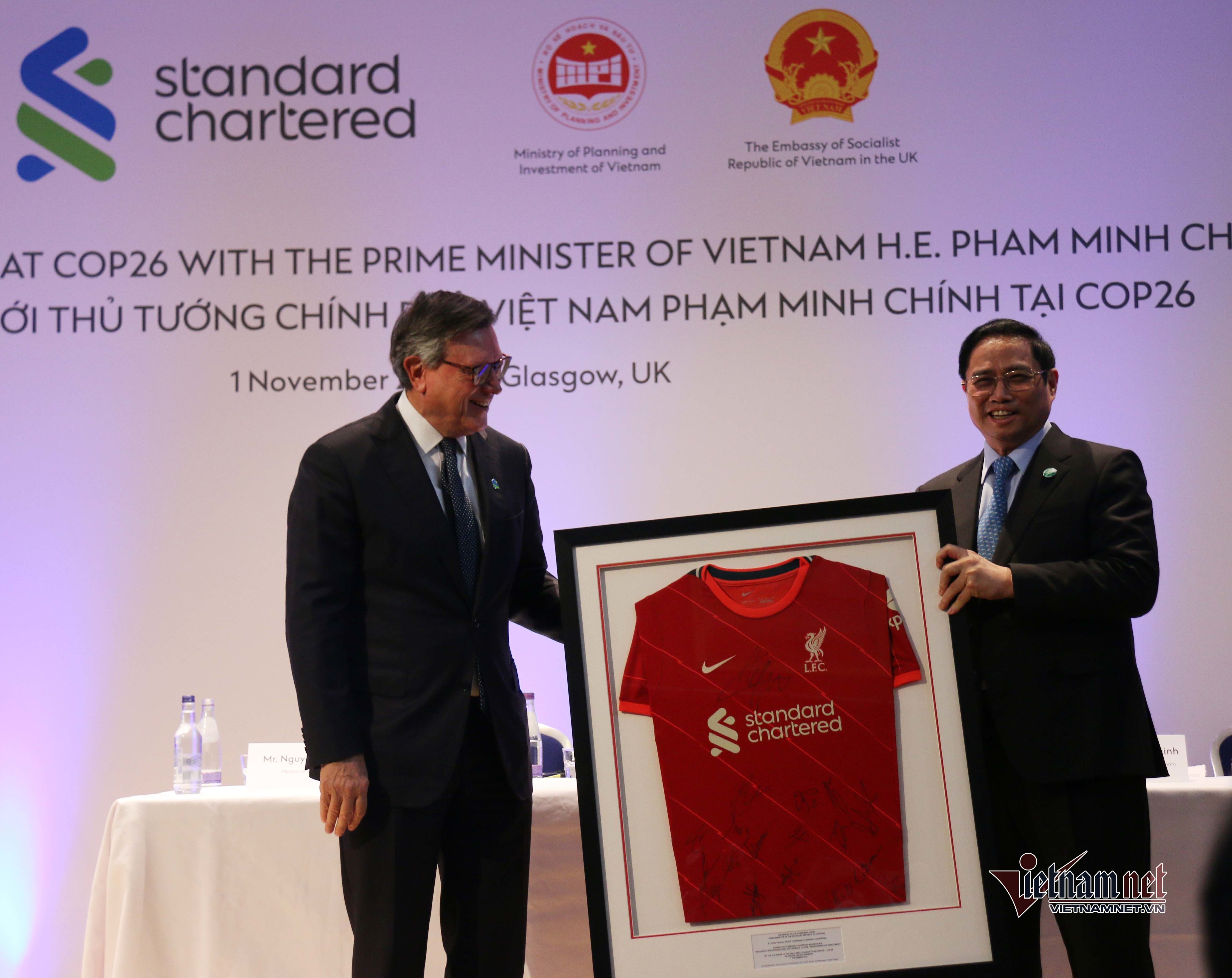 Jose Vinals, Chairman of Standard Chartered presented Prime Minister Pham Minh Chinh a jersey of Liverpool FC. Photo: Thu Hang
Notably, the Prime Minister's trip has strengthened the confidence of investors and the business community, and promoted exciting economic and trade cooperation activities after a period of disruption and due to the Covid-19 pandemic.
The Prime Minister's message is that Vietnam has moved to a stage of safe and flexible adaptation, effectively controlling the epidemic, accompanying and creating all the most favorable conditions for businesses to invest and do business in a long term business in Vietnam.
Health cooperation and vaccine diplomacy, and calling for partners to support Vietnam to control the epidemic are also a focus of this visit. Many international partners announced additional support, and promised to speed up the handover and signing of new agreements on the supply of Covid-19 vaccines as well as medical equipment for Vietnam.
Another meaningful activity during this visit was the Prime Minister's meetings with overseas Vietnamese in the UK and European countries. During these meetings, the Prime Minister always affirmed that the overseas Vietnamese community is a driving force for the development of the country. The Prime Minister emphasized the spirit of solidarity, and praised the contribution of overseas Vietnamese to the homeland, especially in the prevention of the Covid-19 epidemic.
Thu Hang

Attendance at COP26 has been a good opportunity for Vietnam to express its views on climate change, and to affirm its determination to contribute responsibly to global efforts.

PM Pham Minh Chinh's working trip to Europe from October 31 to November 5 was of important significance and achieved many practical results, said Deputy Minister of Foreign Affairs To Anh Dung.