Positioning the economy for a prosperous future

The good times are expected to continue with the right governmental support, business incentives, and corporate interest. Towards the end of 2020 we will see a rise in industrial property supply in Vietnam.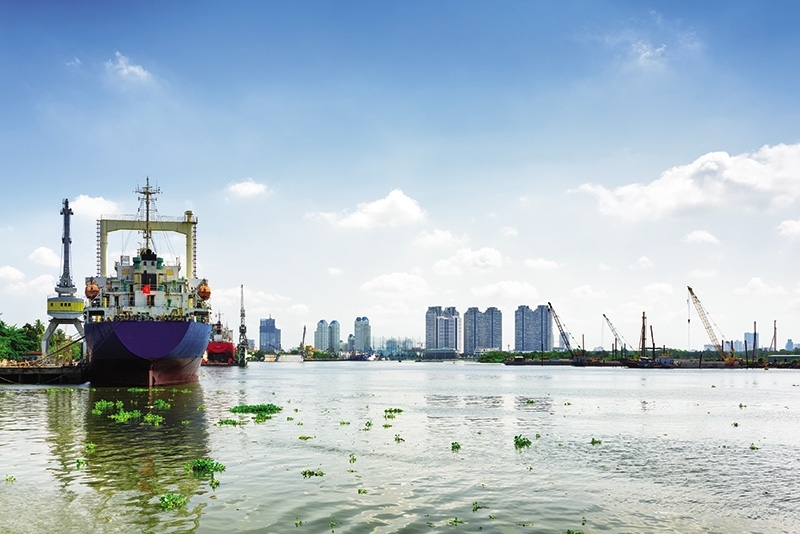 Infrastructure spending in Vietnam is one of the most impressive in the region, benefiting road, air, and sea transport
Within the global industrial world, Vietnam has made major inroads in recent times. Supported by developments to national infrastructure, the country's entrance in numerous trade pacts, and the fact that higher manufacturing costs in traditional markets such as China have opened doors for major corporations, Vietnam's transition from a peripheral to a mainstream industrial nation has been swift and successful.
But will it last? With commentators and the business community touting the global trade conflict as a catalyst, China's ongoing move towards a higher-income nation, and the deepening ties of Vietnam into global supply chains, questions rightly remain as to whether the country can sustain its new standing as Asia's rising manufacturing economy. In CBRE's view, the answer is clearly yes, but with the caveat that Vietnam cannot afford to rest on its laurels, especially as many nations will look to capitalise from high labour costs in China and geopolitical tensions.
China's role in the global economy is maturing. For decades it has served as the workshop of the world, in the process creating one of the greatest economic rises in history and making the leap from a low- to middle-income country in under two generations. While the transformation has been phenomenally beneficial to China, the position of this country is maturing as manufacturing focuses inwards and the country becomes more service-based.
As a result, China is relying less on exports, and the trade dispute for the US is only speeding up this transition. This is good news for developing markets, particularly in Southeast Asia. With ASEAN nations, Vietnam is poised to be a key beneficiary and to become an even bigger winner from this rotation in China.
The key drivers for moving export production out of China to Vietnam are multi-faceted. Foremost, lower labour costs are supporting the shift. Equally, more affordable land costs are playing a part, while less restrictive trade barriers, straightforward access to new supply chains, improved infrastructure, and more industrial policy support are ensuring a robust foundation for ongoing manufacturing success.
Labour costs, in particular, are a major draw for corporations eyeing Vietnam. At roughly a third of the salary of Chinese equivalents, skilled Vietnamese manufacturing employees provide an advantageous alternative to China.
Making friends
The country's sound economic fundamentals like GDP growth, attracting more foreign direct investment and a stable inflation rate have become key drivers to Vietnam's competitive position as a serious industrial player. However, we see institutional policy and reforms as solidifying the manufacturing sector for the longer-term.
According to Asian Development Bank projections, Vietnam outpaces every Asian country with the exception of China on infrastructure spending as a percentage of the GDP. This is translating into national highways, world-class ports, and better-equipped airports to support present and future industrial demand.
Furthermore, policymakers in Vietnam have been ­instrumental in providing ­producers with better access to key export markets by ­participating in many bilateral and multilateral trade ­agreements. Five deals have been inked within the ASEAN, while another six have been signed between the ASEAN and its partners including China, South Korea, Japan, India, ­Australia, and New Zealand, in addition to four bilateral free trade deals.
Why is this significant? Foremost, the pacts allow for the removal of duties among member countries. In other words, the aforementioned trade deals will help international manufacturers set up ­production in this country. Equally ­alluring, corporation manufacturing in Vietnam will enjoy tax benefits when they export to those markets that the country has signed trade deals with.
In order to shore up Vietnam's economic future, investment in manufacturing and other industrial facilities has and will need to remain a ­priority. We don't foresee any major slowdown in this ­commitment as the government has committed to further ­capitalise on Vietnam's unique role as a viable Chinese ­manufacturing alternative.
Landing on its feet
The backbone for any emerging industrial economy is available and functional real estate. In Vietnam, this scenario will be no different, and will rely heavily on the favourable fundamentals of the property space.
In 2019, the scales are tipping in Vietnam's favour. For example, according to CBRE research, industrial land costs in a sample of major cities across China have reached $180 per square metre. Comparatively, in Vietnam, industrial sites are typically ranging between $100-140 per sq.m. This is clearly attractive for prospective manufacturers.
Furthermore, the average land rental is increasing 5 to 8 per cent in Vietnam. Reflecting this more modest price rise, rentals at the country's industrial zones (IZs), especially those that have strategic locations that are connected and in close proximity to key infrastructure, are surging.
For example, the average ready-built factory (RBF) and warehouse rental in Ho Chi Minh City is around $4.10 per sq.m per month. At the top of the range, the highest achievable RBF rental in South Vietnam currently reaches $8 per sq.m a month from a new RBF campus dedicated to Japanese clients in the south.
In the north of the country, the average RBF rentals range from $3.50 to $4 per sq.m each month. Highest achievable rent in North Vietnam ranges from $5.50 to $6 per sq.m for options in established IZs in Hanoi, Bac Ninh, Hai Duong, and Haiphong.
Going forward, CBRE projects that IZs will continue to thrive. Occupancy rates of between 70-90 per cent will remain standard, as infrastructure connectivity will play a larger role in the occupiers' location decisions.
In a recent survey published by CBRE, the number of factories in Vietnam named in Apple's supplier list increased from 16 in 2015 to 22 in 2018, all of which are foreign-invested enterprises.
Following the same trend, Samsung announced last year that it would cease operations of its mobile phone production plant in China. Currently, 29 Vietnamese companies act as a Samsung Tier-1 supplier. The localisation rate jumped from 34 per cent of total product value in 2014 to 57 per cent in 2017.
Clearly, this business speaks volumes about Vietnam's place and reputation as a leading location of industrial production. The good times are expected to continue with the right governmental support, business incentives, and corporate interest. For the remainder of 2019 and all of 2020, we will see an increase in industrial property supply across Vietnam to benefit from this production shifting from China.
New supply continues to come online in both the north and south of the country. The diversification of new IZs, manufacturing facilities, and infrastructure shows that Vietnam will enter the next decade in a prime position and further establish itself as one of the major beneficiaries of a rebalancing China, and an evolving global supply chain. VIR
Hang Dang
Managing director CBRE Vietnam

A study of Google and Temasek from Singapore reports that Vietnam's digital economy reached 3 billion USD in 2015 and 9 billion USD in 2019, and will reach 30 billion USD in 2025.  

The Ministry of Industry and Trade (MoIT)'s key task is to evaluate the building and adjustment of policies to support the development of the digital economy, according to Deputy Minister Cao Quoc Hung.  

The prolonging trade war between the US and China makes it easier for Vietnam to continue its upward trajectory toward becoming a developed economy, Bennett Murray recently wrote on the 'Foreign Policy' paper.