PM Pham Minh Chinh's trip to Europe and Vietnam's responsibility for global issues
Attendance at COP26 has been a good opportunity for Vietnam to express its views on climate change, and to affirm its determination to contribute responsibly to global efforts.
Prime Minister Pham Minh Chinh left Hanoi on October 31 for the 26th United Nations Climate Change Conference of the Parties (COP26), and for visits to the UK and France from October 31-November 5, at the invitation of his British and French counterparts Boris Johnson and Jean Castex.
Professor Pham Quang Minh, an international relations expert, shared his observations about the trip with VietNamNet.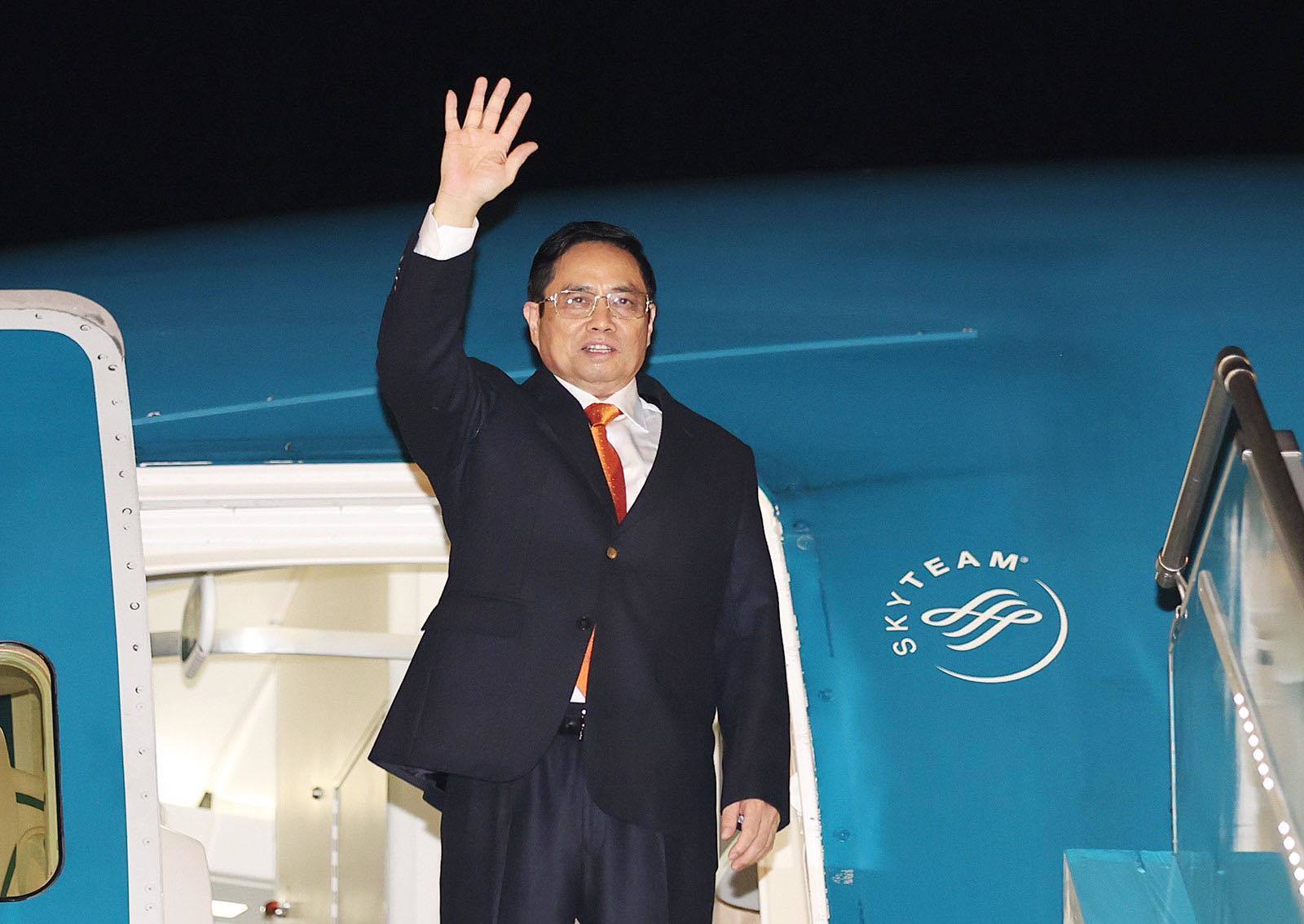 Prime Minister Pham Minh Chinh left Hanoi on October 31 for the COP26, and for visits to the UK and France from October 31-November 5. Photo: VGP
What do you think about Vietnam's participation in COP26?
COP26 is a major international event of special interest to the international community amid climate change having an increasingly serious impact on a global scale, which requires countries around the world to take urgent and strong action.
I think that Prime Minister Pham Minh Chinh's ongoing trip affirms Vietnam's determination to contribute responsibly to global efforts, specifically responding to climate change, reducing emissions, and transitioning to a green economy.
This is also a good opportunity to express Vietnam's viewpoints on climate change because Vietnam is one of the five countries most affected by climate change. COP26 is the most important global forum on a non-traditional security threat.
Attending the conference, we will make the world understand Vietnam's policies and commitments in the effort to cooperate with other countries to respond to climate change.
COP26 will be attended by over 120 heads of state, the Secretary-General of the United Nations and leaders of many international organizations and international financial institutions, multinational corporations and international non-governmental organizations, with a total of about 30,000 participants.
Thus, the Vietnamese leader will have many bilateral meetings on the sidelines to strengthen cooperation with partners.
Along with attending COP26, the Prime Minister will pay official visits to the UK and France. What are your expectations about these visits?
The UK and France both have strategic partnerships with Vietnam. They are also the two leading European countries that have a long relationship with our country. The two sides will not only have the opportunity to look back on the achievements on the past journey, but also work together towards a future of strong development.
In particular, the UK has expressed its wish of strengthening ties with Southeast Asia in the context that it has left the European Union through Vietnam. The UK has joined the Southeast Asian Treaty of Friendship and Cooperation since 2012.
The UK appointed a part-time Ambassador to ASEAN in 2015, a full-time Ambassador and established a delegation to ASEAN in November 2019. ASEAN - UK trade turnover reached 47.18 billion USD/year on average and the UK is the 8th largest investor of ASEAN. It applied to become a Dialogue Partner of ASEAN in June 2020, an observer of ADMM+, and it was approved to be a Dialogue Partner of ASEAN in August 2021.
On September 16, Australian Prime Minister Scott Morrison, British Prime Minister Boris Johnson and US President Joe Biden held an online press conference to announce the establishment of the trilateral security pact (AUKUS).
This pact aims to strengthen each country's capacity and ensure security and defense interests, including maintaining security and stability in the Indo-Pacific. Therefore, the UK's presence in this region in the near future is very important.
London also wanted to join the Comprehensive and Progressive Trans-Pacific Partnership (CPTTP). Becoming a member of the CPTTP will help boost this country's trade with the bloc, and help complement the free trade agreements the UK has signed with Japan, Canada, Mexico, Chile and Vietnam after leaving the EU.
It can be said that there is still a lot of room for comprehensive cooperation in politics, economy, and security issues between Vietnam and the UK.
For relations with France, I learned that before the official visit of Prime Minister Pham Minh Chinh, French Ambassador to Vietnam Nicolas Warnery told the local media that this visit demonstrates the role and position of the bilateral and regional systems on both sides.
France is going to welcome Prime Minister Pham Minh Chinh and the high-ranking delegation of Vietnam with the highest protocol of reception. Many important projects are expected to be signed between the two countries during this visit.
France is Vietnam's fifth largest European trading partner. As of July 2021, France ranked third among European countries (after the Netherlands and the UK) and 16th among 140 countries and territories investing in Vietnam, with 605 projects, totaling 3.6 billion USD in registered capital.
France is the leading European bilateral ODA donor for Vietnam and Vietnam ranked second among the countries receiving French ODA in Asia.
In terms of national security and defense, France was the first Western country to have a Defense Attaché in Vietnam (1991). Cooperation in this field is growing. In 2018, the two countries signed the Amended Agreement on Cooperation in Defense and the Joint Vision Statement on Defense Cooperation for the 2018-2028 period.
Bilateral cooperation in the fields of health, culture and tourism, education, science and technology, and others have all developed strongly.
France and Vietnam have a solid basis for believing in a bright future relationship, emphasizing efficiency and substance.
Finally, Vietnam has just gone through a prolonged period of social distancing and is trying to recover its economy after the Covid-19 pandemic. I think another focus of the Prime Minister's visit this time is to convey the message: Vietnam is returning to the new normal.
Vietnam has recognized the vaccine passports of 72 countries. The country and Southeast Asia are gradually opening up cautiously and safely. Vaccine diplomacy is also a key because we still need a large source of vaccines to immunize over 70% of the population to achieve herd immunity.
Thai An

Prime Minister Pham Minh Chinh landed at Prestwick airport on October 31 morning (local time), starting his trip for COP26 and a working visit to the UK at the invitation of his counterpart Boris Johnson.