Playback: A return to old school

Many people go crazy for cutting-edge audio-visual devices to keep up with the latest trends, but there are others who remain loyal to the old days.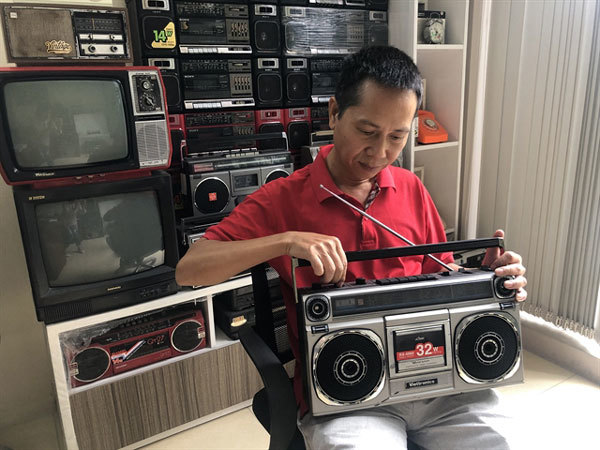 LOVING CARE: Nguyen Xuan Thuy poses with one of his favourite items - a Vietnamese cassette player. VNS Photo Thuy Hang
In a spacious two-storey house in Hanoi belonging to ghetto blaster enthusiast Nguyen Xuan Thuy, it's hard to find a place to sit because every room is taken up by his favourite devices. Cassette players can be found everywhere, and even the 49-year-old's bed is covered in old equipment.
The story goes back three years, when feeling nostalgic, he decided to buy a cassette player similar to the one his parents bought after saving up for a year.
"In 1990, cassette players were considered luxury items. The one my parents gave me was worth two taels of gold. At that time, two taels of gold was enough to buy 40sq.m of land," said Thuy, who is the founding member and head of the Radio and Cassette Collection Club.
Of course, in the era of technology when people talk about the latest smart phones or Bluetooth audio equipment, it's difficult to find an item which is no longer produced or used.
"I posted a message on an advertising website looking for a cassette player, but in two months I received no reply. I'd nearly given up, but then I received a call from a collector in Hanoi," Thuy said.
Thuy got round to the man's place as fast as he could.
"When he pulled the cassette player out from under his bed, the search was over. I was so happy that I couldn't even speak," said Thuy, who is also an organic coffee producer.
Thanks to this "reunion", Thuy also came up with an idea for a business.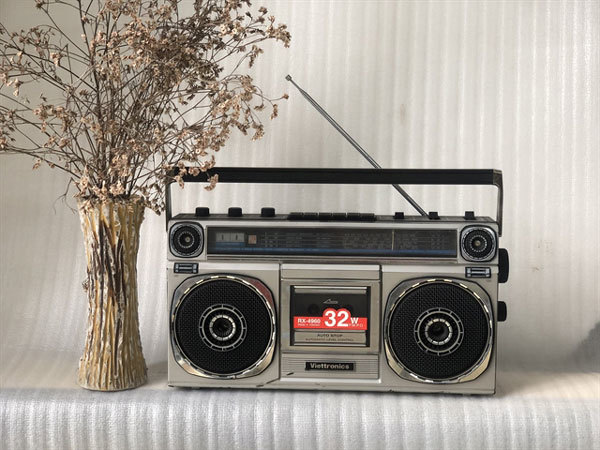 BEAT BOX: A Viettronic cassette player. VNS Photo Thuy Hang

"I'm in charge of expanding a nationwide network of coffee shops. It's always a challenge for us to find fresh concepts for new shops. When I found this old cassette player, I thought why not use them in themed shops?"
So he went ahead and opened a coffee shop in Hanoi.
"Most customers are very curious about the old items that we display in the shop. Some are surprised to listen to music coming from an object that is even older than them," Thuy said.
To develop his business idea, Thuy bought nearly 400 cassette players from flea markets in Cambodia and from collectors across Vietnam.
The more he got to know about them, the more interested he became. Thuy has travelled to Cambodia, Japan and some European countries to hunt for his favourite items, and he also stays up all night to bid on eBay auctions.
His collection current amounts to about 1,000 items, of which the oldest was made in 1960.
Price is not a concern, and he has already spent nearly VND1 billion (US$43,000) on his collection.
Thuy has collected players that were popular among Vietnamese people during the 1976-1986 period. Most of his collection comes from famous Japanese brands such as JVC, Sony, Sharp, Toshiba, Hitachi, Pioneer, and Aiwa.
The enthusiast is also very proud of two Vietnamese-made players he owns. He had to travel to Bien Hoa City in the southern province of Dong Nai to meet the owner of two Viettronic players and convince him to sell them.
"You could say Viettronic – the only cassette player ever made in Vietnam – is 'extinct', so the ones I have could be the only ones left. They are still in very good condition and work well," Thuy said proudly.
"The owner agreed to sell them to me after I promised that he could visit me whenever he wants."
In July 2018, Thuy founded the Radio and Cassette Player Collection Club. The club now has more than 3,400 members from across the country as well as from the Philippines, Germany, Russia, Thailand, and Argentina.
FAN CLUB: Members of the Radio and Cassette Collection Club pose for a group photo at the club's first anniversary. Photo courtesy of Nguyen Xuan Thuy

"Everyone has a reason to become an enthusiast – some want to make up for the hard times when they couldn't afford luxury items, others simply enjoy the sound quality, while some of us are addicted to a specific brand," he said.
"Being an enthusiast doesn't simply mean you pay money to own an item. You really have to devote your mind and your time to your hobby."
"These items need to be kept in an airy and dry place, so my air conditioner has to be on all day long. I also have to use plastic wrapping to protect them from humidity, which can harm their microchips and paintwork." VNS
Thuy Hang