Phu Tho woman finds husband after 13-year absence
Thanks to a video posted on Tiktok, a woman in Phu Tho province has found her husband who was missing for 13 years.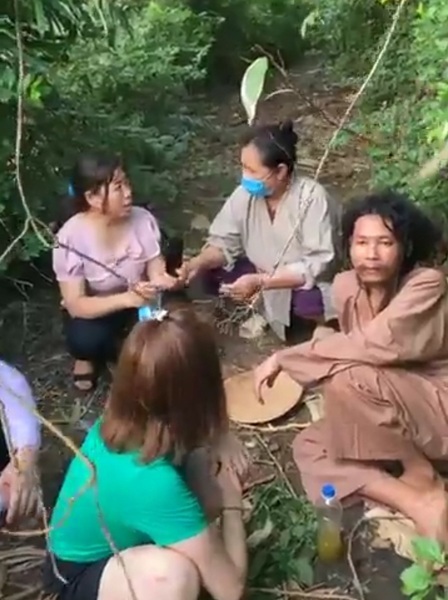 Cuong (first left) persuades her husband (first right) to go home
While browsing videos on Tiktok, Dinh Thi Cuong caught sight of the familiar face of her husband. She could hardly believe her eyes, so she asked relatives and neighbors if the man in the video was really her husband.
"Some people said it was my husband, Phu, while others did not think so. Thirteen years have elapsed and Iwas not sure if the man was my husband," she told reporters.
She texted the person filming the video, asking to help verify the case by exposing the man's shirt to see if there was a tattoo on his chest.
After she realized that it was Dinh Van Phu, her husband, Cuong and her family caught a bus to travel 120 kilometers from Phu Tho to Tuyen Quang province to pick him up.
At 9 pm on May 11, Cuong, born in 1971, and Phu, born in 1976, returned to their home in Yen Lang commune in Thanh Son district of Phu Tho province amid the joy of relatives and neighbors.
Cuong burst into tears when asked about her life in the last 13 years, when she had to raise two children, a son and a daughter, without a husband.
The ethnic Muong in her community said she married Phu when she was 28 years old and Phu was 23.
"Phu was very handsome, good natured and industrious," she said. "Many men wanted to marry me, but I chose him though he was born into a poor family. His father was a wounded soldier with a traumatic brain injury."
After the wedding, they lived together with Phu's parents and his siblings. She tilled rice and other crops, while Phu worked for brick workshops. The life was hard but there was nothing to complain about until one day she discovered some abnormalities about her husband.
Sometimes Phu burst out laughing and sometimes mumbled to himself. At first, Cuong thought this was because Phu drank too much.
But she later realized she was mistaken. He laughed and shouted, then beat her hard one day and then forgot everything the next day.
"I hit you yesterday? How could I do this?" he said to his wife.

Thanks to a video posted on Tiktok, a woman in Phu Tho province has found her husband who was missing for 13 years.
When their son turned four years old and their daughter seven months old, Phu was officially confirmed as mentally ill. He could not do anything but smash houses and wander.
"On those days, we did not dare sleep at home. I had to take my children away and sleep at relatives' homes at night. Sometimes he came to relatives' houses, pulled my legs and threw me onto the ground," she recalled.
After seven years of living in fear, Cuong and her husband's family decided to take Phu to a social protection center, so that she would have time to work and earn money to raise the children.
But Phu escaped the center after living there for three to four months. The center's management board told her over the 13-year period of his absence that the center was looking for Phu and it would contact her if it found him.
Over the last 13 years, Cuong traveled long distances to other provinces many times when she heard that someone looked like her husband. She remembered that he had a tattoo on his chest.
Raising children alone doing farm work, Cuong experienced very difficult days. However, what broke her heart the most was the criticism from villagers after some men said they wanted to marry her.
"Some men said they wanted to live with me, but I refused all of them. For me, no one is better than Phu," she said.
Life is now better for Cuong. Her son, born in 2000, has finished high school and now works for a company in Vinh Phuc province. The young man has been put in quarantine after close contact with a Covid-19 patient.
Her daughter is now in the 12th grade. "She is very studious. But I don't have money for her to continue studying. I told her to take a job as a factory worker after she graduates from high school," she said.
Ever since the day the girl saw her father again, she has been attached to him. She stays late at night to take care of him and doesn't want to go to bed.
When Phu met his wife again, he did not recognize her.
Asked about plans in the future, Cuong said she still doesn't know what she should do to keep her husband at home.
In addition to fieldwork, Cuong earns a living by making prescriptions for local people selling medicinal herbs. She said her life has become better. 
Nguyen Thao 

Nguyen Thi Hong Cuc proves that education truly is a lifelong process.

A young Mong ethnic minority man has become the first person in his community to earn a master's degree.