Phu Tho student wins gold medal at international physics competition
Tran Duong Chinh, a 12th grader majoring in physics of the Hung Vuong High School for the Gifted, has become the first student from Phu Tho province to win a gold medal at the European Physics Olympiad (EuPhO).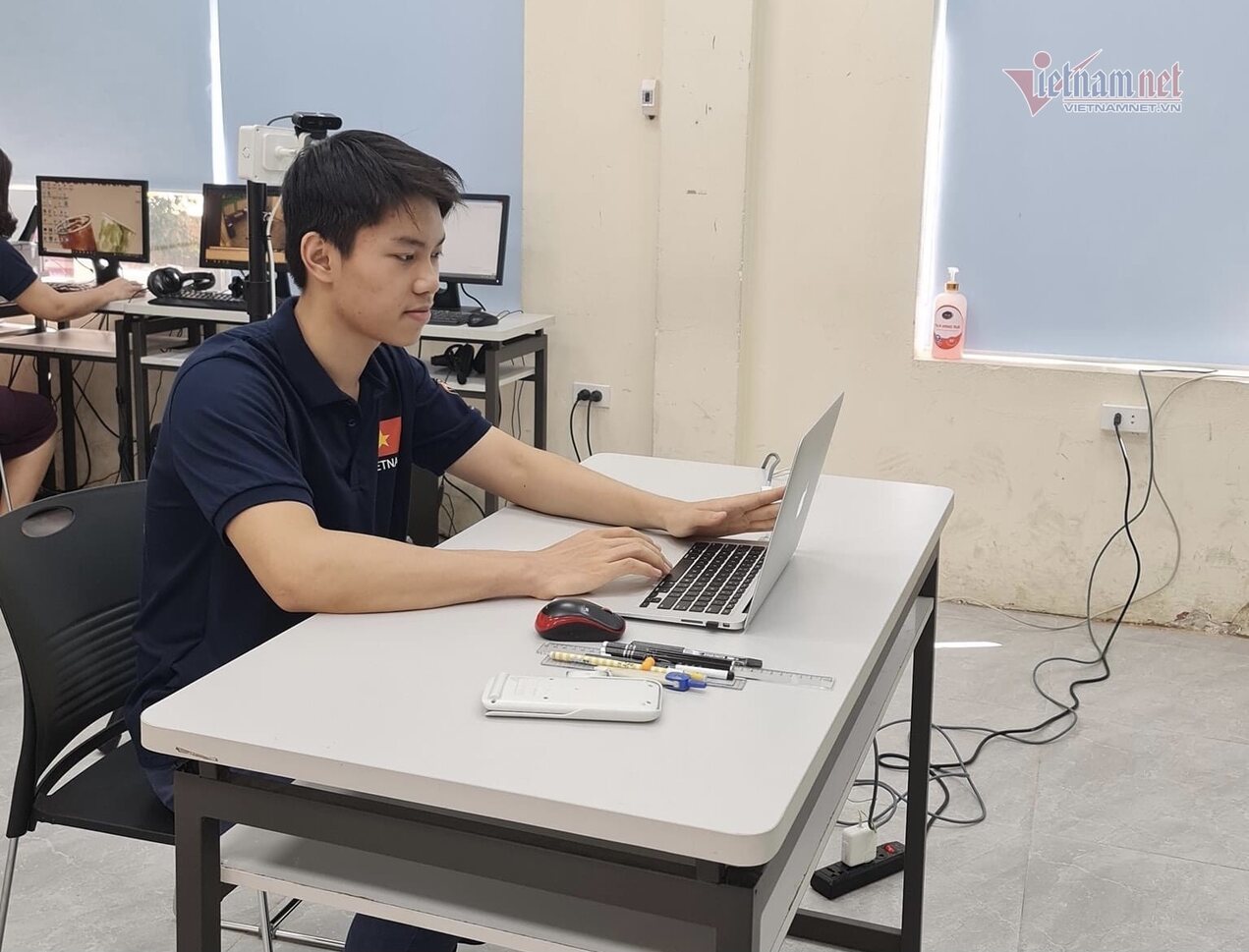 Tran Duong Chinh wins a gold medal from EuPhO
This is the second gold medal Vietnam has won from EuPhO. As many as 220 students from 46 countries attended this year's competition. Chinh was one of five students with the highest scores at the competition.
Passion
Chinh said he loved natural sciences in childhood and discovered the most interesting subject – physics - during secondary school. When he was a ninth grader, he was selected as a member of the team of excellent students to attend the provincial physics competition where he won the second prize.
"Physics lectures and experiments always excited me. I always tried to learn both in practice and in theory. I had a lot of opportunities to study and interact with good teachers and friends, partly because I was a member of the selected team of excellent students. This gave me more reason to be determined to pass the exam to enter the provincial high school for the gifted," he recalled.
Chinh came in second at the entrance exam to the physics majoring class at the Hung Vuong High School for the Gifted that year, and the mathematics major class as well.
He decided to study in the physics major class and won high prizes at competitions. When he was in 10th grade, he won a gold medal at the Olympiad for coastal provinces and northern delta students, and a gold medal in physics at the Olympiad of natural sciences.
He also won third prize and then second prize at national competitions when he was in 11th and 12th grades, respectively.
With a father who is a public employee and mother a teacher, Chinh always has good favorable conditions to study.
His great love for physics inspired his younger brother, who placed first in the entrance exam to the physics major class of the Hung Vuong High School for the Gifted last year. Quan, he brother, is also a potential member of the team of selected students to attend the upcoming national competition.
Automation

Tran Duong Chinh, a 12th grader majoring in physics of the Hung Vuong High School for the Gifted, has become the first student from Phu Tho province to win a gold medal at the European Physics Olympiad (EuPhO).
"I first met Chinh when he was in 9th grade and I soon realized his ability as well his passion for physics. Later, I became a head teacher of his class and accompanied him through competitions. Chinh had left good impressions about his great efforts and achievements," said Than Thi Thanh Binh, a teacher of the Hung Vuong High School for the Gifted.
The two factors that help Chinh gain the impressive achievements, according to Binh, are good scientific thinking, passion for scientific research and perseverance in learning.
Regularly reviewing for competitions and exams together with Chinh, the teacher helped Chinh supplement his knowledge. He had the chance to study with physics experts invited from the Vietnam Physics Association as well for in-depth study.
Binh also gave encouragement and advice. When attending the EuPhO selection round, Binh was affected by his failure to enter the selected team to attend a competition in Asia.
Binh then told Chinh that the competition was just a playing field which helped broaden one's knowledge. She also said that the path ahead would be more difficult to follow and there would be fewer fellow-travelers.
Asked about his learning method, Chinh said in addition to the lessons in class, he regularly reads documents and gets knowledge from other sources. He always sets plans in details and arranges his time reasonably so as to avoid pressure.
He revealed that he likes assembling models, such as magnifiers and watches. For Chinh, this is an interesting way to discover the applications of physics.
Chinh said he felt stress, but he could overcome all difficulties thanks to the encouragement from teachers.
"When I have a difficult question, I would gather my strength on it until I can solve it, forgetting about the time," he said.
"I am lucky as I can receive the strong support and attention from parents, who remind me that I need to both learn and play in a reasonable way, and that I should not bear the pressure of obtaining achievements," he said.
Chinh is one of five Phu Tho students who were able to go to university without having to attend entrance exams. He plans to study automation at the Hanoi University of Science and Technology. 
Ngoc Linh

All four Vietnamese students participating in the International Olympiad in Informatics 2021 brought home silver medals, according to the Ministry of Education and Training's Quality Management Department.

"I chose to stay in the UK, not because I can find a good job here, but I believe that I still need more time to accumulate experience and money before I return to Vietnam and do something bigger," said Trinh Quang Vu.