Petrol price hike puts pressure on consumers, threatens inflation
The prices of goods and services have begun escalating following a shocking hike in petrol price, reaching a 7-year high, announced by petroleum distributors on October 25.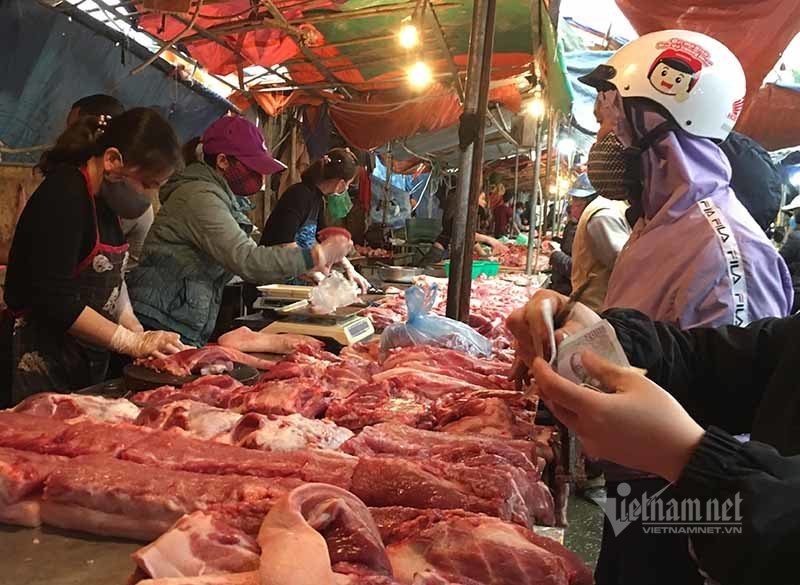 Hoang Thi Thu in Thanh Xuan district in Hanoi was surprised when a seller told her that she had to pay VND200,000 for vegetables she bought earlier this week.
The number of vegetables she bought was nearly the same as last week purchases, but the cost was VND50,000 higher.
She realized that the pork price had increased by VND10,000-15,000 per kilogram. The bacon price, which was VND130,000 per kilogram last week, had surged to VND145,000, while ribs went up to VND150,000 per kilogram.
"I was told that food prices have escalated because of the petrol price hike. Farmers have raised wholesale prices, so retailers have to raise the retail prices proportionally," Thu said.
She complained that her husband has been idle for a long time because of the pandemic and the expenses of the 5-member family now rely on her wages. As the family's total income has decreased, she has had to fasten her belt, buying more eggs instead of meat.
Dinh Thi Thuy Ha in Nam Tu Liem district also complained about price increases.
"I ordered fruit this morning and I was told to pay VND25,000 for shipping fee instead of VND20,000. I also ordered bean cubes and I was informed that the price has risen by VND5,000 per kilogram, and I had to pay a shipping fee instead of free shipping," Ha said.
Ha estimated that if the expense on every order increased by VND5,000-10,000, she would have to pay VND1.5 million a month more just because of the petrol price hike.
Nguyen Thanh Van, the owner of a food shop in Hai Ba Trung district, said she has been busy all day long messaging her clients to inform them about price increases.
Van said she is afraid of raising selling prices, because higher prices mean lower demand. But she has had to do this because the transportation cost and cost price have soared.
"It cost VND80,000 only to transport a box of goods from Dien Bien to Hanoi previously, but now I have to pay VND120,000-130,000. Also, wholesalers have raised selling prices by VND5,000 per kilogram," she said.
Merchants at Dai Tu Market in Hoang Mai district confirmed that food prices have surged, especially pork and vegetables. They said the prices have increased not only because of the petrol price hike, but also because of short supply. The supply of vegetables, for example, has been affected by heavy rains, doubling the prices for some types of vegetables.
Pressure on consumers, businesses

The expenses on petroleum products account for 3.52 percent of total production costs of the national economy, a relatively high proportion, which explains why the petrol price increase has an impact on production costs.
Nguyen Van Hoang, an office worker, only realized the petrol price adjustment on October 27, when he stopped at a filling station. He had to pay VND120,000 to fill the tank instead of VND90,000 as usual.
Hoang said people who have been facing difficulties because of unemployment and income reductions for a long time now have had to struggle with the 'price storm' as well.
"The gas price has soared to VND440,000 per tank, while the pork price has increased by VND30,000-52,000 per kilogram of live weight," he said.
"The prices should be stabilized to help people overcome difficulties," he added.
The man said he and his wife have had to live on savings in the last few months because of unemployment, and they have run out of money.
The petrol price is also a headache to consumer goods manufacturers and suppliers. A businessman said he would keep prices unchanged for now because he has fixed the input material prices with partners, and the logistics fees. However, he will have to adjust the prices of finished products later.
"Businesses used up their resources to maintain production under the 'three on-site' mode. They have no other choice than to raise prices," he said.
A representative of the Vietnam Logistics Association confirmed that transport firms will have to think about raising fees. However, it will take them time to negotiate with partners about the increase. Once the fees are adjusted, the prices of goods and services will increase proportionally.
Nguyen Bich Lam, former General Director of the General Statistics Office (GSO), said the expenses on petroleum products account for 3.52 percent of total production costs of the national economy, a relatively high proportion, which explains why the petrol price increase has an impact on production costs.
The petroleum price increase will especially affect industries using a lot of petrol and diesel, such as fisheries, and cargo and passenger transport by land, waterways and airways.
The petrol price not only leads to higher production costs but also goods prices, puts pressure on inflation, weakens the competitiveness of domestically made goods, and affects the GDP growth.
He estimated that if the petroleum price increased by 10 percent, GDP would fall by 0.5 percent and the CPI rise by 0.36 percentage point, affecting the income and spending of people. 
Tam An - Bich Nhi

To force petrol prices down, the Government needs to cut the environmental protection tax rate, which is at the ceiling level.
Retail petrol prices in Vietnam are likely to reach new highs when the Ministry of Finance and the Ministry of Industry and Trade announce their price adjustments on October 11.