Perfumed buffaloes and other strange possessions
Buffaloes in Hoi An do not work on farms, but are made-up and perfumed to bring good fortune for their owners. They are just one example of a number of strange possessions of local Vietnamese.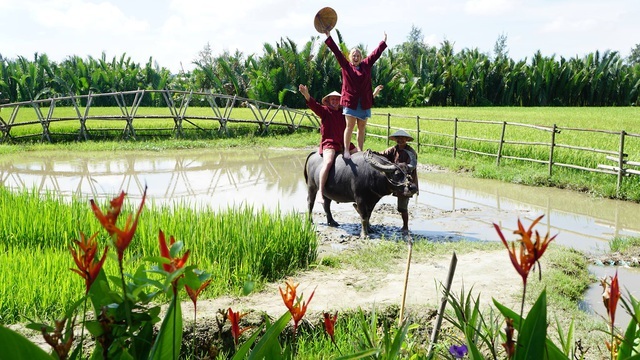 Buffalo used for tourism in Hoi An. (Photo: Dan Tri)
In 2010, Mr. Tran Van Khoa, a travel company CEO, invested hundreds of millions dong in making buffalo bamboo carts and cart stops to encourage people in Hoi An town to develop buffalo tourism. 
Khoa told Dan Tri News that the owners of buffaloes completed communication training courses before joining the service. Many of them speak English fluently. They own tens of adult buffaloes and earn good income from this job. 
And the buffaloes are made-up and body-sprayed, bringing money to their owners. Tourists learn how to guide buffaloes from the owners. Western tourists are very interested in riding buffaloes in rice fields and in experiencing to be a farmer plowing behind buffaloes. 
Buffaloes with strange horns in Quang Tri
There are two buffaloes with weird looking horns in Quang Tri province. According to a news report from Dan Viet, one of them belongs to the family of Mr. Hoang Cuong (Giao Liem village, Trieu Do, Trieu Phong district). 
Its horns do not point upward but downward. Thus, it was named Quap (meanly twisted). The second has S-shape horns with total length of 1.4 meters.  It is owned by Ms. Tran Thien in Ben Hai village, Trung Son, Gio Linh district. These buffaloes are extremely rare, considered as a treasure. They are not sold for any reason. 
Gold lacquer panels of wealthy Hanoian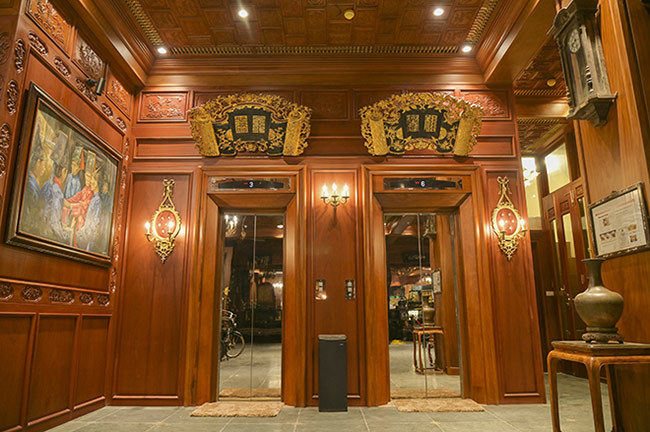 Hanoi lady's antique lacquered panels. (Photo: Dan Viet)
According to Dan Viet source, Ms. Trinh Thu Huong (Ba Dinh district, Hanoi) is deeply interested in national culture. Many antique objects are displayed in her restaurant, of which the set of gold lacquer panels is assessed as unique in Vietnam.
"Blessings" and "Contentment" were written on the panels. Symbolized in the shape of a bat holding precious bell, the panels mean blessings for her clients and their home. Being hundreds of years old, the set used to be displayed in wealthy or royal family holes. Nowadays, it costs a fortune. It took her long time to find.
Square cake with Vu Dai stewed fish and black square cake
After square cake made of brown rice and centered with catfish became trendy, a commercial center in Hai Phong attracted public attention by selling square cakes added with Vu Dai stewed fish. This is the first time that many people taste this in Vu Dai village. The core of the cakes, packed in thick leaves, includes green beans, pork belly and stewed fish.
And for Tay in Yen Bai province, black square cake is a must in Tet. The black colour comes from a jungle plant mixed with glutinous rice. The cake colour is as black as asphalt and has a light flavour of plants.
Collection of miniature bonsai in Nha Trang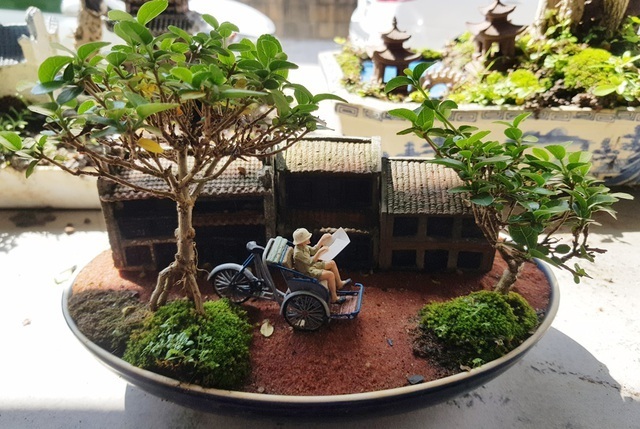 Miniature bonsai landscape decorated with micro house. (Photo: Dan Tri)
Mr. Nguyen Van Phung (Phuoc Thuong, Phuoc Dong, and Nha Trang) is the author of famous creative works from plants. Currently, he owns over 5000 miniature bonsai trees.
All his bonsai arts are lively and attractive, reflecting tourist attractions and landscapes. His miniature bonsai collection was recognized as the world's largest by the World Record Union. (Worldkings).
Private car to transport precious birds for Tet
Mr. Duong Van Chuong, well-known for his colorful bird collection in Vietnam, is the owner of very rare yellow crested cockatoo. This is the only breed in the Northern mountainous area. After a few negotiations, he bought the cockatoo for 200 million dong. He hired a car to transport the bird from Lang Son to Hanoi to welcome the lunar New Year 2021 (Tet).
Papaya with 5 branches in An Giang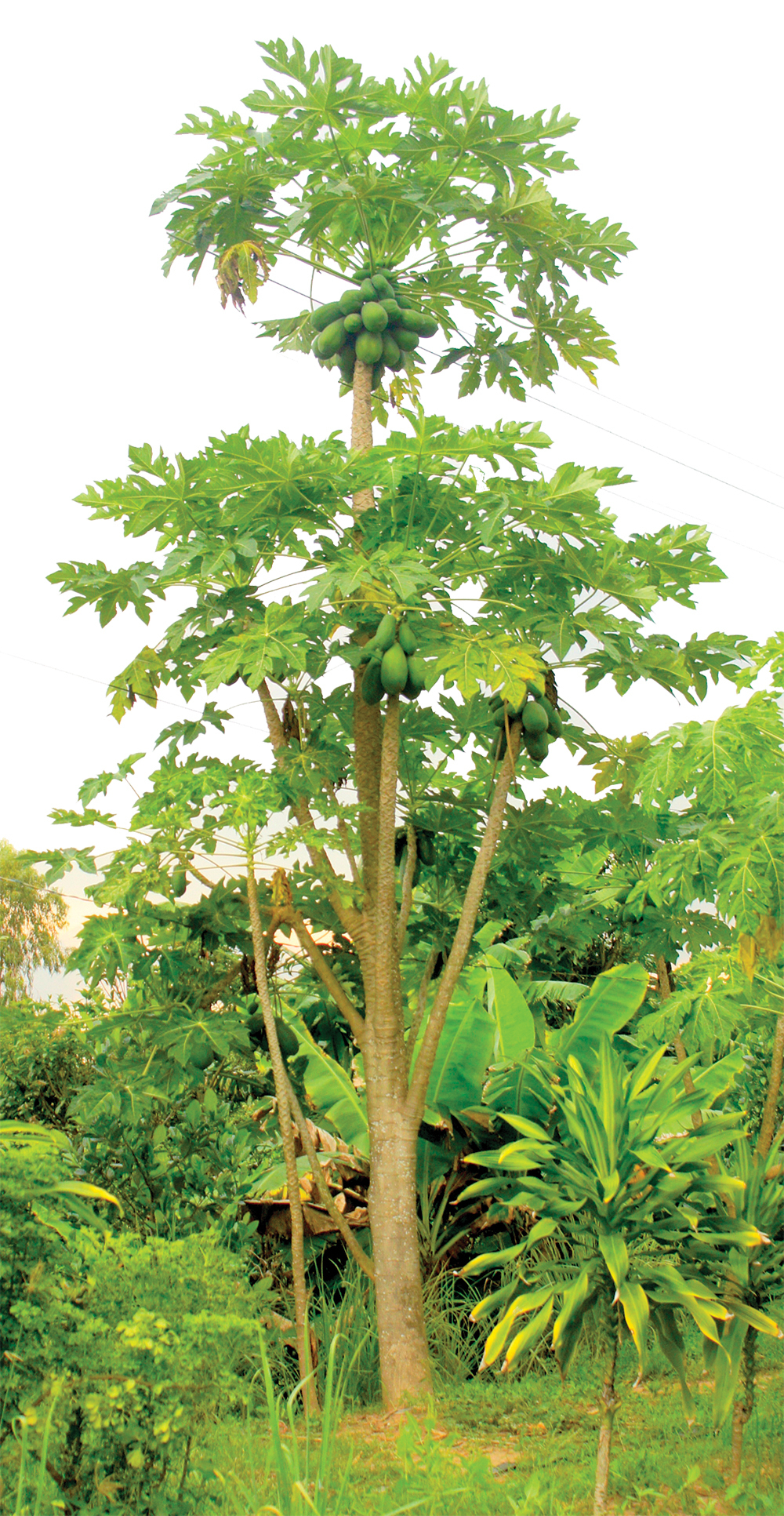 Papaya with five branches in An Giang. (Photo: An Giang News)
This papaya belongs to Ms. Nguyen Thi Tho (An Giang), It has been growing for two years without any chemical fertilizer or pesticide. After bearing fruits, it broke due to heavy rain. Not long after that, new branches grew out from the trunk, giving a lot of fruits. 
Gac tree of hundred years old in Nha Trang 
According to Dan Viet News, this gac (Momordica) of over 100 years old has a very weird shape. It is displayed in Nha Trang, attracting curious visitors. It has distinctive roots and trunk. The owner of the gac is Mr. Tran Huy Hung (Phuoc Hai, Nha Trang). He said that he was asked to sell it for 120 million dong but he has refused. 
Hanh Nguyen

Vietnam is a country known for its diverse cuisines.