Peaceful Hanoi through the lens of Thomas Billhardt
German photographer Thomas Billhardt carves out his own realm of memory when Hanoi capital passed the most difficult war time some decades ago.
A peaceful and idyllic Hanoi with pictures of children playing beside the tram railway in Hang Dao street and long lines of people cycling on the street returned in the photo collection entitled "Hanoi 1967 - 1975" by German photographer - Thomas Billhardt (born 1937).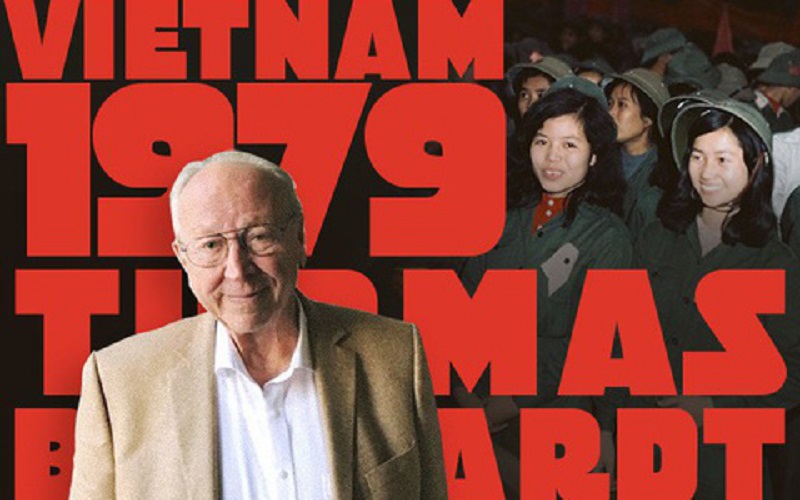 German photographer - Thomas Billhardt 
An area of memory
Hanoians themselves in spite of their shared love of city, they would be hard-pressed to tell what exactly make Hanoi so special. The capital of Vietnam let so strong imprint in the minds of many foreigners who used to be visit Hanoi. Thomas Billhardt - a German photographer- was one among those visitors.
Rich photograph vocabulary, epitomized and rare shootings of Hanoi as well as Hanoian dating back to some decades ago, Thomas's photo collection entitled "Hanoi 1967 - 1975" had recently introduced to art lovers in Hanoi.  
Over 130 photos of the "Hanoi 1967 - 1975" collection, which are like black and white movies about Hanoi in the years of fighting and defending the country, would help local youth look back at their city at the harsh time ever.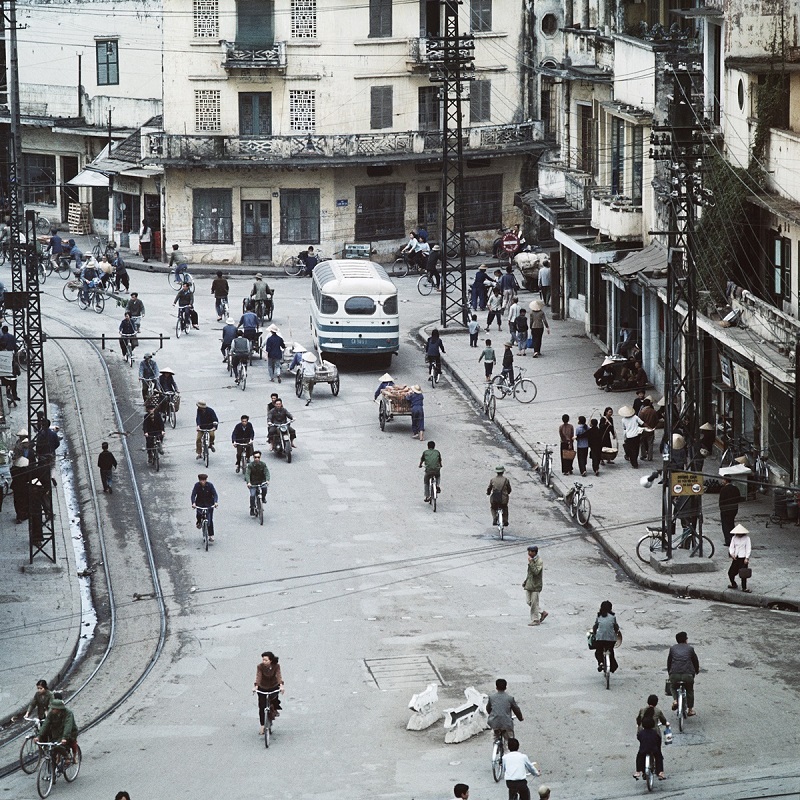 Hanoi's Old Quarter area through the len of Thomas Billhardt
Thomas carves out its own realm of memory where the capital city passed the most difficult war time. In those photos, the old Hanoi appears emotionally through the images of women queuing in line to catch every drop of public tap water, children playing in the slide beside the garden with construction bricks, outdoor painting class, Hang Day stadium full of people wearing soldier's hats and conical hats.
Besides, there are "movies" of bomb shelters on the streets, bicycles, people walking in the rain, American pilots in the cell receiving letters from home, trains full of people or innocent faces of children shinning in the war.
Hanoi in the period 1967 - 1975 was poor and lacking food and water, but smiles still shined their faces in all the beautiful, simple and peaceful streets in Thomas Billhardt's photos. It can be seen that "Hanoi 1967 - 1975" is a very vivid and complete set of everyday photos of a memory area of the capital more than 40 years ago.
Six times visiting Vietnam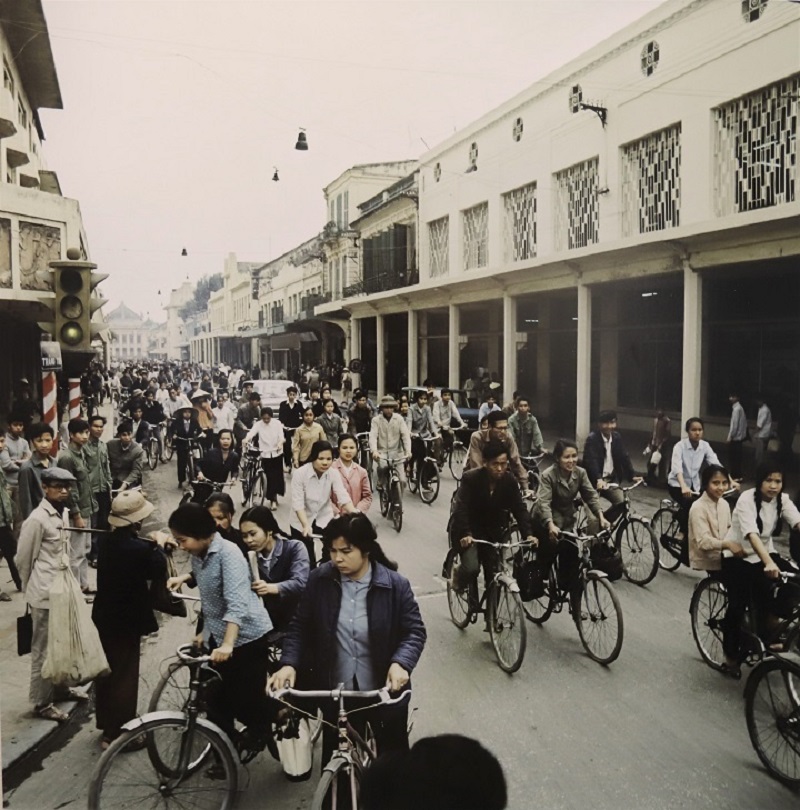 Hanoi Streets in 1975/ Photo: Thomas Billhardt
Thomas Billhardt is a German photographer with special love for Hanoi. His photographs of the Vietnam War in the late 60s of the last century made him famous around the world.
From 1962 to 1975, Thomas Billhardt went to Vietnam six times and then later another six times more. The photos taken during these trips are published in four picture books: "Pilots in pajamas" (1968), "Aspiration for peace: Vietnam" (1973), "Hanoi - The days before peace" (1973) and "Faces of Vietnam" (1978). In October 2020, the photo book with the same name as the exhibition has been published by Nha Nam Culture and Communication Joint Stock Company.
Mr. Thomas Billhardt shared that returning to Vietnam in recent years, he witnessed a new Vietnam, a beautiful country. With Hanoi, although the city is reforming miraculously with full of vitality, it very different from Hanoi in his first encounter in 1967, but he still wants to fall in love and embrace the changes of this city.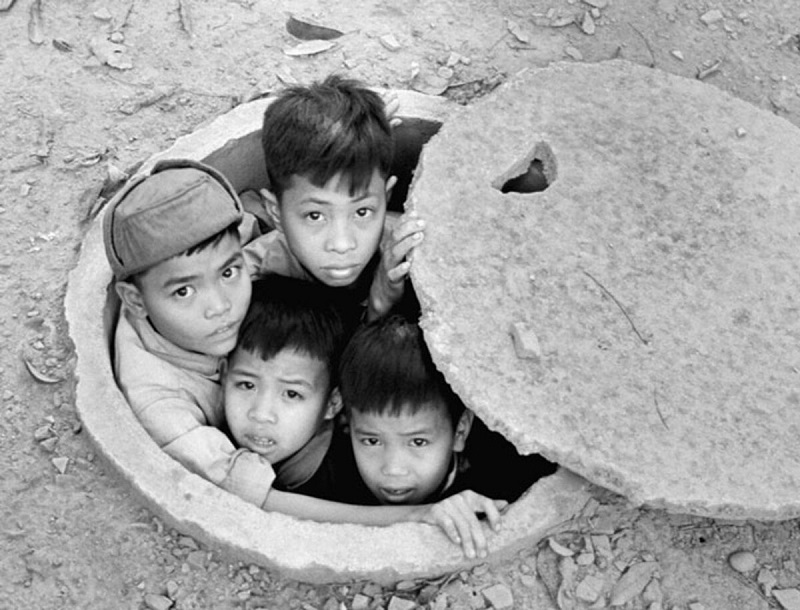 Children were poking their heads out of a bomb shelter outside the Metropole hotel in 1968/ Photo: Thomas Billhardt
Many viewers when admiring the photo collection of "Hanoi 1967 - 1975" admitted when Thomas Billhardt took the camera, what appeared in his lens deserved to be kept, not only because of expensive film rolls at that time but also his work in public places. All his life Thomas Billhardt was loyal to himself.
He is an explorer of poverty and crisis around the world with a clear and careful mind. The messenger sender in the photographic language of Thomas Billhardt has always been children. "The compassion and tolerance of the Vietnamese people at that time was very great. Human love and mutual support are something you can easily see," Mr. Thomas Billhardt shared.
According to the Director of the Goethe Institute Wilfried Eckstein: "Thomas Billhardt's photographs are unforgettable images that always appear before the eyes of the mind. His pictures make the world reflect on themselves and at the same time show that hope still exists. They tell us about social injustice in the world, poverty, suffering, war, ect., but also about people's life and their smiles."
"Hanoi of Thomas Billhardt is a Hanoi full memory, a meticulous chorus that paints a life full of hardship but also love." Hanoitimes
Do Phan
Anyone who has seen the photography book Hà Nội 1967-1975 by German photographer Thomas Billhardt can see the true emotions of Hanoi.

A photography book featuring all the images currently are on display at the exhibition Hà Nội 1967-1975 will be launched at Manzi Exhibition Space, on November 5.