Optimistic signs for Covid-19 prevention and control in HCM City
The number of deaths has decreased significantly and the number of patients discharged from hospitals is higher than the number of new infections in HCM City. Seven localities have contained outbreaks. Construction works have been reactivated.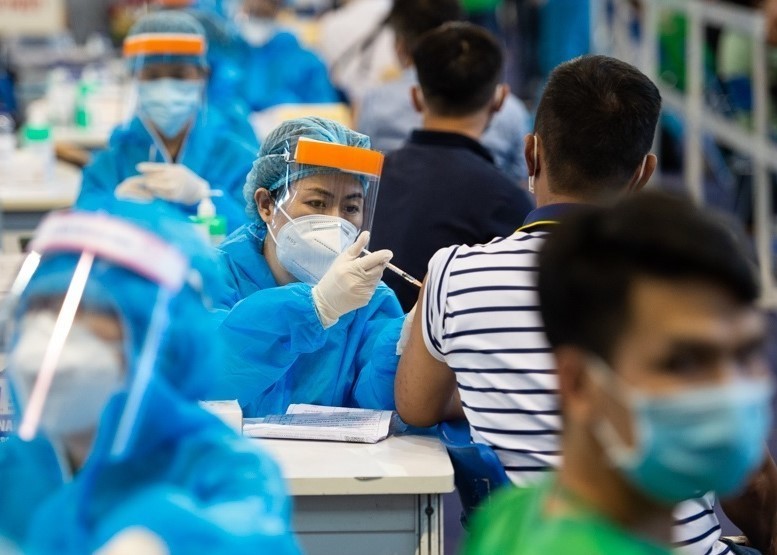 On September 28, at a press conference convened by municipal authorities, Deputy Chair of the HCM City Committee for Covid-19 Prevention and Control discussed the satisfactory results.
On September 27, HCM City had 2,674 patients hospitalized and 3,131 patients discharged from hospitals. This was the second consecutive day that the city had a higher number of discharged patients than the number of patients hospitalized.
The number of patients who needed ventilators fell continuously from September 6 to 1,793. Twenty two patients still need ECMO ((extracorporeal membrane oxygenation).
On August 22, 340 death cases were reported, while the figure decreased to 131 on September 27.
The best news, according to Hai, is that Go Vap and Phu Nhuan districts have reported they can meet the requirements in the Ministry of Health's set of criteria No 3979 on pandemic control.
To date, seven areas in HCM City have contained the outbreak, including districts Cu Chi, Can Gio, Nha Be, 7, Go Vap, Phu Nhuan, and Thu Duc City.
Meanwhile, the Board of the Transport Work Management, Investment and Construction has announced that work on 22 transport projects will resume after October 1.
"These are optimistic signs showing that agencies and units have prepared well to satisfy the set of criteria for safety. There will be more jobs and more disbursement for public investment to help recover the economy," Hai said.
On September 23, Thu Duc City permitted four projects to resume, including a housing project in Phu Huu Ward, the Sai Gon Binh An urban area, Song Viet Complex in Thu Thiem, and Phuoc Long B Nursery School.
HCM C is considering reopening construction works in green zones.
9.7 million injections
At the press conference, Nguyen Hong Tam, Deputy Director of HCDC, said 100 percent of people aged 50 and over in the city have had the first shot and 48.5 percent the second shot.
As of September 27, HCM City had given more than 9.7 million shots, including 6,824,718 first shots and 2,953,122 second shots. More than 1.1 million people aged 65 and over and people with underlying health conditions have been vaccinated.
According to the HCM City Fatherland Front Committee, more than 2 million welfare bags have been delivered to people who face difficulties because of Covid-19.
The city has 4 million households in difficulty. The Welfare Center is preparing 2 million more welfare bags to continue supporting people during social distancing.
It's expected that more than 7.3 million people will receive support during the third campaign (VND1 million for each person).
What's after September 30?
On September 28, at a meeting with Deputy Prime Minister Vu Duc Dam, the leaders of southern provinces and Central Highlands proposed that the Government issue a directive requesting HCM City, Long An, Binh Duong and Dong Nai not to let people leave for their hometowns in an unplanned way.
The leaders of the four cities and provinces said the localities have successfully controlled the outbreak and they are considering reopening production activities.
After September 30, the localities hope they can receive a certain number of people returning to work.
The four localities also want workers to stay in HCM City and not leave for their hometowns. They committed to ensure welfare and vaccinations so as to restore production and bring people's life back to normal.
As the vaccination rates in the four localities are high, they will create favorable conditions for people to travel within theur areas when they reopen production.
Senior Lieutenant General Vo Minh Luong, Deputy Minister of National Defense and Head of the Government's Special Working Group in HCM City, said other cities and provinces had assisted HCM City, Long An, Binh Duong and Dong Nai to fight the pandemic.
Luong said the working group would ask the Prime Minister to allocate more vaccines to neighboring provinces to quickly expand vaccination coverage, thus facilitating people's travel.
The Government Office has released Prime Minister Pham Minh Chinh's opinion on the HCM City proposal on applying specific rules when reopening the economy.
Chinh told Minister of Heath Nguyen Thanh Long to work with Vo Minh Luong from the Government's Special Working Group in HCM City, make suggestions and report to Deputy Prime Minister Vu Duc Dam.
Prior to that, HCM City drew up a plan on pandemic prevention and economic recovery, under which the reopening will be done in four stages. The pilot phase from September 16 to September 30; Phase 1 from October 1 to October 31; Phase 2 from November 1 to January 15, 2022 and Phase 3 after January 15, 2022.
Ho Van

Work on 40 packages of 22 key traffic infrastructure projects in HCMC would be resumed between September 28 and October 15 after a months-long suspension caused by the Covid-19 pandemic.

Barriers at hundreds of pandemic checkpoints that blocked off alleys, residential areas and some roads in green zones in HCM City have been removed.