Opening the skies, but restricting passengers on the ground
In the trial reopening of domestic route, airlines can fly with 10 percent of capacity and passengers must show written commitments on anti-pandemic measures.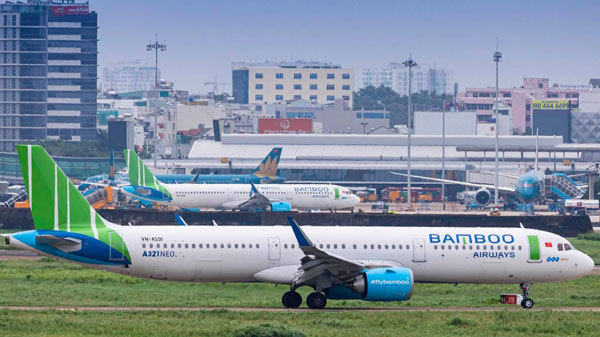 According to the Civil Aviation Authority of Vietnam (CAAV), after five days of implementing the pilot reopening of domestic flights (October 10-14), Vietnam Airlines, Vietjet Air, Bamboo Airways and Pacific Airlines carried out 98 one-way flights out of a total 200 flights on 16 of 20 air routes they had planned before.
The flights accounted for only 49 percent because the number of passengers was very low on some flights.
This was attributed to the fact that many cities and provinces have not released documents guiding the management and supervision of arrivals to their localities. Some cities and provinces have set stricter anti-pandemic measures than regulations set by the central government (they are required to spend concentrated quarantine or monitor health conditions at home.)
The average seat occupancy rate was 31 percent (the allowed rate was 50 percent). Bamboo Airways had the lowest rate, 20 percent. Pacific Airlines was licensed to provide 18 flights, but did not have any flights.
Delays occurred with most flights because of complicated procedures. Localities asked airlines to submit lists of passengers with their names and addresses of destinations in Vietnamese language.
This did suit the airlines' passenger management system. As a result, both passengers and airlines had to spend time making declarations and doing other procedures before taking off. Aviation officers had to collect information about hundreds of passengers within a short time.
The flight from Tan Son Nhat Airport to Tho Xuan (ThanhHoa) on October 18, 2021 was delayed four hours because the electronic health declaration app had an error and the declarations had to be made manually, while there were troubles in cooperation between the airline and the airport authority and Thanh Hoa Healthcare Department.
A representative of an airline said the information that localities require airlines to provide 30 minutes before every flight is inconsistent. As a result, airlines workers had to prepare reports manually.
In addition to the general procedures, passengers flying to DaNang also had to make declarations on 'Da Nang smart city' or 'nguoi dan khai bao, dang ky vao thanh pho Da Nang' (people make declaration and register to enter Da Nang) on khaibaoyte.gov.vn.
"I have been working in the aviation sector for 10 years and I have never seen airlines having to implement so many procedures manually," a senior executive of an airline said.
"There should be commonly used forms for online declarations to avoid gathering in crowds when following check-in procedures at the airports, including forms for passengers committing to implement anti-pandemic measures as required by the ministry," he said.

In the trial reopening of domestic route, airlines can fly with 10 percent of capacity and passengers must show written commitments on anti-pandemic measures.
The senior executive, who had two inter-provincial bus trips, from HCM City to Gia Lai and from Hanoi to Ha Tinh, after the Government released Resolution 128, came to a conclusion that there are fewer procedures to follow when traveling by land than by air.
Opening the sky, closing the ground
He said that airlines and travelers by air are now at a disadvantage compared with travelers by land or water. Air travelers must be either fully vaccinated or fully recovered from Covid-19 and have to show negative testing results. They also have to satisfy the requirements additionally set by localities.
The requirement on distancing between seats in airplanes (airlines can use 50 percent of seats only) is also a reason behind high airfares.
"Reopening the aviation sector this way will make airlines incur bigger losses and make passengers hesitant to fly," said Luong Hoai Nam, a respected aviation expert.
"I really want to fly to Hanoi and some localities where I have business. However, if Hanoi and some provinces require 7-day home quarantine, I won't fly," he said.
According to Bui Doan Ne, Vice President of the Vietnam Aviation Business Association (VABA), air transportation is considered one of the safest means of public transport.
In order to avoid infections, airlines have applied many measures. Noi Bai and Tan Son Nhat Airports have recently carried out disinfection with ultraviolet radiation. Vietjet Air provided free rapid tests to all passengers before boarding, including passengers who show negative testing results. And airlines regularly disinfect equipment and areas with high contact.
Ne said it's necessary to standardize procedures and implement them online.
He emphasized the importance of technology and the sharing of data on Covid-19 prevention and control apps with airlines and localities. This will improve management efficiency and ease inconvenience for airlines and passengers.
Also, it's necessary to universalize testing, especially testing just before going onboard, and step by step increase flight frequency depending on the demand of every airline and locality.
In related news, CAAV has proposed that passengers who have not been vaccinated but have negative PCR (polymerase chain reaction) test results within the past 72 hours will also be allowed to take flights. 
Ngoc Ha

The Ministry of Transport has allowed to increase frequency of domestic flights, including those in the Hanoi-Ho Chi Minh City air route.

Foreign holidaymakers who have been fully vaccinated, recovered from COVID-19 at least six months and undergone a negative COVID-19 test are allowed to visit a number of major tourist attractions in Vietnam on a trial basis.